It looks like something out of a low budget science fiction movie -- a metal disc that straps to one hand like a cymbal and a hand-held detector fitted with an antenna -- and it can detect the coronavirus within a radius of 100 metres.
At least that's what scientists in the Iranian regime's Islamic Revolutionary Guard Corps (IRGC) claim.
Iranian 'resourcefulness'
The unveiling of the device was staged as a moment of triumph for the IRGC, which has come under fire for its handling of the COVID-19 coronavirus pandemic.
"This is an amazing scientific technique that has been tested across various hospitals," IRGC commander Maj. Gen. Hosseini Salami said at the televised inauguration of the device on April 15.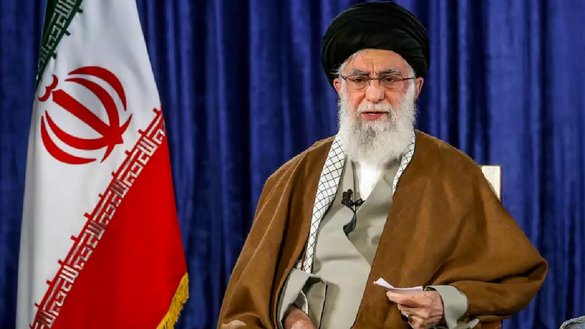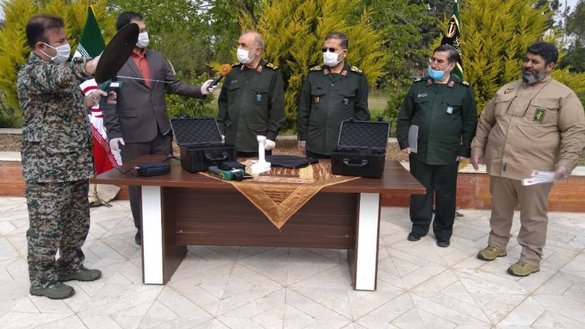 The "novel and singular scientific advancement", he said, was developed by scientists serving in the Basij paramilitary force, a branch of the IRGC.
It enables detection of infected surfaces and diagnosis of those carrying the virus within a 100-metre radius in only five seconds, Salami claimed.
"The technology could set the basis for the detection of all kinds of viruses," he added.
IRGC spokesman Brig. Gen. Ramezan Sharif called the device a product of "Iranian resourcefulness and audacity", Tasnim News Agency reported April 16.
The device enables "momentary" detection of the virus with about 80% accuracy and was tested over 10 days in at least 10 hospitals before being unveiled, Sharif said, according to Iran's PressTV.
'Strange news'
But a video posted on Twitter shows the device being tested at a health facility with everyone looking baffled as it fails to detect the virus less than a metre away, Radio Farda reported.
Iranian social media users have posted pictures that show a similar device being used for detection of metals, fuel, and other solid and liquid substances and chemicals apparently modelled on a toy readily available in western countries.
Social media users also quickly pointed out the device's resemblance to a bogus bomb detector sold by British fraudsters who were convicted and jailed for their scam almost a decade ago, Radio Free Europe/Radio Liberty reported.
Even the Iranian Health Ministry stressed that the device had not been licensed by the country's Food and Drug Administration.
"If this device had been approved by the Health Ministry, it would definitely have been announced at its unveiling," Health Ministry spokesperson Kianush Jahanpur said, adding that his ministry is in charge of licensing such equipment for mass production.
Hesameddin Ashena, a media advisor to President Hassan Rouhani, slammed the IRGC's claims about the device.
"In a situation where society is confronted with strange news every day, refrain from broadcasting advertisements in the news sections and don't promote vaccines, medications, diagnostic kits, or innovative and unique virus detectors...," he tweeted on April 15.
A series of deadly mishaps
Since the government announced Iran's first case of COVID-19 on February 19, the IRGC has made several dubious claims about the production of masks, test kits and cures for coronavirus -- none of which has been proved effective.
The IRGC and its Basij militia, which is tasked with internal security, have struggled to contain the pandemic, making Iran one of the deadliest countries with the virus.
Some officials and health specialists in Iran and abroad have questioned Tehran's truthfulness, saying the country's casualty figures may be higher than those it has declared.
The new tool also appears to be part of the IRGC's efforts to improve its tarnished image after a number of recent deadly mishaps, including the accidental downing of a Ukrainian passenger airliner.
Hours before the January 8 downing of the plane, the IRGC conducted a missile attack on bases in Iraq that house US troops in retaliation for the assassination of IRGC Quds Force commander Maj. Gen. Qasem Soleimani in a US drone strike in Baghdad on January 3.
When Tehran finally took responsibility for downing the plane -- three days after the fact -- officials called it a "catastrophic mistake", saying an operator had fired two missiles at the plane after thinking it was a cruise missile. All 176 passengers and crew were killed.
"The IRGC could not distinguish a passenger plane from a missile, how can we believe that it can detect a nanometre-sized virus in less than five seconds," one Twitter user said about the IRGC's new coronavirus detection device, mocking it for "putting an antenna on a thermometer".
There is also lingering Iranian public anger over the IRGC's bloody crackdown on anti-establishment protests last November that left at least 300 people dead, according to Amnesty International.
More recently, Mahan Air, owned in part by the IRGC, has been singled out as a key vector in the devastating coronavirus outbreak in Iran and in the consequent spread of the deadly virus throughout the region and beyond.