TEHRAN -- The "friendly fire" mishap this week that killed 19 Iranian naval personnel in the Gulf of Oman is symptomatic of key weaknesses that continue to plague the Iranian regime and its security forces: misplaced priorities and lack of professionalism.
The Iranian frigate Jamaran struck the Konarak support vessel with a missile during naval exercises on the afternoon of May 10 near Bandar-e Jask, off the southern coast of Iran, killing at least 19 sailors and injuring 15, the Iranian navy admitted Monday (May 11).
"The vessel was hit after moving a practice target to its destination and not creating enough distance between itself and the target," state television's website said.
The vessel has been towed ashore for "technical investigations", the military said in a statement, calling on the public to "avoid speculation" until further information is released.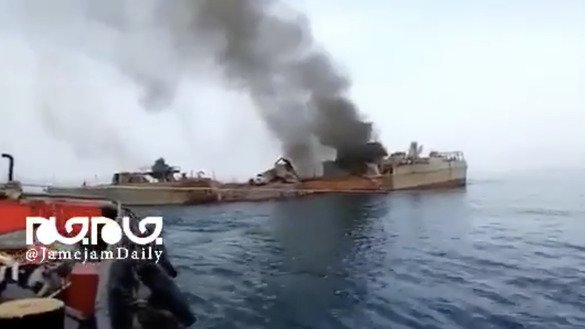 A video released by Jam-e-Jam Daily showed what it said was the Konarak partly under water and smouldering as it was being towed by a boat.
Deadly consequences
The May 10 "accident" is the second time this year that Iranian forces have fired a missile at the wrong target with deadly consequences.
Iran's Islamic Revolutionary Guard Corps (IRGC) on January 8 fired missiles at a Ukraine International Airlines passenger plane, killing all 176 passengers and crew on board, including 146 Iranians.
After denying involvement for three days, Tehran admitted to shooting down the plane, blaming "human error" and calling the incident a "catastrophic mistake".
Since the naval accident, Tehran still has not provided an explanation other than that the Konarak "had an incident and a number of the navy's seamen were martyred".
"The incident is under investigation by experts," said the Iranian navy.
Either the officer in charge of launching the missile fired too soon -- before the Konarak was safely out of range -- or the missile identified the Konarak as the larger vessel and more immediate threat, military affairs analysts told The New York Times.
"Once again there is a lack of transparency in informing the public, bringing back bitter memories of shooting down the Ukrainian plane," Iranian theologian and former vice president Mohamad Ali Abtahi said on Instagram May 11.
Misplaced priorities
Two deadly mistakes in the course of just a few months bring into question the efficacy of Tehran's military strategy and the preparedness of the Iranian armed forces, analysts say.
"Instead of focusing on a capable military that can protect the Iranian state, the regime chooses to focus on militia activity, drones, and the development of ballistic and cruise missiles," Theodore Karasik, a senior adviser to Gulf State Analytics in Washington, DC, told Arab News.
The latest mistake is "beyond sloppy" and exposes the Iranian military's inexperience and lack of professionalism, said Afshon Ostovar, assistant professor of national security affairs at the Naval Postgraduate School in Monterey, California.
"There was either miscommunication or someone completely failed to follow protocols. Perhaps it was a combination of both," he told The New York Times.
"However powerful [the Iranian military] believes itself to be, it continues to make costly fundamental mistakes," he said.
"Iranian armed forces have a systemic problem with co-ordination and command and control, whether it's air defence or naval warfare, whether it's the Revolutionary Guards or the army," Farzin Nadimi, a Washington Institute for Near East Policy analyst of Iranian military and naval operations in the Persian Gulf, told The New York Times.
Reliance on proxies
With 523,000 active-duty forces and another 350,000 reservists, Iran has the largest standing military in the Middle East and the eighth largest in the world based on active personnel.
But with aging equipment, international sanctions, restrictions on arms imports -- and now these two high profile deadly accidents -- it is clear the Iranian military is not prepared for direct combat situations, analysts say.
Tehran's military spending is paltry compared to that of its main foes -- a mere $13 billion in 2018 compared to Saudi Arabia's $70 billion and the US military's $700 billion -- and it has few allies.
"Iran has decent relations with Russia and China but no stalwart, great-power allies," The Atlantic reported January 4. "As one of the world's most isolated countries, it does not have many allies at all."
For this reason, Tehran has pursued a strategy of asymmetrical warfare using proxies throughout the region.
For example in Syria, IRGC-backed Fatemiyoun Division and Zainabiyoun Brigade militias -- comprised of Afghan and Pakistani militiamen -- are helping to prop up the regime of Syrian President Bashar al-Assad.
In Lebanon, Hizbullah serves the Iranian regime's interests, while in Yemen, the Houthis are waging war on Tehran's behalf against the legitimate government.
Iranian-backed militias are behind continuing insecurity in Iraq, especially after IRGC Quds Force commander Qasem Soleimani and Popular Mobilisation Forces (PMF) deputy commander Abu Mahdi al-Muhandis were killed in a US drone strike near Baghdad's airport on January 3.
Bogus posturing
After Soleimani's killing, Iranian political and IRGC leaders threatened to take "terrible vengeance" and "harsh revenge" and to expel US forces from the region.
"But to this day, [Iran] has neither taken harsh revenge nor forced Americans out of the region," said Aziz Ahmad Wardak, a Kabul-based military analyst. "Such statements are meant only to intimidate regional countries."
"The Iranian military, especially the IRGC, is lying and exaggerating everything about itself," he said. "The truth is, Iran does not have the military and combat capabilities it claims."
In February, the Iranian regime made a number of other unverified claims of advancements in its missile technology -- only to be followed shorty by the dramatic failure of a highly anticipated satellite launch.
The IRGC on February 9 unveiled a short-range ballistic missile that it said could be powered by a "new generation" of engines designed to put satellites into orbit.
Just hours later on state TV, a Ministry of Defence spokesman announced that the Zafar satellite failed to reach the required speed to put it into orbit.
Another satellite failed to reach orbit in January 2019.
Dubious claims
Despite such costly blunders, Tehran has remained focused on developing its space programme, which members of the international community say is a cover for missile development.
The launch of Iran's first military satellite into orbit on April 22 shines a spotlight on the regime's misplaced priorities as the country grapples with a plummeting economy and the devastating effects of the COVID-19 coronavirus pandemic.
Following the costly launch, US Secretary of State Mike Pompeo pointed out the regime's hypocrisy in requesting a $5 billion emergency loan from the International Monetary Fund to battle the virus.
"I hope that the Iranian regime will respond to the Iranian people's demands to prioritise resources, resources that the Iranian regime clearly has, to the health and security and safety of the Iranian people, rather than continuing their global terror campaign," he told reporters in Washington.
The launch came a week after the IRGC announced another dubious technological "triumph", unveiling a COVID-19 detector on April 15.
"This is an amazing scientific technique that has been tested across various hospitals," IRGC commander Maj. Gen. Hosseini Salami said at the televised inauguration of the device.
It enables detection of infected surfaces and diagnosis of those carrying the virus within a 100-metre radius in only five seconds, he claimed.
But a video posted on Twitter shows the device being tested at a health facility with everyone looking baffled as it fails to detect the virus less than a metre away, Radio Farda reported.
"The IRGC could not distinguish a passenger plane from a missile, how can we believe that it can detect a nanometre-sized virus in less than five seconds," one Twitter user said about the device, mocking it for "putting an antenna on a thermometer".