Nearly a year after Iran's Islamic Revolutionary Guard Corps (IRGC) downed a Ukrainian passenger plane heading from Tehran's Imam Khomeini International Airport to Kyiv, the Islamic Republic has yet to hold anyone accountable for the tragedy.
On January 8, 2020, Ukraine International Airlines Flight 752, heading toward Kyiv from Tehran, was shot down by two ground-to-air missiles fired from an IRGC missile battery. All 176 people onboard died.
Victims of the crash included 82 Iranians, more than 50 Iranian-Canadians and 11 Ukrainians, as well as nationals from Sweden, the UK, Afghanistan and Germany.
The Ukrainian airliner went down just hours after Tehran launched missiles at US forces in Iraq in retaliation for the killing of Maj. Gen. Qassem Soleimani, commander of the IRGC's Quds Force.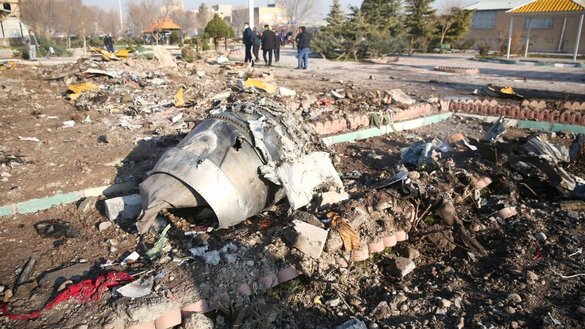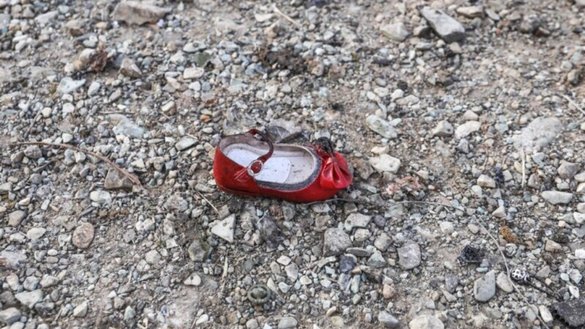 Despite video and circumstantial evidence pointing to a surface-to-air missile hitting the airliner, Tehran continued for days to deny a missile strike took down Flight 752.
On January 11, Iranian President Hassan Rouhani finally admitted the truth -- that the IRGC shot down the plane.
That admission -- and the appearance of an attempted cover-up -- sparked days of anti-government protests in Iran.
Tens of thousands of Iranians took to the streets shouting, "Death to the dictator" -- a reference to Supreme Leader Ayatollah Ali Khamenei -- "Death to liars" and other anti-regime slogans.
Some student protesters also called the IRGC "incompetent" and "the people's shame".
In the months since, Iranian authorities have stalled co-operation with international probes, and are now criticizing Iranian-Canadian families who lost loved ones for demanding answers.
Unanswered questions
"Many of the key details of this horrific event remain unknown," said an independent Canadian report published December 15, noting in particular why Iranian airspace had remained open the night of the tragedy.
"Iran bears responsibility for that because -- at least thus far -- it has not conducted its investigations (safety, criminal or otherwise) in a truly independent, objective and transparent manner," continued the report, written by one of Prime Minister Justin Trudeau's former ministers, Ralph Goodale, the government's special counsel into the tragedy.
"The party responsible for the situation is investigating itself, largely in secret. That does not inspire confidence or trust," the report said.
"In the case of a military shoot-down, that means the very government involved in causing the disaster (Iran in this case) is in complete control of the safety investigation, obvious conflicts of interest notwithstanding, with few safeguards to ensure independence, impartiality or legitimacy," the report said.
In early November, the International Civil Aviation Organisation (ICAO) called on Iran to "expedite the accident investigation" and publish its final findings on the crash.
The incident raises so many questions, said Shahin Mohammadi, a US-based Iranian journalist.
A military court in Tehran held hearings on the incident recently in an effort to convince the families of the victims in Iran to take compensation and refrain from delving into what happened and why.
A proper investigation would require senior IRGC officials to come to court and explain why the incident happened, where the chain of command erred, and why there was a long delay in disclosing the truth -- something the group is not prepared to do, Mohammadi said.
Shielding high-ranking officials
IRGC-affiliated Fars News Agency stated at the time that Khamenei, who is ostensibly commander-in-chief of all armed forces, was not informed of the truth until three days after the event.
"The way this was handled had one clear goal: to shield the IRGC and other officials from criticism," said a retired Iranian naval analyst who spoke on condition of anonymity.
Obfuscating the details of what happened serves the regime's efforts to exhibit competence and professionalism.
"Otherwise, they would have to answer uncomfortable questions such as where the breakdown was in the chain of command, or which civilian official, if any, was kept in the loop."
Another lingering question revolves around what type of training the missile battery operators were provided.
The Iranian government's own investigation stated that the missile battery operators had no communication with their commanders prior to the missiles being fired.
"An error occurred and I personally accept all responsibility for it. When I got the news, I wished I were dead. I will accept whatever is decided [as my punishment]," said Brig. Gen. Amir-Ali Hajizadeh, who commanded the IRGC's aerospace force, on January 11.
Still in his position, Hajizadeh does not appear to have faced any consequences for the very mistake to which he admitted.
He said all IRGC forces were on high alert that night, and "our repeated requests for clearing the air of civilian airliners were not granted due to certain considerations", without mentioning what those considerations were.
Feet dragging
Despite admitting responsibility, Iranian officials have dragged their feet on the ensuing investigation that involved experts from Ukraine, Canada, and France -- where the airplane's flight recorder was decoded and read.
Thus far, the Islamic Republic has shared only 19 seconds of the 25-second recording prior to the time that the missiles struck the airliner, Canadian officials say.
Similarly, Ukrainian officials say that negotiations with Iran are not progressing because as of December 24, Tehran has yet to share the documents and evidence that it agreed to share with Kyiv during bilateral negotiations in October.
On December 22, Iranian news agency Tasnim reported that Iranian investigators had provided representatives of other countries whose citizens were victims of the crash with a technical report on the plane downing.
But Ukrainian Foreign Minister Dmytro Kuleba denied that, saying that Kyiv is yet to receive the report.
Iran, which had agreed to pay reparations, has also withdrawn its proposal to include 200 million euros to compensate relatives who died in the plane crash in next year's budget, Ukrainian Deputy Foreign Minister Yevhen Yenin said December 9.
According to him, negotiations with the Iranian party on the amount of compensation have not begun yet.