KABUL -- A reduction in violence that began February 22 is raising hopes of a permanent peace in Afghanistan.
The United States plans to sign an agreement with the Taliban on Saturday (February 29) in Qatar if the week-long truce holds.
Several days in, the number of Taliban attacks has fallen dramatically.
Taliban attacks have dropped from an average of 75 a day to about 15 since the truce began, an Afghan security source told AFP.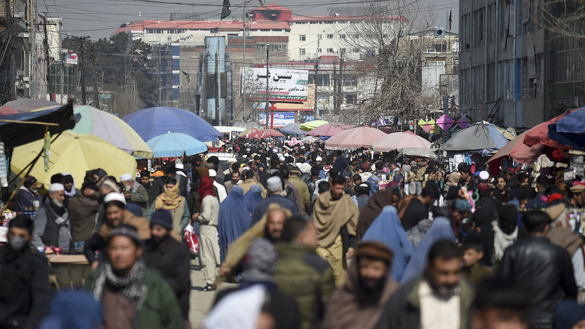 Afghans are urging the Taliban to continue on the path to peace.
"An end to the conflict and violence as well as peace is the demand of all Afghans, be it through the reduction in violence or a ceasefire -- it does not matter," said Najibullah Sahibzada, 26, a Kabul resident who runs a clothing store in the Shahr-e-Naw area.
"The only thing my compatriots, for many years, have been waiting for is peace," he said.
"In my view, just like the general population, Taliban fighters are tired of the war that takes hundreds of lives daily. They are waiting for the right opportunity," Sahibzada said.
"Today, the opportunity for peace has arrived. The Taliban should prove that they actually want peace and an end to the bloodshed of their compatriots," he said.
"I swear to God that we are tired of war. As humans, we too need peace, security, prosperity and happiness," said Hewad, a 31-year-old university student in Kabul who goes by one name.
"We call on the Taliban to say no to violence since this is the time for peaceful coexistence. Please say goodbye now to terror and violence forever," he said.
"The reduction in violence is a good step toward a ceasefire and permanent peace. We again call on the Taliban not to miss this opportunity," Hewad said.
Welcoming the reduction in violence
"I lost my elder brother, who was the breadwinner of our family, to the war, and our house was destroyed," said Najim Hussainkhail, a resident of Kunduz.
"We had to leave our house and everything behind and move to Kabul. As a victim of war, I welcome the reduction in violence and want the warring sides to end the violence and bloodshed forever," he said.
"I am very happy since hearing about the reduction in violence and the ceasefire. I came to work this morning without the fear of a suicide bombing, an explosion or any such concerns," said Mariam Rahimi, 25, who runs a beauty parlor in the Kart-e-Parwan area of Kabul.
"Peace is one of my greatest hopes," she said.
"I have been waiting for the day when I don't hear the sound of explosions anymore," Rahimi said. "I don't want to see kids and women crying anymore over losing their fathers and husbands to the war."
"Living in a peaceful environment is the hope of every Afghan man and woman. My plea to the warring sides is not to turn this greatest hope of Afghans into a disappointment for them," she added.
"The Taliban fought with the Afghan government for 20 years, killing many innocent Afghans without achieving anything," said Abdul Sattar Hussaini, a member of parliament from Farah Province.
"Bringing peace without reducing violence or committing to a ceasefire is impossible," he said.
"Our request to the warring sides is to respect their commitments to the reduction in violence so that the situation for intra-Afghan talks and for the end of the conflict becomes conducive," Hussaini said.
"I hope that the Taliban stop violence and bloodshed not only for six days but for forever and, like other Afghans, choose to live in a peaceful environment," said Safiullah Hashmi, a member of the Meshrano Jirga from Samangan Province.
"The reduction in violence has made us hopeful for a permanent end to the war," Hashmi said.
"Therefore, we want the warring sides to respect their commitments and extend the reduction in violence so that an environment enabling dialogue between Afghans becomes possible," he said.