WASHINGTON -- The United States on Monday (March 9) denounced Afghan election runner-up Abdullah Abdullah's inauguration of himself as a rival president and urged unity in Kabul ahead of negotiations with the Taliban.
Ghani and Abdullah took oaths of office as president on Monday in rival ceremonies inside the sprawling palace compound.
Ghani was declared the winner of a fresh term in September polls, but Abdullah alleged fraud.
"We strongly oppose any action to establish a parallel government, and any use of force to resolve political differences," US Secretary of State Mike Pompeo said in a statement, without explicitly naming Abdullah.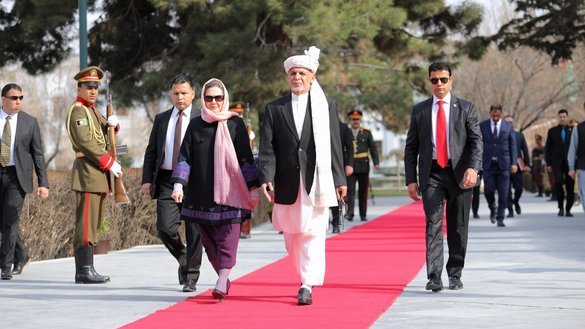 "Prioritising an inclusive government and unified Afghanistan is paramount for the future of the country and particularly for the cause of peace," he said.
Pompeo nonetheless welcomed statements by both Abdullah and Ghani showing a commitment to a peace process with the Taliban as the United States began to pull troops after its nearly two-decade war.
"I spent much of the last week trying to help Pres @ashrafghani and Dr. @DrabdullahCE come to an agreement on an inclusive and broadly accepted government. We will continue to assist," US Special Representative for Afghanistan Reconciliation Zalmay Khalilzad tweeted Monday.
Abiding by agreement
Meanwhile, the United States Tuesday (March 10) called for a vote at the United Nations Security Council to endorse Washington's deal with the Taliban that was meant to pave the way to peace in Afghanistan, diplomats said.
The Security Council "urges the Government of the Islamic Republic of Afghanistan to advance the peace process, including by participating in intra-Afghan negotiations through a diverse and inclusive negotiating team composed of Afghan political and civil society leaders, including women", according to the draft text seen by AFP.
American forces have started pulling out of two bases in Afghanistan, a US official said Tuesday, the day peace talks between Kabul and the Taliban were due to start despite widespread violence and a political crisis.
The United States under the terms of a deal signed in Doha in February has said that all foreign forces will quit Afghanistan within 14 months -- provided the Taliban stick to their security commitments.
Under the accord, the United States is initially supposed to cut its troop presence from about 12,000 currently to 8,600 by mid-July, and close five of its roughly 20 bases across the country.
Even with the drawdown, US forces retain "all the military means and authorities to accomplish our objectives", Col. Sonny Leggett, a spokesman for US Forces-Afghanistan, said on Monday, referring to American counter-terrorism operations and support for Afghan forces.
Under the terms of the accord, the Taliban are supposed to tackle militant outfits such as the "Islamic State of Iraq and Syria" (ISIS) group and al-Qaeda as well as hold talks with the Afghan government.
Peace talks were supposed to start Tuesday but have been delayed by a dispute over the release of Taliban prisoners -- something that the insurgents have demanded as a prerequisite ahead of negotiations but that Ghani has so far refused to do.
Ghani on Tuesday was expected to announce a decree on the issue and reveal details of the negotiating team.