DOHA -- Coalition forces will respond if militant attacks on Afghan forces continue, US Gen. Scott Miller, the commander of the NATO-led mission in Afghanistan, warned the Taliban Tuesday (March 24).
"All sides said that they are committed to a peace process, but we also know that, while some of this is political, that the militaries of all sides have a responsibility," Miller said in a teleconference with Afghan military officials.
"If the Taliban escalates the violence -- and they have -- they know they will get a response," he said.
"For our part, the Taliban explicitly know and agree that we have the right to defend not only ourselves but Afghan security force partners. So if they attack, there will be a response, and this includes air strikes and other support," said Miller.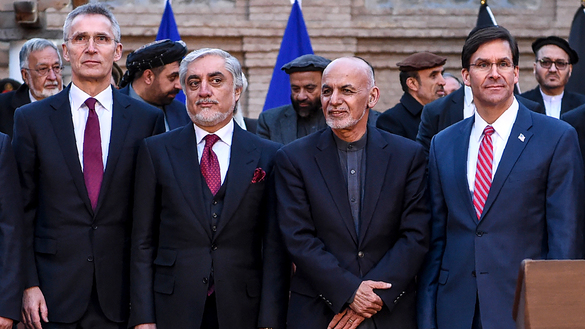 "We will let the politics sorts itself out, but again I reiterate to you and everybody else ... our commitment and support," he said.
Miller's remarks came after US Secretary of State Mike Pompeo stopped in Qatar on his way back from a surprise meeting in Afghanistan.
Pompeo on Monday (March 23) met for an hour in Qatar's al-Udeid Air Base, which is also home to US forces, with three Taliban leaders including Mullah Abdul Ghani Baradar, a formerly imprisoned insurgent who has become their chief negotiator, said officials.
The government and insurgents March 22 spoke via Skype video-conferencing to discuss logistics of a prisoner swap, said Zalmay Khalilzad, the US negotiator who brokered a recent peace deal with the Taliban.
The deal envisioned the release of up to 5,000 Taliban fighters held by Kabul, and up to 1,000 members of the Afghan government forces in insurgent hands.
After initially refusing to release the Taliban prisoners, Afghan President Ashraf Ghani announced that the authorities would free 1,500 insurgents as a "gesture of goodwill" with plans to free another 3,500 prisoners after the talks are underway.
The Taliban rejected the offer.
Political crisis
Pompeo's visit to Kabul March 23 sought to resolve a feud between Afghanistan's top two leaders.
Kabul has been enmeshed in a political crisis since elections last year led to a dispute that ultimately saw two separate inaugurations.
Pompeo held separate and joint meetings with President Ashraf Ghani -- elected to a new term -- and Abdullah Abdullah, who also claims the presidency.
He voiced disappointment that Ghani and Abdullah could not bridge their differences.
"Their failure has harmed US-Afghan relations and, sadly, dishonors those Afghan, Americans and Coalition partners who have sacrificed their lives and treasure in the struggle to build a new future for this country," Pompeo said in a statement.
The United States is immediately reducing $1 billion (76.4 billion AFN) in aid and will pull another $1 billion in 2021, said Pompeo.
However, Pompeo said he remained optimistic about Ghani and Abdullah reaching a deal.
"I think we are closer to it than ever before," Pompeo said. "We will continue to cajole, to coach, and to incentivise them to have negotiations where all of the Afghans are sitting at the table."
Ghani in a televised address to the nation on Tuesday thanked the United States for its generous assistance to Afghanistan.
"We remain committed to form an inclusive government that ensures inclusion of all political, tribal, ethnic, religious and linguistic strata of the country, on which I am working together with my vice presidents and special representative," Ghani said.
Ghani in his address also called on Taliban to agree to a ceasefire.
"I once again call on the Taliban to embrace the religious clerics'... call and agree to a comprehensive ceasefire," he said.