NURISTAN -- As security continues to improve in Nuristan Province, the number of tourists visiting historic and natural sites has increased notably, local officials say.
"Security was not very good the past couple of years, but there is no issue right now, thank God," said Nuristan Deputy Governor Mohammad Hashim Faizi. "Security is so good that civilians can move around day and night."
"The road leading to Nuristan is safe now. Our security forces maintain security with high morale and do not allow anti-government elements to cause disturbances, making Nuristan very suitable for tourism," he said.
Local officials are working to build up infrastructure to support the growing number of tourists and investment in the province, Faizi said.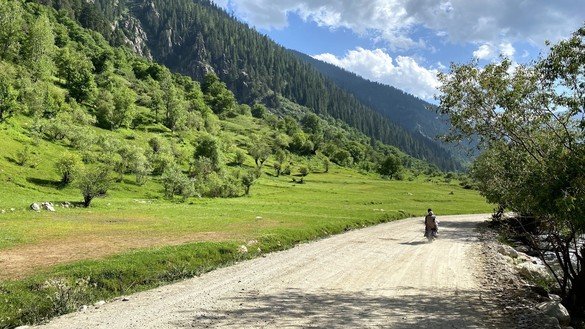 "While one hydro-power plant is already built in Parun, which is sufficient for the time being, we have sufficient water in every district of Nuristan," he said. "Survey work for seven dams in seven districts has been completed, [and] building those dams will address the issues of the local population and facilitate investment.
On World Environment Day (June 5), the Afghan government designated all of Nuristan as a national park based on the recommendation of the National Environment Protection Agency.
Green forests, historic sites, and the unique local customs and traditions are what attract tourists to visit Nuristan, local officials say.
Reconstruction, conservation
With improved security, the local administration in Nuristan has started asphalting the road that connects provincial capital Parun with the Stap area of Wama District.
"The road connecting Asadabad, the provincial capital of Kunar, with Parun ... is 108km, of which 61km has remained unpaved," Faizi said. "We have started paving 21km of that road starting from Parun, which will be completed in three years, while the entire road will be paved within five years."
Plans are in place to further boost security for residents and tourists, as well as to preserve the natural beauty of the province.
"We want to establish an environmental protection police force in a few years," said Abdul Khaliq Khaliqyar, director of the Environmental Protection Agency in Nuristan. "Some of them will be volunteers, while others will be paid to protect forests, wildlife and natural areas."
"Wildlife in Nuristan has decreased because of war, but there are still deer and other animals in the higher mountains," he said. "We will try to conserve them and increase their numbers."
"Another important thing is that we have snow leopards in the mountains," he said. "They are very rare animals. We will try to increase their numbers too."
'Beautiful and green'
Officials have prepared plans for conserving the cultural heritage of the region, said Fazelhaq Khaliqyar, provincial government spokesperson.
"We have identified 507 artefacts in Kamdesh and Barg-i-Matal districts that are in the hands of local residents," he said. "We will bring all the artefacts and build a museum for them in the provincial capital so that visitors can see them and learn about the history of Nuristan."
"We will renovate some historic buildings," he said.
"Security has improved greatly as police and other security forces are highly alert and have kicked the enemy out of the area," said Rafiqullah, 33, a resident of Parun.
"We have confidence that our security forces will never allow the enemy to succeed," he said.
"I never thought that Nuristan would be so beautiful and green," said Rafiullah Samim, a resident of Nangarhar Province who recently visited Parun with his friends. "There are even small lakes in the mountains."