ISLAMABAD -- The Afghan official overseeing Kabul's efforts to forge a deal with the Taliban concluded a three-day visit Wednesday (September 30) to Pakistan.
Negotiations in Doha, Qatar, between the Afghan government and the Taliban started September 12 but have slowed as the two sides grapple with several foundational issues.
The Taliban also have refused to agree to a ceasefire.
Abdullah Abdullah, chairman of Afghanistan's High Council for National Reconciliation, conferred with top Pakistani officials in Islamabad, including President Dr. Arif Alvi, Prime Minister Imran Khan and Foreign Minister Shah Mahmood Qureshi, on transit trade, Pak-Afghan relations, economic ties, visas and other issues.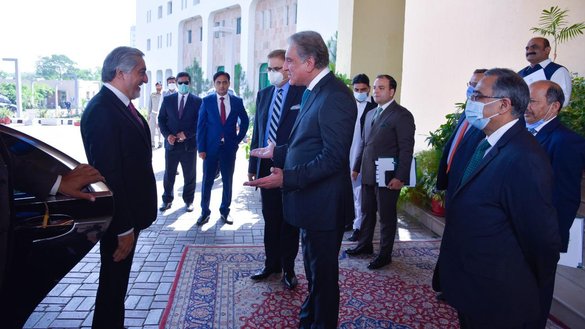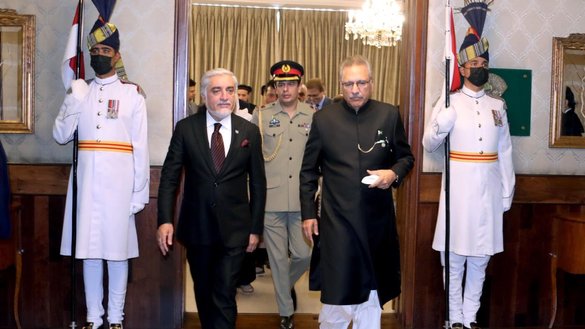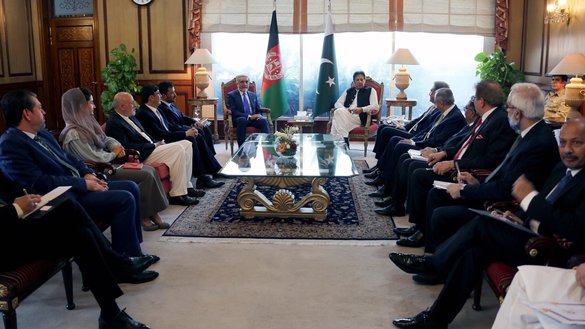 "We discussed the Afghan Peace Process and bilateral relations between [Afghanistan and Pakistan]. President Arif Alvi expressed his full support for the peace efforts & strengthening of relations between the brotherly countries," Abdullah said in a series of tweets after meeting with Alvi September 30.
"I thanked the President, the government, and people of Pakistan for their warm welcome, hospitality, & continued support for the peace process, & strengthening of bilateral relations," he said.
Khan in a statement Tuesday (September 29) expressed the hope that Abdullah's visit would help open a new chapter in the relationship between Pakistan and Afghanistan.
"There is no military solution to the conflict in Afghanistan and... a political solution is the only way forward," said Khan.
Afghans leaders are responsible for securing "an inclusive, broad-based and comprehensive political settlement", he said in the statement, besides offering Pakistan's "full support and solidarity with the Afghan people".
Earlier September 29, both Abdullah and Qureshi spoke to a gathering at the Institute of Strategic Studies Islamabad (ISSI).
"We feel and I believe, Afghans and only Afghans can determine the future of Afghanistan. A sustainable peace can only come from within Afghanistan, it cannot be imposed on Afghanistan," Qureshi said.
"All sides have to work together for a peaceful, prosperous, stable Afghanistan, which is Pakistan's desire," he added.
"We have no favourites. We do not want to meddle in your internal affairs, we respect and want to respect your sovereignty, your independence, and your territorial integrity," he said.
Abdullah told the gathering that he was visiting Pakistan with a peaceful future on the horizon.
"As we are speaking here, delegations of both sides in Doha are sitting around a table discussing the ways and means of ending decades of conflict through a political settlement in Afghanistan," he said.
He expressed appreciation for the role of the Pakistani government and people in the peace process.
"After many troubling years, we now need to go beyond the usual rhetoric and shadowy conspiracy theories that held us back. We cannot afford to pursue business as usual. We need fresh approaches and our people demand it from us. It's more urgent than ever to look to our region as one region," he said.
"We are facing a series of common threats and challenges... including various shades of terrorism, extremism, intolerance and more recently the COVID-19 pandemic that has not spared any country," he added.
Strengthening Pak-Afghan relations
Abdullah's visit came as Pakistan's cabinet September 29 approved a new visa policy to allow multiple entries for Afghan businesspersons, students and patients.
All border terminals with Afghanistan in Khyber Pakhtunkhwa, including the Torkham crossing, will be open to pedestrian traffic four days a week, Pakistani officials Monday (September 28) announced.
Abdullah's visit is a turning point that will not only help Afghanistan facilitate the peace process but usher in new trade opportunities, people-to-people contact and stability between the two countries, say observers.
"Dr. Abdullah came to Pakistan after an absence of 12 years ... He was part of the Northern Alliance, an opponent of both Pakistan and the Taliban," said Rahimullah Yusufzai, a Peshawar-based senior journalist.
"His visit to Pakistan means these differences are no more," Yusufzai said.
"Besides, Abdullah is now part of the Afghan government and chairman of the reconciliation council," he said. "Dr. Abdullah wants to fully utilise these opportunities."
"Pakistan's role in the peace process has been very important since the February 29 peace deal was signed between the United States and the Taliban," said Yousafzai, referring to the agreement that paved the way for intra-Afghan talks.
"Pakistan will play a role, whether it be large or small," said Yusufzai.
World powers have recognised Pakistan's role in the peace process, and optimism has grown in Pakistan, according to Islamabad-based analyst Hasan Khan.
"However, a reduction of violence in the region will be a key to success... which both PM Imran Khan and Abdullah Abdullah mentioned in their meeting," he said.