HERAT -- Newly trained soldiers of the Afghan National Army (ANA) in Herat Province have vowed to defend their country against anti-government groups such as the Taliban and the "Islamic State of Iraq and Syria" (ISIS).
Five hundred soldiers Sunday (October 11) graduated from a four-month programme at the 207th Zafar Corps training centre in Herat Province, and will be deployed to Herat, Farah, Ghor and Badghis provinces depending on security needs.
The fresh ANA soldiers said that they are fully prepared to defend Afghans and Afghanistan, and that they will not allow terrorists to threaten the country's security.
"We assure the Afghan people that we will serve them and maintain their security," said Muhammad Anas, one of the soldiers.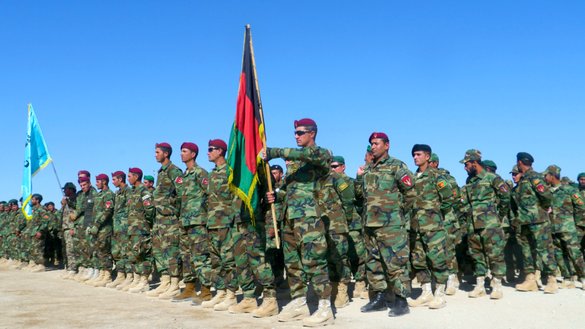 "Our message to the Taliban and ISIS is that you cannot fight the ANA forces because the soldiers who've graduated are highly capable," he said. "You can come and join the peace process, but if you continue fighting, the National Army will destroy you as it has been created to defeat you."
Being a soldier is a sacred duty, and all young people who have joined the ranks of the ANA have only one purpose: to serve and defend the people and Afghanistan, said Sefatullah, another member of the 207th Zafar Corps.
"We want to bring peace ... so that they can live in peace and so that Afghanistan can experience growth and development," he said.
Anti-government elements have no other option than to accept the peace process, and if they continue fighting and killing Afghans, they will be destroyed by security forces, he added.
"Afghanistan is like our mother; therefore, we will defend it, and we won't allow attackers and terrorists to threaten our country's security," said Rahimullah, a recent graduate from the army training programme. "We have an obligation to defend our country and people, and we will fight against ... their enemies even if it costs us our lives."
The soldiers' training comes amid a recent increase in attacks in the country even as Taliban and Afghan government negotiators meet in Doha, Qatar, to seek an end to decades of war.
Taliban militants launched a series of attacks on Lashkargah, Helmand Province, the night of October 11, prompting the United States to call in air strikes to defend Afghan National Defence and Security Forces (ANDSF).
Tens of thousands of civilians have fled their homes amid the heavy fighting.
Fight for peace
Young Afghans who join the military and soldiers who are improving their capacity are sending a message to the enemies of peace that Afghan security forces are becoming stronger by the day, and terrorists will never be able to achieve their evil goals by using force, said Maj. Gen. Abdul Raof Arghandiwal, commander of the 207th Zafar Corps.
The sacrifices and efforts of the security forces ultimately will bring stability and sustainable peace to Afghanistan, he said.
The security forces will continue fighting the terrorists and force them to join the peace process until peace and security are ensured in the country, he added.
"We don't just give the message of war to the armed opposition, we also invite them to peace," he said. "If the Taliban are ready for peace and renounce violence, we are ready to make peace with them. But if they choose fighting, the security forces and our brave commandos undoubtedly will annihilate them."
"We're ready for both peace and war," said Arghandiwal.
"We don't beg for peace, but we want a dignified and proud peace," he added. "The main goal of the security forces is to ensure peace and put an end to the war in the country. The security forces fight to bring peace and safeguard national values and achievements."
Those who seek to rule Afghans by committing suicide attacks, bombings and other destructive acts should know that they will never achieve their goals, he said.
Afghan security forces have been leading the war against terrorists for a few months now, and they have become capable of defending the country, said Col. Fardin Sepah, commander of the 2nd Commando Brigade in the western region.
"If the Taliban embrace peace, we make peace with them, but if they [continue to] fight, we'll destroy them," he added.
Hopeful citizens
Security forces have made civilians hopeful for the future of Afghanistan and are well trained and well equipped for preventing terrorist activities, said residents of western provinces.
"Our security forces have become better equipped in recent years," said Farid Ahmad Muhammadi, a resident of Herat city. "They're equipped with combat aircraft, tanks and other combat equipment."
ANA soldiers receive enhanced professional training, and they are ready to fight the terrorists under difficult conditions, said Col. Mohammad Nader Afzali, commander of the 207th Zafar Corps Training Centre.
"The National Army soldiers have become very professional as they have enhanced their capability to destroy the enemy," he said.
"Besides improvements in the capacity of the National Army forces, their number is on the rise as well," he said. "About 800 soldiers are receiving military training at the 207th Zafar Corps training centre, and they will graduate soon and will be deployed throughout the western region."
The recruitment of 400 additional ANA soldiers is proceeding in Herat Province, said Afzali.