WASHINGTON -- Multiple US agencies and officials this week have blasted China for its ongoing malign activity around the world, with the top intelligence chief branding it "the greatest threat to democracy and freedom worldwide since World War II".
US Director of National Intelligence John Ratcliffe pointed to China's theft of business secrets and defence technologies, and described operations in which Chinese operatives used economic pressure to influence or undermine politicians around the world.
"China's leaders seek to subordinate the rights of the individual to the will of the Communist Party," he wrote in a Wall Street Journal opinion piece on Thursday (December 3).
"They exert government control over companies and subvert the privacy and freedom of their citizens with an authoritarian surveillance state," he said.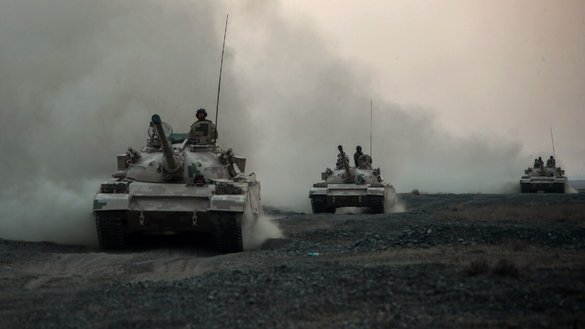 Glaring evidence of this effort is in the Xinjiang region, China, where more than one million Muslims languish in indoctrination camps as Beijing attempts to forcibly integrate the community and root out its Islamic heritage.
In September, an investigative report detailed how Chinese authorities have destroyed almost 16,000 mosques in Xinjiang in recent years as part of those efforts.
On October 27, US senators brought forth a resolution declaring that the Chinese regime is committing genocide against Uighurs and other Turkic-speaking Muslims in Xinjiang.
'Nefarious activities'
Further cracking down on Beijing's malign influence, the US State Department on Thursday issued new visa rules effective immediately for Chinese Communist Party (CCP) members and their immediate family.
Previously, some visas issued to those individuals permitted unlimited entries and could remain valid for as long as 10 years. Now visas will remain valid for just one month after issuance and for single entry.
"For decades we allowed the CCP free and unfettered access to US institutions and businesses while these same privileges were never extended freely to US citizens in China," the State Department said.
"Through various entities, the CCP and its members actively work in the US to influence Americans through propaganda, economic coercion and other nefarious activities," it said.
Eight Chinese agents were arrested in the United States in late October in connection with accusations of their participation in an operation meant to intimidate opponents of Beijing around the world.
"Many of China's major public initiatives and prominent companies offer only a layer of camouflage to the activities of the Chinese Communist Party," Ratcliffe said.
"I call its approach of economic espionage 'rob, replicate and replace'. China robs US companies of their intellectual property, replicates the technology and then replaces the US firms in the global marketplace," he said.
'Slave labour' in Xinjiang
US Customs and Border Protection (CBP) on Wednesday (December 2) announced it will block imports of cotton it says are harvested with "slave labour" in the Xinjiang region.
The new rule allows CBP officials to detain shipments containing cotton originating from the Xinjiang Production and Construction Corps, a major paramilitary group already sanctioned by the US Treasury.
"The human rights abuses taking place at the hands of the Chinese Communist government will not be tolerated," said senior Department of Homeland Security (DHS) official Ken Cuccinelli.
"DHS is taking the lead to enforce our laws to make sure human rights abusers, including US businesses, are not allowed to manipulate our system in order to profit from slave labour," he said.
Xinjiang is a global hub for cotton, with one study by a labour group estimating that 20% of the garments imported into the United States contain at least some yarn from the region.
Beijing has defended its policy in Xinjiang, where it says the "re-education" camps hold vocational training programmes and have helped stamp out extremism.
But DHS officials have described the region's training centres as facilities run like a "concentration camp".
Growing alarm
The Chinese regime has been viewed as a strategic threat by a number of countries for years, but recently the implications of Beijing's actions around the world have expanded significantly the degree of alarm.
From remote Himalayan valleys to small tropical islands, an increasingly assertive Chinese regime is embracing conflicts like never before.
Chinese President Xi Jinping increasingly is employing jingoistic rhetoric during public speeches, while at the same time the Chinese military is becoming more aggressive and making incursions into the territory of other sovereign nations.
"From India to Japan... to Australia to Canada, the Chinese have been bullying their way around the world," Hong Kong's last British governor, Chris Patten, said on July 8.
"What's happened in Hong Kong is just part of a broader series of actions taken by the Chinese Communist Party taking advantage of the fact that we're all of us focused very much on dealing with the coronavirus," he said, referring to Beijing's imposition this year of a controversial security law in Hong Kong, which effectively ended the city's cherished autonomy and democracy traditions.
Beijing's crackdown on dissent in Hong Kong -- including the recent jailing of several pro-democracy activists -- "underscores once again that the Chinese Communist Party's greatest fear is the free speech and free thinking of its own people", US Secretary of State Mike Pompeo said in a statement December 3.