KABUL -- In light of deteriorating security conditions in Herat, Afghan forces have carried out effective operations to hunt down members of the Taliban and criminal cells who were behind a spate of kidnappings in recent weeks.
The increase in security operations came on the heels of a visit by a Wolesi Jirga delegation to Herat on January 10 to investigate and assess the security situation in the province.
Security concerns included an increase in targeted killings and kidnappings, organised crime and Taliban attacks on a number of Herat districts.
The Iranian regime is responsible for most incidents in Herat that threaten the province's security and cause terror among its residents, the delegation found, as it revealed one week later.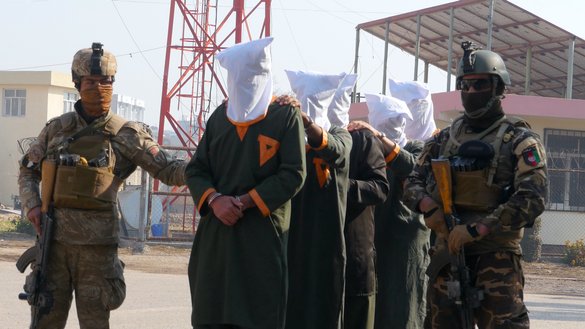 On January 18, Afghan security forces arrested a five-member group of suspected kidnappers in Guzara district.
The next day, they arrested another 12 suspects and freed four abductees in Injil district.
In a separate incident, security forces detained two terrorists who were behind an attack on police officers, in which one policeman was killed and two others were injured.
Kidnappings in Herat province have both political and economic motivations, Herat police chief Gen. Sultan Dawood Sultan told reporters January 19.
Iran to blame
The Iranian regime supports 22 very dangerous criminal groups in Herat that are involved in anti-government activities, said Abdul Sattar Hussaini, leader of the Wolesi Jirga delegation visiting Herat.
Each of these groups has 20 to 150 active members in the province, he said.
These Iran-backed groups are actively involved in assassinations, kidnappings, organised crime and the disruption of public order, he said.
"Taliban and Iran-backed groups move freely between Afghanistan and Iran. The families of commanders of these terrorist groups live in Iran," Hussaini said.
"The Iranian government directly provides these terrorists with weapons and ammunition," he added.
The Iranian government has issued identification cards for members of its supported groups, so they can move freely within Iran, the delegation found too.
Tehran-backed groups are trying hard to enhance the regime's dominance in western provinces, especially in Herat, the delegation found.
Capital flight
Other than encouraging terrorism, groups supported by the Iranian regime and active in Herat province have caused a decline in investments, as entrepreneurs avoid investing in areas where criminal and terror groups are active.
These groups are trying to discourage investment in the industrial province of Herat, governor Sayed Wahid Qatali told reporters on January 3.
"In Herat province, an economic hub of the country, the main goal of these groups is to frustrate our people and spread terror in an organised manner," he said.
"While we inaugurate new factories in the Industrial City, we have been badly affected by insecurity," he added. "Part of our capital has fled to neighbouring countries, which is never acceptable to us."
"Some neighbouring countries support insecurity and kidnappings in Herat city to pave way for their money laundering activities and to achieve their own economic interests," Qatali said, in reference to Iran.
On January 14, more than 200 Herat residents gathered in Herat city to condemn what they described as Iran's interference in their country's affairs.
By supporting terrorist groups such as the Taliban, the Iranian regime is trying to obstruct infrastructure projects like dams, they said.
'No longer acceptable'
Neighbouring countries, especially Iran, are to blame for the hardships Afghans suffer daily, said Shakeb Ahmad Rahmani, a Herat resident.
"We used to view Iran as a friendly neighbour, but now we see that it works to cause insecurity and sabotage [our lives] in Afghanistan," he added.
"Neighbouring countries such as Iran and Pakistan support anti-government groups in Afghanistan, which has caused insecurity in the country," said Mahboob Ahmadi, another Herat resident.
"Our expectation from our neighbours is to co-operate in ensuring peace and security, but these countries are the reason Afghanistan has not achieved peace, security, or development."
The Iranian government's oppression of Afghan refugees and its interference in Afghanistan's affairs are no longer acceptable, said Herat resident Farid Ahmad Farahmand.
"The Iranian government has been paying the Taliban for years to impede progress in Afghanistan," he said. "Iran does not want Afghanistan to have hydro-electric dams and factories, and we have witnessed many times how it tried to destroy hydro-electric dams in the western region but without success."