KABUL -- To mark Afghanistan Soldiers Day (February 27), a three-day exhibition took place in support of Afghan National Defence and Security Forces (ANDSF) in Darulaman Palace in Kabul.
Afghan National Police (ANP), Afghan National Army (ANA) and National Directorate of Security (NDS) forces displayed their equipment and capabilities in the March 1 to 3 exhibition, free for members of the public.
It is important for ANDSF to display their capabilities and discipline so the enemies of Afghanistan understand it will not return to the past, Minister of Interior Affairs Masood Andarabi said on the opening day.
"The doors of peace are open to everyone, especially to the Taliban, to come and talk to us in a peaceful way," he said. "But if they do not choose peaceful negotiations, ANDSF is fully prepared to defend its homeland."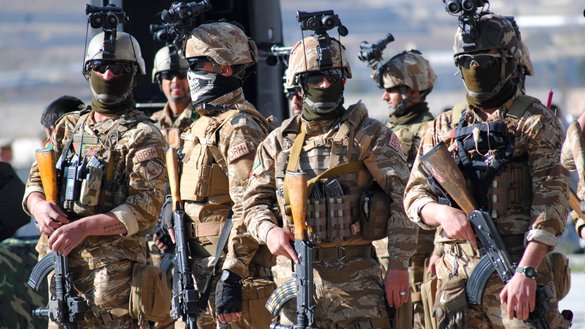 On the last day of the exhibition, Andarabi and deputy Defence Minister Shah Mahmood Miakhil thanked the public for their support.
"Over 100,000 people visited the exhibition over the three days and donated 175,000cc [175 litres] of blood, which is a great achievement for the people and especially for the ANDSF," Miakhil said.
'True heroes'
Addressing ANDSF members, Khan Agha Rezayee, chairman of the Internal Security Committee of the Wolesi Jirga, commended them for being "the true heroes of this country for defending every inch of this soil".
Security forces have "passed several tests", he said, pointing first to the 2013 transfer of responsibility for security from the coalition forces to ANDSF.
"The enemy's daily message was that with the transition process, provinces will fall," Rezayee said. "Thanks to your hard work and wise leadership, despite all difficulties, you heroes successfully passed the first test."
"You have successfully maintained security for a number of parliamentary and presidential elections," he added. "Upholding democracy and justice is in your hands."
Aminullah Hatami, who visited the exhibition and posed for pictures with members of the armed forces, described them as "the real heroes of our country who fight against terrorists to maintain our security and defend the country".
"It was a great exhibition," said another visitor, Laila Rahimi. "With the resources they have, our military has done a great job of defending their people and country."
Rahimi said she had donated 500c (a half-litre) of blood to support those who are injured while defending Afghanistan: "This was the least I could do to express my gratitude towards them."