KUNAR -- Kunar officials say they are looking at ways to utilise the province's unique flora for medicinal purposes.
"There are 15 to 20 types [of plants] that are found in the mountains and plains of Kunar, and especially in the forests," said Inamullah Sapai, director of Kunar's Department of Agriculture.
These plants "are very important in the production of medicine", he told Salaam Times, adding that a plan to use such curatives would be economically beneficial for locals.
"The population here commonly uses [the medicinal herbs]; however, no professional work is done in this area," he said. "We want these plants to be turned into medicine to benefit Kunar's residents [economically] as well as the public health."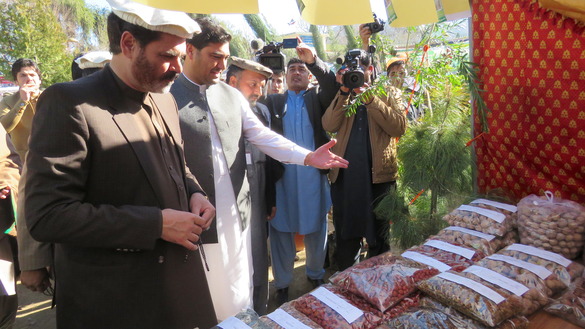 "We have started work on this matter, and we have told the [Ministry of Agricuture, Irrigation and Livestock] to help us in this area so that we grow more such plants and use them properly," said Sapai.
Kunar's Public Health Department is backing the effort, the department's director, Aziz-ur-Rahman Sapi, told Salaam Times Monday (March 19).
"Kunar has many types of herbs that can be used for medicine," he said.
"Unfortunately, we don't have drug manufacturers in the country; that's why we have to send [the herbs] overseas," he said. "We have asked [the Ministry of Public Health] to provide better opportunities for growing more of these herbs as well as building pharmaceutical manufacturers here at home."
"This will help the public, and we will also have better drugs," Sapi said.
Showcasing Kunar's agricultural, industrial products
Kunar officials on February 18 held an expo for agricultural and industrial products in Asadabad that included herbal medicines, aesthetically appealing wooden goods and a new sapling project.
Many participants expressed surprise at the merchandise shown at the exhibition, such as pine wood wall clocks, candy pots and other handicrafts.
"To be honest, I did not even think of [such items]," Mawlawi Najibullah Haqyar, a member of Kunar's ulema council who attended the trade show, told Salaam Times.
"Now as I see all this, [exhibitors] have brought things that I did not expect, so I want the government to provide farmers and industrialists with opportunities and encourage them further," he said.
Hematullah Durrani, an industrialist from Kunar, set up a stand showing off his wooden merchandise, including trays, wall clocks, beds, cots, tables and other items.
"We want the government to help us make better products," he told Salaam Times.
Another exhibition featured a sapling-planting campaign in Kunar Province that began February 18, which envisions the planting of 1 million plants throughout the provincial capital and 15 districts.
"We will create hundreds of fruit and plant gardens in Kunar with 1 million saplings in this campaign so that the agriculture sector expands," Sapai told Salaam Times.
"We want residents of other provinces to see these products too and to come and invest here so our economy improves," he said.
Kunar Provincial Governor Wahidullah Kalimzai asked attendees at the exhibition to buy local goods as a way to stimulate economic growth.
"This exhibition will be a good start for Kunar farmers and industrialists," he said at the event.