French forces at Kabul's Hamid Karzai International Airport (HKIA) worked under tough conditions in August to airlift almost 3,000 Afghans, French nationals and others out of Afghanistan.
Operation Apagan transported 2,630 Afghans and 142 French nationals, including diplomatic personnel, out of the country following the rapid deterioration of security after the Taliban seized control.
Though the operation concluded in late August, France remains committed to facilitating the evacuation of "all those who must be protected", the French Ministry of Armed Forces said August 28.
During the 10-day operation, French tactical aircraft transported evacuees to a base in the United Arab Emirates (UAE), and from there to France.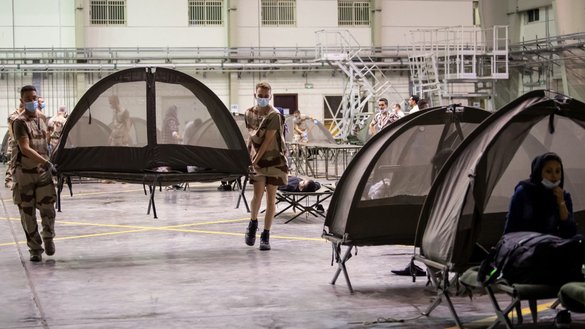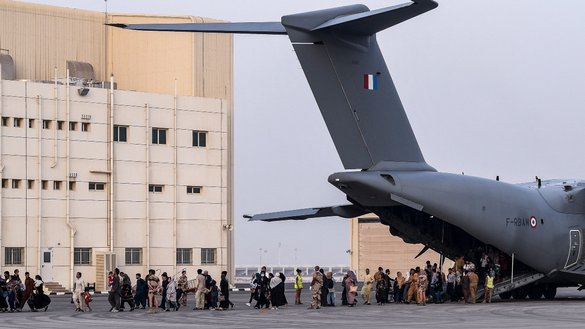 The UAE base served "as a military hub to ensure the back and forth between Abu Dhabi and Kabul", Armed Forces Minister Florence Parly said August 16.
In a speech delivered the same day, French President Emanuel Macron said "the absolute priority is to ensure the security of our compatriots, who must all leave the country, as well as Afghans who have worked for France".
France "is one of the very few countries that decided it had to have the means on the ground until the very end to protect those who worked for us", he said.
"Afghanistan's future is in its own hands," he said, but France "will continue to stand with Afghan men and women in a spirit of comradeship".
It will do this "by supporting Afghan civil society and doing our duty to protect those whom we can protect; by saying very clearly to those who choose war, obscurantism and blind violence that they are choosing isolation; by always standing with those who fight for freedom and women's rights, who send the world the same message that we do", he said.
"That is the choice of reason, the choice of who we are at our core."
During Operation Apagan, French forces made 26 connections between HKIA and the UAE in tactical aircraft (A400M and C130), and 16 flights between the UAE and France in strategic aircraft (A310 and A330).
Because of the large number of aircraft at HKIA, France co-ordinated closely with allies and other nations to ensure flight safety, the Ministry of Armed Forces said.
The French forces demonstrated their ability to carry out an evacuation mission in a highly sensitive context and under a pervasive terrorist threat, it said.
At the air base in Abu Dhabi, French forces distributed more than 7,000 meals, set up an additional 500 beds and provided all the basic necessities for the evacuees, the ministry said.
More work to be done
During an August 24 visit to Afghan refugees staying at a hotel in a Paris suburb, French Prime Minister Jean Castex promised them that France "will take responsibility", Euronews reported.
"France must protect those who, in one way or another, have helped the French Republic. And France is also a land of asylum and owes protection to those who are particularly vulnerable," he said.
The hotel has taken in hundreds of men, women and children, all evacuated from Kabul since mid-August.
A Foreign Ministry official told Euronews that after the conclusion of Operation Apagan there is still work to be done to bring others out of Afghanistan.
France has called for the establishment of humanitarian operations to assist the thousands of stranded Afghans to leave by other means.
"Our efforts continue," French Foreign Minister Jean-Yves Le Drian and Parly said in a joint statement August 28.
Meanwhile, Afghans who wish to apply for asylum in France will be given financial and administrative assistance during the application and integration process, the Ministry of Armed Forces said.