JOHANNESBURG, South Africa -- Amnesty International slammed Russia's "war crimes" in Ukraine, as the civilian toll continues to rise one month into the conflict, likening the situation to the Syrian war.
"What is happening in Ukraine is a repetition of what we have seen in Syria," Agnes Callamard, secretary general of the global rights watchdog, told AFP.
She was speaking in Johannesburg on March 29 at the launch of Amnesty's annual report on the state of human rights in the world.
"We are beyond indiscriminate attacks. We are in the midst of deliberate attacks on civilian infrastructure," she said, accusing Russia of turning humanitarian corridors into "death traps".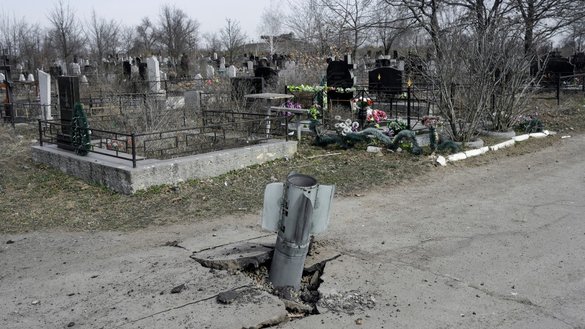 "We see the same thing here, just as Russia did in Syria."
Amnesty's director in Eastern Europe, Marie Struthers, concurred, telling a separate briefing in Paris that researchers in Ukraine had "documented the use of the same tactics as in Syria and Chechnya", including attacks on civilians and the use of arms prohibited under international law.
Comparing the besieged city of Mariupol to the Syrian city of Aleppo, bludgeoned by President Bashar al-Assad, with the help of Russian air power, Callamard said Amnesty's "observation at this point, is a rise in war crimes".
Bombing hospitals
Russia's fatal targeting of a children's hospital in Mariupol on March 9 reflects the ongoing pattern of Kremlin tactics in conflict zones such as Syria, where medical facilities have been regularly hit with air strikes.
Russia is the main backer of the Syrian government in the war that erupted in March 2011.
Russia intervened in the Syrian civil war in 2015 by launching air strikes to support the regime's struggling forces. Its military support helped turn the conflict in al-Assad's favour.
The bombing of hospitals is familiar in the Kremlin's military strategy.
In June 2019, then United Nations (UN) humanitarian chief Mark Lowcock said more than 23 hospitals had been hit by strikes since Russia-backed Syrian regime forces launched an offensive in late April 2019 in the Syrian province of Idlib.
On June 20 of that year, an ambulance transporting an injured woman in southern Idlib was hit, killing the woman and three medical workers.
A month later, Russia opposed a UN Security Council resolution calling for an end to attacks on health facilities in the Idlib region.
In November 2019, Russian and Syrian air strikes hit a hospital and a civil defence centre that provided rescue and paramedic services in the provinces of Aleppo and Idlib, injuring civilians and knocking both out of service.
Air strikes also hit a maternity hospital in rural Idlib.
Investigations that linked Russian radio recordings, plane spotter logs and witness accounts proved that the 2019 attacks on medical facilities were part of a larger pattern by forces supporting the al-Assad regime.
No 'neutrality' when dealing with Russia
The US government last week said public information and intelligence that it has collected amount to strong evidence that the Russian military has committed war crimes in Ukraine.
About 5,000 bodies have been buried in Mariupol alone, a senior Ukrainian official told AFP Monday.
Callamard blamed Russia's "insolence" in the face of a "paralysed international system". She urged no "neutrality" in dealing with Russia.
Ukraine has proof Russian forces have used banned cluster bombs in two southern regions of the country, Prosecutor General Iryna Venediktova said Monday.
Cluster bombs spread dozens of tiny explosive charges across an area, some of which may not immediately explode and in effect become anti-personnel mines that pose a threat to civilians long after a conflict ends.
Amnesty International and Human Rights Watch have said they have collected proof of use of cluster bombs in areas where civilians were present in Ukraine.
Asked by journalists about the use of such munitions by Russians in their bombardments of the Ukrainian capital since the invasion began over a month ago, Venediktova said she did not have concrete proof but that investigations were under way.
"But... we have proof of the utilisation of cluster bombs in the Odesa region and in the Kherson area," she said.
Russian troops have been held at bay from advancing on Odesa, Ukraine's main port city on the Black Sea.
Kherson is the only major city that Russian forces have captured since their invasion began, but Ukrainian troops have sought to recapture the mid-sized city on the route between Russian-occupied Crimea and Odesa.