KANDAHAR -- The World Food Programme (WFP) has created employment opportunities for 1,500 residents, including 1,000 rehabilitated drug addicts, in Kandahar province.
The participants in the project are building a retaining wall in Arghandab district of Kandahar province to protect residents and agricultural lands from floods.
The project started last October and is expected to continue until this June.
Co-ordination of Humanitarian Assistance, an Afghan NGO, is implementing the initiative, whose objectives are to give addicts an opportunity away from drugs and to rescue poor families from hunger, said Sultan Ahmad Wafa, the project manager.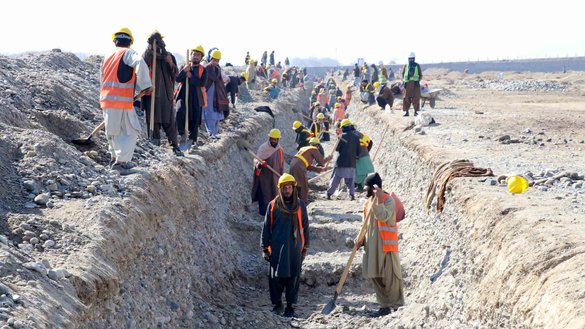 "Floods and river water damage hundreds of residential houses and thousands of hectares of agricultural land every year along the river in Arghandab district," he said. "The retaining wall will contain river water and floods."
"Each worker in the project is paid 8,500 AFN [$95] per month. The duration of the project is eight months, but it could possibly get extended," he added.
Rescued from drugs, former addicts working on the project have returned to normal life, Wafa said.
Arghandab district lies near Kandahar city, and most of its infrastructure, including roads and bridges, was destroyed by years of war.
Helping addicts quit drugs
Shah Mohammad, 27, a father of two, was addicted to drugs for seven years. He started using drugs in Iran when he went there in search of work.
After being deported from Iran, Mohammad said he could not save himself from drugs because of unemployment, but he quit drugs after starting at the WFP project four months ago.
"I am very happy to be able to work as well as to quit drugs," he said. "Most of the youth in Kandahar who were suffering from unemployment and drug addiction are busy working for this project and have returned to normal life."
"I had to steal to find the money for drugs in the past. I would even steal stuff from my own house and sell it for the minimum price," he said. "But I have not used drugs for a few months since I started working and earning a living for my family."
Mohammad Omar, 65, is also working on the WFP project in Arghandab district.
He had been using drugs for more than 10 years, but now, while working on the project, he has given up using them.
Omar said his challenges in life have decreased since he started working and that his family of seven has been rescued from poverty and dependence on others.
"I had to use drugs because of mental stress and unemployment, but now that I am busy working, I haven't seen drugs even once in the past four months," he said.
"One of the conditions for working on the project was quitting drugs, which helped me quit them forever."
"Quitting drugs makes the future of my kids brighter," Omar added. "My children would have been addicted like me had I continued using drugs."
Rescued from 'unimaginable' poverty
Residents of Arghandab district say poverty levels in their district have fallen with the launch of the WFP project.
Faisal, 46, a farmer in the district, said floods during the rainy season used to destroy his farmland, which lies near the river.
Faisal is also working on the project and said he is happy that with the completion of the retaining wall, his farms will be protected from floods.
"This project is very valuable to us because we make money from working on it and our agricultural lands are saved from the flood as well," he said.
"I had a very small harvest this year because of drought," he said. "I don't know how would have I managed my life had it not been for this project. I am very happy that I receive monthly income and that our district is developing."
Local residents would never been able to build the retaining wall, establish public facilities and alleviate poverty without the WFP's assistance, Faisal said.
Poverty and unemployment have spiked in the district over the past year, making many residents dependent on international assistance, said Mohammad Essa, 63, a tribal elder.
"The retaining wall project has saved many households from poverty," he said. "Such projects are very valuable in the current situation, where poverty and economic problems have reached their peak."
"In addition to this project, some non-governmental organisations and aid agencies provide assistance to hundreds of poor households in the Arghandab district," he said.
"If it were not for such assistance, many people would starve to death," Essa said. "Poverty has reached unimaginable levels."