HERAT -- With funding from the US Agency for International Development (USAID), the United Nations Children's Fund (UNICEF) has built 18 public restrooms in various parts of Herat city.
The construction work on these facilities started three months ago, and the bathrooms have been open and free for public use since January 25.
The cost of building each public restroom was about 1.5 million AFN ($16,900).
"Having public restrooms is a serious need in big cities. Such facilities are equally important along with other urban facilities that will provide convenience for the general public," said Abdul Wajid Ahya, a resident of Herat city.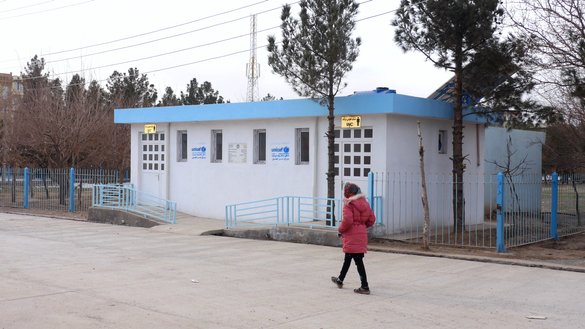 "Defecating on the side of the road or in the parks is against the culture of a city like Herat," he said.
Those who did so "had no other choice because there were no public restrooms in the city", he added.
The financial assistance provided by USAID and UNICEF for the construction of public restrooms was crucial and has addressed some key social challenges in Herat city, said Ahya.
Herat city is one of Afghanistan's major cities, and thousands of residents of neighbouring districts and provinces visit it every day. The lack of public restrooms has been a serious challenge in the city for years.
Clean, beautiful city
Herat city residents are happy that the newly built public restrooms have made the city clean and beautiful.
"The lack of public restrooms was a serious problem in Herat city, said Esmatullah Ahmadi, 25, a city resident. "It is really hard not to have a restroom in a city where thousands of people come and go every day."
"The construction of public restrooms gave the public some comfort," he said.
Herat city is one of the most beautiful and cultured cities in the country and must always stay clean, he added.
Public restrooms have provided convenience for many travelers, said Gul Khan, 29, a visitor from Gulran district, Herat province.
"When I visited the city in the past, the lack of public restrooms infuriated me. But this time, I am very happy to see public restrooms."
The lack of restrooms in the past was "just too much and troublesome", he said.
"Building the restrooms has brought much comfort to the public," besides contributing to the city's cleanliness, he said.
Preventing spread of disease
The construction of public restrooms has prevented the spread of diseases in Herat city, say physicians.
Human waste left outdoors spread bacteria and other germs, said Dr. Obaidullah Kakar, a respiratory disease specialist in Herat city.
"Herat city has strong winds," he said.
Particles from human waste "pollute the air and people will breathe it", he said. "It is a serious challenge to public health and spreads dangerous diseases."
"Construction of public restrooms prevents the outbreak of many diseases," he said.
Air pollution takes dozens of lives every year in Herat city, added Kakar.
Most viruses spread through defecation in open spaces, causing dangerous diseases, said Dr. Jawad Faqiryar, an internal medicine specialist in Herat city.
"Public hygiene is very important in cities, and there should be facilities such as public restrooms," he said.
"Building public restrooms is one of the most effective and appropriate approaches in Herat city ... and saves thousands of lives," he said.
"Similarly, such facilities provides convenience for the residents of the districts and other provinces who visit Herat city daily."
Those who fail to use a toilet in time run a higher risk of kidney or stomach disorders, he warned.