Recent events, coupled with a string of discoveries and investigations, have underscored the acute threat that Chinese technology giant Huawei poses in countries where it has burrowed deep inside local digital architecture.
The Chinese surveillance balloon that flew over the United States in early February, which sparked a diplomatic furor before it was shot down by a US warplane, renewed fears over how Beijing gathers intelligence around the world.
Huawei, a seemingly benign cell phone and consumer product manufacturer, is supported heavily by the Chinese government and has deep links to the People's Liberation Army.
Across the world, Huawei has invested billions in telecom networks, cyber technology and cloud services.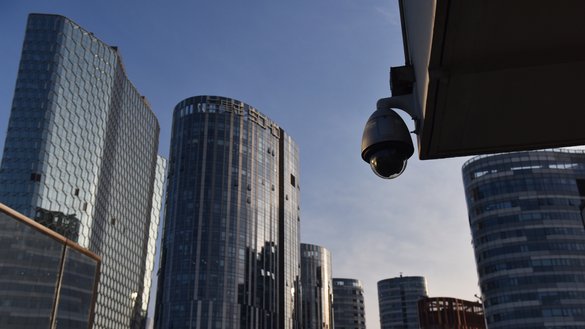 An April 2021 report published by the Brookings Institution noted that information capabilities lie at the heart of China's military modernisation programme.
As Zheng Anqi of the China Academy of Information and Communications Technology put it in 2020, the report said, "if modern military forces have strong information power, they have strong military power".
"The foundation of an information force is the network," he said. "Without the support of ubiquitous, broadband, and mobile networks, a powerful information army is just empty talk."
"These emerging dependencies serve as a deterrence mechanism in that any governments or companies that dare offend China would risk being cut off from its massive market and the critical technologies that enable daily life," wrote Dale Aluf in The Diplomat.
Chinese hacking exposed
Reports of break-ins by state-backed Chinese hackers into systems around the world have become more frequent in recent years.
In 2020, for example, the African Union (AU) headquarters was hacked -- a crime analysts described as part of a larger pattern by Chinese networks to electronically infiltrate key communication channels in Africa.
AU technology staffers discovered a group of suspected Chinese hackers had rigged servers in the basement of an administrative annex to siphon surveillance videos from the AU's campus in Addis Ababa, Ethiopia, Reuters reported.
The hacking group, nicknamed "Bronze President", was able to monitor cameras covering AU offices, parking areas, corridors and meeting rooms, it said.
Technicians managed to interrupt the flow of data, according to an internal memo, which also warned the hackers could easily regain the upper hand.
Secureworks researcher Mark Osborn said his company had seen strong evidence that Bronze President operated from China and had been detected in espionage campaigns targeting Mongolia and India.
"I'm not particularly surprised," Joshua Meservey, senior policy analyst on Africa at the Heritage Foundation, told Voice of America in 2021. "We know China operates this way all across the world, including in Africa."
Washington has banned Huawei from supplying US government systems and strongly discouraged the use of its equipment in the private sector over fears that it would be obliged to share intelligence with the Chinese government.
"These new rules are an important part of our ongoing actions to protect the American people from national security threats involving telecommunications," US Federal Communications Commission Chairwoman Jessica Rosenworcel said in a statement in November, following a ban on approvals of new telecommunications equipment from Huawei and ZTE.
Other Western countries have also blocked Huawei phones from 5G mobile networks, citing security risks.
Huawei surveillance threat
Huawei has sold security tools that governments use for digital surveillance and censorship.
But Huawei employees have provided other services, not disclosed publicly, according to the WSJ.
"Technicians from the Chinese powerhouse have, in at least two cases, personally helped African governments spy on their political opponents," it said.
This has included "intercepting their encrypted communications and social media, and using cell data to track their whereabouts, according to senior security officials working directly with the Huawei employees in these countries".
In 2019, Algerian media ran a story based on WSJ reporting that claimed Huawei employees had used a surveillance system to help the Algerian, Ugandan and Zambian governments to spy on political opponents -- a report Huawei denied.
But African officials say Chinese government officials have played a key role in facilitating deals for Huawei in Africa, attending meetings and escorting African intelligence officials to the company's headquarters in Shenzhen, China.
According to data gathered by Steven Feldstein, a scholar of digital surveillance at Boise State University, Huawei has sold advanced video-surveillance and facial-recognition systems in more than two dozen countries, reported the WSJ.
Following a 2021 investigation, the Washington Post revealed it had reviewed more than 100 Huawei PowerPoint marketing presentations, many marked "confidential".
These showed Huawei "pitching how its technologies can help government authorities identify individuals by voice, monitor political individuals of interest, manage ideological re-education and labour schedules for prisoners, and help retailers track shoppers using facial recognition", the report said.
Huawei also has been linked to a face-recognition programme in the Chinese province of Xinjiang, where millions of Muslims have been forced into "re-education camps" and subjected to torture, rape and other abuses.
Huawei's corporate website also lists an array of video surveillance products.