NEW YORK -- The recent arrest of two men for setting up a Chinese "police station" in New York has drawn renewed attention to the broader scheme by Beijing to establish surreptitious police posts in countries around the world.
The men were charged in mid April with acting as unregistered agents of a foreign government and with obstructing justice by destroying evidence of their communications with Chinese officials.
They set up the office in New York City's Chinatown last year at the behest of the Fuzhou branch of the Ministry of Public Security (MPS), China's national police force, according to Breon Peace, the top federal prosecutor in Brooklyn, New York.
While the office performed some services like helping Chinese citizens renew their Chinese driver's licences, its main job was to help track down and harass fugitive dissidents from the People's Republic of China (PRC), US officials said.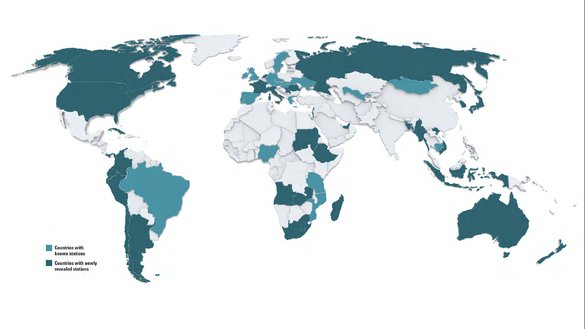 "The MPS established a concrete outpost, an off-the-books police station right here in New York City, to monitor and intimidate dissidents and other critics of the PRC within one of the United States' most vibrant diaspora communities," said David Newman, the Justice Department's principal deputy assistant attorney general for national security.
The arrest of the two men came alongside charges in absentia against 34 Chinese national police officers accused of using social media to target PRC critics in the United States.
Worldwide illegal policing campaign
China's worldwide campaign was revealed in September in a report by Spain-based human rights group Safeguard Defenders.
The investigation reported the establishment of at least 54 police-run overseas centres carrying out "illegal policing operations on foreign soil".
In a follow up report December 5, Safeguard Defenders identified at least 48 additional Chinese overseas police stations, bringing the total to 102 in 53 countries.
Chinese authorities have said the "overseas service stations" opened during the COVID-19 pandemic to assist nationals abroad with driver's licence renewal and similar matters.
The investigation, however, documented police stations set up by the Qingtian (Zhejiang province) and Fuzhou (Fujian province) Public Security Bureaus as early as 2018.
The vast majority of the newly documented stations were set up starting in 2016 by the Nantong (Jiangsu province) and Wenzhou (Zhejiang province) Public Security Bureaus -- directly refuting the claims that the stations were set up in the wake of the pandemic.
Providing further evidence to debunk Beijing's claims, the government of Fujian province said in a February 2002 news release that it had created the first 30 "Fuzhou Police Overseas Service Stations" on five continents.
Secret black sites
Some host countries have explicitly agreed to the set-up of these "police service stations" and local law enforcement, as well as the Chinese diplomatic presence, closely co-operates with the stations in those locations, the report said.
Such is the case in the United Arab Emirates (UAE), where at least two Chinese Overseas Police Service Stations function in co-operation with local authorities.
However, UAE authorities in the past uncovered "black sites operated by Chinese intelligence agencies that were used as detention and investigation centres", noted retired UAE army officer using the pseudonym Yasser Hassan.
The UAE-Chinese pacts give the Chinese police great latitude, Hassan said, "including freedom of movement in the UAE and [the ability] to conduct surveillance, monitoring and arrest if necessary".
"The UAE authorities arrested many dissidents or Uighur Muslims and deported them to China," he added.
Beijing has detained more than one million Uighurs and other mostly Muslim, Turkic-speaking inhabitants of the far-western Xinjiang region in a secretive network of detention centres and prisons over the past few years.
Accusations include mass incarceration, forced labour, compulsory sterilisation, systematic rape and the destruction of Uighur cultural and Islamic sites.
"In other countries, while such consent is (or appears) absent, PRC authorities seem to have (ab-) used existing bilateral policing co-operation mechanisms to further their clandestine goals," Safeguard Defenders said in its December report.
"The establishment of Chinese Overseas Police Service Stations without the host country's consent represents a severe breach of territorial and judicial sovereignty -- even if they were to provide 'only' consular services such as the renewal of passports or driver's licenses," the report said, citing the 1963 Vienna Convention on Consular Relations.
In reality, it said, these "police stations" are part of efforts by China's regime to "harass, threaten, intimidate and force targets to return to China for persecution".
Misgivings from Central Asians
Residents and natives of Central Asia expressed concern about the news, given their countries' proximity to China and Beijing's increasing influence in the region.
At least one police station operated by the Fuzhou Public Security Bureau is situated in Syr Darya, Uzbekistan, according to Safeguard Defenders.
The report "introduces evidence of the widespread Chinese practice of trans-national repression", said Nigara Khidoyatova, an Uzbek political analyst living in the United States.
"Chinese intelligence work basically is aimed at finding Uighur dissidents; that's why the Chinese plant Uighurs who are loyal to them in the goods markets in Central Asian countries," she said. "Chinese security agencies recruit local transport providers in Kyrgyzstan, funding them and giving them every possible market preference so that they collect information on Uighur dissidents."
Khidoyatova added that she knows at least one Chinese citizen who has been imprisoned for "espionage" for more than 10 years.
"I wouldn't be surprised if [Chinese police] stations existed in Uzbekistan and Kazakhstan," said Pulat Akhunov, an Uzbek political analyst living in Sweden.
"The duties of such police stations primarily centre on tracking Chinese citizens living in our countries and to discover threats to China from anti-Chinese religious and nationalist groups," he said.
They are also likely "recruiting officials and ordinary citizens of our countries to ensure a deeper Chinese infiltration ... with the purpose of gaining control over the state", he said.
"Clearly China created such a police station in Uzbekistan to find out if Uighurs are arriving from China, and if so, on what route and with whose help, be it from individuals or groups," said Alisher Ilkhamov, an Uzbek analyst living in London.
If Uzbekistan is helping China persecute Uighurs, "it will be shameful for Uzbek authorities," he said, noting that Uighurs are very close ethnically and culturally to Uzbeks and that Uzbekistan has its own Uighur minority.
Operating 'in bad faith'
The issue also does not sit well with Stanley Kyule, 47, a Kenyan trader in Chinese imports.
"For China to clandestinely open police stations in foreign countries, it means it does not trust in the policing process of the host countries," he said.
"Such an operation is an insult and in bad faith," he said. "What would be the reaction if other countries followed suit and opened similar illegal stations in Beijing or other Chinese cities? Of course China would go hard after such stations and incarcerate the operators for long jail terms."
Although Kenya is not on the list of countries known to host Chinese police stations, some prominent figures and politicians have raised doubts.
Neighbouring Tanzania is home to one of the secretive Chinese police stations, according to Safeguard Defenders.
"However, our ambassador to China, Mr. [Mbelwa] Kairuki, denied the claim," said Joseph Tundu, 38, a Tanzanian rice trader in Nairobi, Kenya.
"I hope this is the case," he said, but added, "You can't believe 100% [the information] our African governments feed us."
China is "undermining the sovereignty of nations by operating stations abroad whose sole mission is to trace, monitor, threaten, intimidate and harass Chinese", said Mercy Nasiche, 31, a primary school teacher in Uganda vacationing in Nairobi.
Nasiche wondered what "bureaucratic tasks" these overseas centres must do that Chinese embassies or consulates cannot handle.
Noting the recent arrests in New York, she said, "If the operatives were this daring to open such an illegal outpost [in the United States], what about in corrupt African nations? It means Chinese have countless such stations masquerading as consular [services] or 'offices to aid Chinese nationals with travel documents'."
"We all know that the Chinese government is secretive in all its dealings, and we do not expect it to openly admit to the world about the existence of these police stations," she added.
[Additional reporting from Waleed Abu al-Khair in Cairo, Rustam Temirov in Tashkent, Julio Kiths in Nairobi and AFP]