NILI DISTRICT, Daikundi Province -- Niamatullah Radfar's orchards and gardens lie at the base of a mountain in Chahr Asban village, a two-hour rocky drive from Daikundi's provincial capital, Nili.
Like all the local villagers, his family has used traditional horticultural methods.
Niamatullah has five jeribs (1ha) of land planted with grapevines, almonds and apple trees.
In 2015, he was the only villager who signed up when the National Horticulture and Livestock Project (NHLP) launched its activities in Chahr Asban, home to 500 families.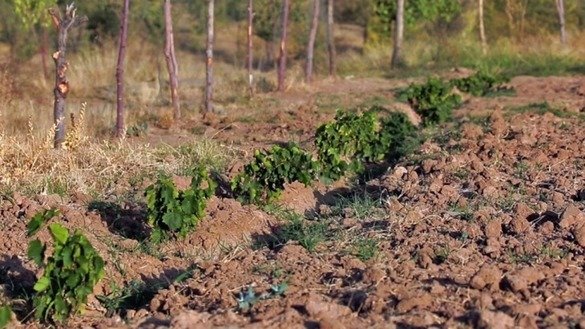 Ali Royesh, NHLP officer in Nili District, said people were initially sceptical of the project "because there had never been long-term support here".
After seeing NHLP's activities and Niamatullah's success, he said, "Now people trust NHLP."
Improved technologies, increased incomes
"NHLP has [...] introduced improved management technologies and practices for growing grapes," Niamatullah said, adding that he expects this year's harvest to sell for triple or even quadruple the price of last year's crop.
"The people ... are eager to join the NHLP schemes and use these new methods next year," he said.
"Before NHLP, all the orchards in the village used the unproductive traditional methods. Income was low," Niamatullah said. "I think that this project will increase the villagers' income and their situation in life will improve."
NHLP operates under the Ministry of Agriculture, Irrigation and Livestock, with $190 million (12.7 billion AFN) grant support from the Afghanistan Reconstruction Trust Fund.
NHLP began working in Daikundi Province in 2014 and operates in six of the eight districts, with plans to cover all by the end of 2017. It has established 1,400 jeribs (280ha) of grapes, almonds, apples and apricots in Daikundi. Construction is under way on 18 reservoirs to upgrade irrigation.
Profitable farms and kitchen gardens
"Our aim is to improve local people's welfare, not by giving them bread or clothes as one day the bread or clothes will be gone," said Mohammad Hassan Ibrahimi, NHLP provincial co-ordinator in Daikundi. "Instead, we introduce them to improved farming practices."
In the first year of a partnership with farmers, NHLP covers 75% of project costs. In the second year, the project and farmers split the costs equally.
NHLP holds monthly Farmer Field School sessions in which season-specific topics are discussed, such as fertilising, pruning and irrigation, and maximisation of yield and income.
Recently, NHLP began working with more than 800 Daikundi women to create kitchen gardens.
"Before NHLP, we were not aware that we could cultivate vegetables all year, or of the nutritional value of eating vegetables," said Sediqa Hussaini, 31, mother of four. "Now we are even cultivating in the winter, and planting lettuce in addition to onions, radishes and chives."
[The World Bank Group authorises the use of this material subject to the terms and conditions on its website, http://www.worldbank.org/terms.]