KABUL -- Afghan political and religious leaders are urging citizens to stay away from militant groups, especially the "Islamic State of Iraq and Syria" (ISIS), whose ideology is contrary to Afghan culture and religion.
"ISIS is an unpopular terrorist group in Afghan society," Bashir Ahmad Tahyenj, an Afghan MP from Faryab Province, told Salaam Times.
"Whenever an Afghan individual joins this group, other people feel disgust and detestation towards him, as well as towards his family," he said. "They permanently lose status among other Afghans, including their own relatives."
Even after ISIS members are killed by Afghan security forces, their wives and children suffer, according to Tahyenj.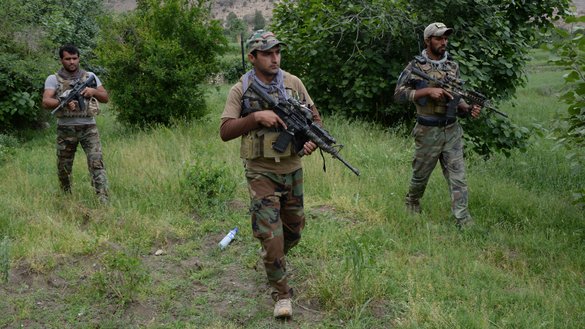 "Their wives and children live in a horrible social and economic situation," he said. "In fact, they beg on the streets."
'No place for extremism in Islam'
ISIS is a radical and fundamentalist group whose ideology has deviated far from Islam, according to the National Council of Religious Scholars (the Ulema Council).
"Joining ISIS -- which is not committed to any Islamic, humane or Afghan values -- is equal to disregarding and attacking Islamic doctrine, human dignity, human rights and Afghan traditions," Mohammad Qasim Halimi, spokesman for Afghanistan's Ulema Council, told Salaam Times.
For example, ISIS's brutal attack on Sardar Daud Khan Hospital in Kabul on March 8 -- killing scores of doctors and patients and destroying medical equipment -- is "definitely forbidden", he said.
"Those Afghans who join ISIS and destroy such medical and health facilities must realise that there will come a day when their own families and relatives will need such health centres as well as physicians and medicine," he said.
On the subject of "sexual jihad", Halimi said, "Capturing women and using them as sex slaves ... are completely against all Islamic principles and contrary to Afghan culture."
"This is the most horrendous example of crimes committed by ISIS against women," he said.
"There is no place for extremism in Islam," he said, citing verses from the Koran. "Moreover ... whoever sides with ISIS, or any other extremist group for that matter, can no longer be considered a member of the Muslim nation."
ISIS casualties 'on the rise'
Meanwhile, the Ministry of Defence said the ISIS Khorasan branch is approaching complete annihilation each passing day.
"The number of ISIS casualties is rising at an unprecedented pace," said Defence Ministry spokesman Dawlat Waziri.
"Two hundred ISIS members have been killed by Afghan security forces in the past week," he told Salaam Times April 28. "In addition, since the launch of Operation Hamza [March 31], more than 500 ISIS militants have been killed in Nangarhar alone."
"The absolute majority of Afghans who had pledged allegiance to ISIS have been killed," Waziri said, adding, "The Khorasan branch of ISIS in Afghanistan is on the verge of eradication."
"ISIS Khorasan ... fights not only with security forces but also with Afghan civilians," said Abdoljabbar Qahraman, an MP from Helmand Province. "There is no place for them among the people."
These battles are making many Afghans "miserable" and "likely to suffer from mental and psychological problems, as well as social and economic challenges," he told Salaam Times.
"The Afghans who join ISIS will certainly be killed, and subsequently their wives and children will become burdens to society," he said, adding that "terrorist groups, the drug mafia and human traffickers will take advantage of them".
"The continuation of this situation will drive Afghan society towards a serious crisis," Qahraman warned.
Irreparable shame for ISIS members' descendants
"ISIS uses various methods to brainwash its recruits," said Sayed Fazlullah Wahidi, former governor of Kunar and Herat provinces.
"These individuals understand nothing but murder, suicide, explosions, barbarism and cruelty," he told Salaam Times. "I've even seen cases of ISIS members murdering their own brothers in Helmand and Uruzgan provinces."
"ISIS does not conform with the customs of the people of Afghanistan, so joining such a group is stigmatised all over the country," Wahidi said. "Families and relatives of individuals who join ISIS will live in shame for the rest of their lives and will pass on the shame to their descendants."
"ISIS is a hideous, horrible and unacceptable phenomenon for all Afghans," said Aziz Rafiee, managing director of the Afghan Civil Society Forum. "Whenever an Afghan joins this group, others certainly consider him a terrorist, murderer and barbarian."
After someone joins ISIS, "he won't be able ever to return to his normal life", Rafiee told Salaam Times. "Even if he survives the battle ... he won't have a way to go home."
"The reason is that people will never allow someone who has pledged allegiance to ISIS -- someone with blood on his hands -- to return to his house," he said.