KABUL -- Iranian President Hassan Rouhani's remarks on the construction of dams in Afghanistan have sparked protests among Afghan citizens and some government officials.
In his July 3 speech at the International Conference on Combating Sand and Dust Storms in Tehran, Rouhani said that 80% of sand and dust in Iran stem from external factors, including construction of dams in Turkey and Afghanistan and their impact on the environment.
"Construction of several dams in Afghanistan, such as Kajaki, Kamal Khan, Salma and others in the north and south of Afghanistan, affects our Khorasan and Sistan-Baluchistan provinces," Rouhani said.
Many Afghans rebuked Rouhani for his remarks, calling them another example of Iran trying to interfere in Afghanistan's internal affairs.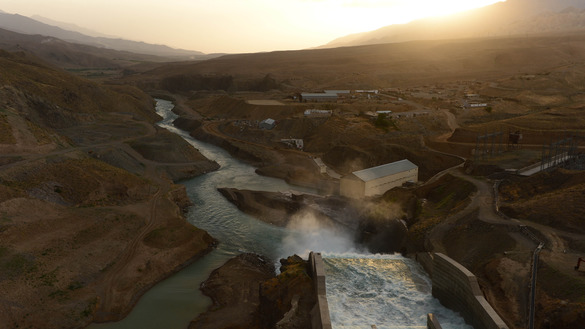 Iranian interference in Afghan affairs
Residents of Kabul, Helmand, Paktia, Nimroz, Kandahar and other provinces are condemning Rouhani's remarks and staging demonstrations in response.
"Iran has always interfered in Afghanistan's internal affairs, and such remarks by [Rouhani] represent such interference," Muhibbullah, a civil society activist in Kabul, told Salaam Times.
"Afghanistan is an independent country and can utilise its water resources however it deems fit," he said.
"By paying Taliban members, Iran delayed the construction of Salma Dam in Herat Province for many years," said Mahmoud Rezaei, 28, a student in Kabul originally from Herat Province.
In 2012, Gulbuddin, a police commander whose battalion guarded Salma Dam in Herat Province, accused Iran of funding a local Taliban commander, Mullah Mustafa, to sabotage the dam, according to Environment News Service.
"Now [Rouhani] is openly stating that he will not be indifferent towards dam construction in Afghanistan, which means that he is determined to increase destructive activities in Afghanistan," said Rezaei.
"The government of Afghanistan observes its treaty with Iran, and therefore there is no reason for that country to be concerned," said Najib Aqa Fahim, a law and political science professor at Kabul University.
The countries' then-prime ministers signed the Afghanistan-Iran Helmand River Water Treaty in 1973. However, political turmoil in both countries kept the agreement from being fully implemented.
The reason for Rouhani's concerns is not clear, Fahim said, suggesting Rouhani "does not have an accurate understanding of [Iran's] treaty with Afghanistan".
Misunderstandings and blame
Iranian Ambassador to Kabul Mohammad Reza Bahrami attempted to quell the rising tensions, saying Rouhani's remarks "were misunderstood by Afghans".
"He was talking about regional challenges .. [and] about [the fact] that we all are like a family and we should be a powerful family", Bahrami said in an interview with TOLO News published July 7.
But many Afghans reject his view. Dozens of local elders, youth and government officials participated in a meeting July 13 in Kandahar Province, reiterating their opposition to Rouhani's remarks.
Afghanistan is serious about the water sector and complies with international rules and regulations, said Kandahar Deputy Governor Haji Agha-Lalai Dastgiri.
"The country's water resources are great assets, with the help of which Afghanistan will achieve economic and social progress," he told Salaam Times.
Meanwhile, in a meeting with lawmakers July 15, Afghan Minister of Energy and Water Ali Ahmad Osmani turned the blame back on Iran.
Iran has dried up its shared water resources with Afghanistan because of overuse and mismanagement, Osmani said.
Iran has already built 600 dams over the rivers which it shares with Afghanistan, while Afghanistan has built only four dams on those shared rivers, he added.
Afghan dams 'no threat' to Iran
"Afghanistan is managing its waters based on its national interests and in accordance with international conventions," said Abdul Basir Azimi, an Afghan deputy minister of energy and water.
"This constitutes no threat of any kind to neighbouring countries," he told Salaam Times. "Quite the contrary, it provides shared opportunities for regional co-operation."
Water management can lead to economic prosperity and job creation, as well as preventing migration and drug smuggling, results that benefit all neighbouring countries, he said.
"The construction of dams will bring economic prosperity, given that Afghanistan is an agricultural country," Azimi said, adding that if neighbours want to see Afghanistan improve, "they should support the dam construction plans".
At least 15 dams are under construction this fiscal year, said Azimi, adding that work on more dams is planned for the next fiscal year.
Salma Dam in Herat Province was completed last year. Meanwhile, work is proceeding on the second phase of Kajaki Dam in Helmand Province and the last phase of Kamal Khan Dam in Nimroz Province and of Bakhshabad Dam in Farah Province.
The government has increased attention to the construction of dams and is seeking funding sources for these projects, Azimi said.
During the Brussels Conference on Afghanistan last October and the NATO Summit in Warsaw in July 2016, the Afghan government called on the international community to help build dams in Afghanistan, he said. In response, the Asian Development Bank, the World Bank and some friendly countries expressed their willingness.
"In addition to international assistance, a larger portion of the government budget has been allocated to the [water] sector, while the private sector also has been encouraged to invest in these dams," said Azimi.
Upon completion of the various dams, many regions in Afghanistan will benefit from the electricity generated by the dams and farmers will receive the water they need, he said.