KABUL -- The ongoing construction of Kabul's first municipal bus system has brought hope to frustrated residents often trapped in traffic for hours a day.
Some days, what should be a 15-minute trip to school takes an hour, complained Layla Hamidi, 19, a Kabul student.
"Some days the traffic is so heavy that I can't make it to my classes on time," she told Salaam Times.
"I'm very happy to hear that a metro bus line is going to be activated in the city... since it can help reduce the city's heavy traffic congestion," she said.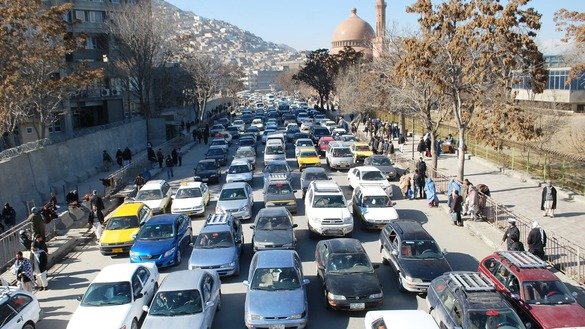 High hopes and bold plans
Kabul municipality launched the metro bus project June 16.
It aims to alleviate the city's dense traffic, exacerbated by a swelling population and increasing numbers of vehicles, city officials say.
The first phase of system construction will take one year, said acting Kabul Mayor Abdullah Habibzai.
Within three years, Kabul will have 111km of bus lanes, he predicted, according to Pajhwok Afghan News. The first buses will be running early next year, he added.
The 111km network of bus lanes is expected to cost $15 million (1 billion AFN) to build, according to Pajhwok Afghan News.
The preparatory work for the construction of the metro bus project began right away, including paving of Kabul's roads, according to Abduljalil Sultani, spokesman for the municipality.
"Currently we are working on re-surfacing and asphalting the roads," he told Salaam Times August 18. "After we complete the asphalt, we will separate the metro bus lane on this road."
In addition, the design for the second phase of the metro bus project has started and will be implemented immediately after the completion of the first phase, he said.
Establishing metro bus lanes will help manage traffic in Kabul, said Ahmad Massoud, 25, a Kabul University student.
Eager for relief
"On some days, [commuting to class] takes me hours and hours," he told Salaam Times, echoing Hamidi. "It makes my trip between the university and home extremely difficult and tiring."
Kabul has become overcrowded, disrupting its residents' lives and work, said Gholam Mohammad, a Kabul engineer.
"The news about the launch of the metro bus project is the one bit of good news I heard during a period of bloody terrorist attacks in Kabul," he told Salaam Times.
"Managing and controlling traffic in Kabul have become difficult because the number of vehicles in the city went up greatly," said Wahidullah, a Kabul traffic police officer.
"Although traffic control employees are hard at work .. their efforts alone have not been enough," said Sultani the municipality spokesman.
Once buses are up and running, they will greatly reduce the capital's congestion, he predicted.
"The metro buses will be used very often because they will have their own dedicated, high-speed lane," he said.
The municipality is still deciding from where to purchase the buses, Sultani said, adding that it will finalise its plans soon.