KABUL CITY, Kabul -- Schoolchildren are walking briskly down the clean paved lane on their way home from school.
Amruddin, 70, walks among them, holding the hand of his 10-year-old grandson. He is walking from the Khoja Boghra roundabout intersection towards his home, where he has lived for 35 years on a lane by the Danish Bus Stop in the Khoja Boghra neighbourhood of Khair Khana, 3rd part, Kabul.
He walks down the smoothly paved lane, talking with his grandchild. "I no longer worry about my grandchild because he will not be stuck in mud and dirty his clothes anymore," Amruddin said. "In past summers, there was always a bad smell in the lane due to blocked drainage ditches, and in the winter, the lane would turn muddy with snow and rain."
Both the mud and the bad smell disappeared when the lanes were paved and a proper drainage system was put in place by the Kabul Municipal Development Programme (KMDP). "I used to wear a pair of boots every time I came out," Amruddin said. "But I do not need them anymore."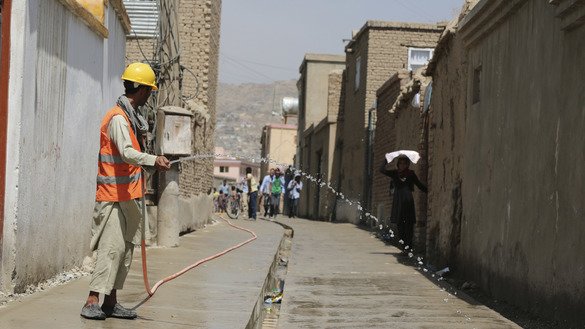 All the lanes in the Khoja Boghra neighbourhood have been paved with concrete, benefiting more than 10,000 residents. The concrete lanes and improved road drainage system have contributed to a cleaner environment in Khoja Boghra. In addition, KMDP has provided cleaning equipment to three cleaners recruited by the local community development council. The cleaners are paid monthly by the local residents to maintain the lanes.
Over 300,000 beneficiaries so far
KMDP began work in Khoja Boghra on July 2, 2015, and finished on August 2, 2016, paving a total of 13km of drainage structures and 64 lanes, totaling 11km. KMDP is implemented by the Kabul Municipality to, among other initiatives, improve street conditions in neighbourhoods such as Khoja Boghra.
With a $110 million (7.3 billion AFN) grant from the Afghanistan Reconstruction Trust Fund (ARTF), KMDP is expected to benefit more than 770,000 people through services provided in some 1,770 hectares of government-owned land in Kabul city.
So far, there have been more than 310,000 direct beneficiaries (more than 100,000 from upgraded roads and more than 210,000 from trunk roads) and more than 76,000 indirect beneficiaries, including students and staff of several schools and institutions of higher education. About three-quarters of the beneficiaries are women and children. In addition, more than 1,348,565 man-days of temporary employment have been generated.
Improved sense of community
Although many Khoja Boghra residents have lived alongside each other for 35 years, they were not well connected by road before the paving project. The community development council formed by KMDP has not only facilitated the implementation of the project but has also led to an increased sense of community among residents.
As resident representatives participate in the council meetings, they have learned more about each other and have developed strong relationships and a sense of community.
"I did not know all my neighbours, and the level of trust among us was low," said Saida, 17, a resident. "We all know each other well now and this has increased trust among us and reduced contention."
Residents also exchange and share their views on relevant issues and take pride in their neighbourhood.
"Both men and women expressed their opinions during the implementation of the project," Saida said. "They also monitored implementation, which improved the quality of the work done. Now people have put lights on their doors. This has made it easier and safer to walk through the lanes at night and has contributed to the overall safety of the neighbourhood."
[The World Bank Group authorises the use of this material subject to the terms and conditions on its website, http://www.worldbank.org/terms.]