TAIPEI, Taiwan -- Beijing's increasing sabre-rattling and its territorial disputes with its neighbours threaten global peace and risk choking the world's busiest shipping lanes with global economic repercussions, analysts warn.
Afghanistan has its own potential grounds for concern with China, since Badakhshan province, Afghanistan, and Xinjiang region, China, share a 76km-long border.
A few years ago, China built a military base in Tajikistan just a few miles from the Wakhan Corridor in Badakhshan province, a move that many see as the beginning of Beijing's encroachment into Afghanistan, which is key to China's security and continental ambitions. China covets Afghan mines, including the Mes Aynak copper lode in Logar province.
Drills off Taiwanese coast in August
China's military drills last month off Taiwan are the most recent reminder of the threat that Beijing's military expansionism poses.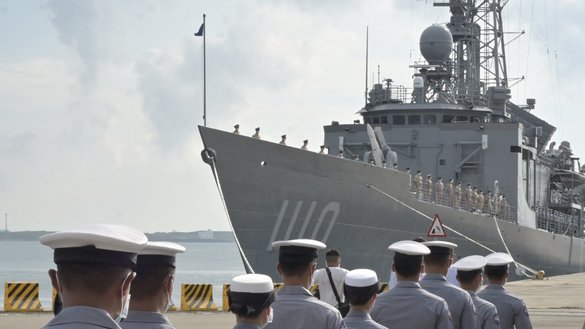 Taiwan has had its own government since 1949 but lives under the constant threat of invasion by China. Beijing views the island as its territory and has vowed to one day seize it -- by force if necessary.
After top US government officials visited Taiwan on August 2, China retaliated by deploying warplanes, ships and missiles for drills.
Over five days, from August 2-6, Chinese military aircraft entered what Taiwan calls its Air Defence Identification Zone or crossed the Taiwan Strait median line at least 131 times, Taiwan's military reported.
China's People's Liberation Army (PLA) fired ballistic missiles into the waters off Taiwan, including four that flew high over the island itself, according to Japan. It also conducted exercises closer to the island than ever before.
The goal of the exercises was more to demonstrate to Taiwan and the international community China's ability to surround and potentially blockade its island neighbour.
"This is political warfare," Drew Thompson, a senior fellow at the Lee Kuan Yew School of Public Policy in Singapore who formerly worked in the Pentagon, told The New York Times on August 25.
Clogging shipping lanes
China's military exercises in the waters surrounding Taiwan affected global shipping lanes.
The Taiwan Strait, a 180km-wide waterway separating Taiwan from mainland China and the rest of Asia, is a main ocean route for commercial vessels sailing to or from China, Taiwan, Japan and South Korea.
The shipping routes carry goods from Asian factory hubs to markets in the Middle East, Europe and the United States.
Last year, almost half of the global container fleet and 88% of the world's largest ships by tonnage crossed the waterway, according to Bloomberg.
'String of Pearls'
The recent drills bode ill for other key waterways in which China either has active disputes or where it is expanding its military presence.
China claims almost all of the South China Sea, through which trillions of dollars in trade passes annually, with competing claims from Brunei, Malaysia, the Philippines, Taiwan and Vietnam.
In Central Asia, Beijing has in recent years been floating the idea of the return of "its" territories in its media to gauge the reaction of the local population in what observers say is a direct threat to the region's sovereignty.
Beijing has also been pushing a massive infrastructure drive to connect mainland China to the Horn of Africa via a network of military and commercial facilities.
As part of its "String of Pearls" strategy, China's sea lines run through several major ports from the Maldives to Bangladesh, Sri Lanka, Pakistan, Iran and Somalia.
They run through several major maritime choke points including the Bab al-Mandeb Strait (between Yemen on the Arabian Peninsula, and Djibouti and Eritrea in the Horn of Africa), the Strait of Malacca (the main shipping channel between the Indian and Pacific oceans), the Strait of Hormuz (which separates Iran from Oman and the United Arab Emirates) and the Lombok Strait (between the islands of Bali and Indonesia).
Beijing's global infrastructure drive, known as the Belt and Road Initiative (BRI) or One Belt, One Road (OBOR), continues inland from these important seaports, reaching other parts of the Middle East, Central Asia and Africa.
However, critics warn that China's ostensibly commercial projects serve a dual purpose, allowing for its rapidly growing military to expand its reach.
The String of Pearls also gives Beijing an advantage and a pressure lever should a full-scale conflict erupt over Taiwan.