KABUL -- Twenty newly inaugurated fish farms in Nangarhar Province appear to be well on their way to freeing Afghanistan from the need to import fish.
The farms, which were built in Behsud District with funding from the Ministry of Agriculture, Irrigation and Livestock (MAIL)'s National Horticulture and Livestock Productivity Project, have the semi-annual capacity of producing 30 to 40 tonnes of fish. All the farms opened August 22.
"Each farm will produce a ton to ton and a half of fish over a six-month period," said Rafiullah Rahimzai, director of the province's Agriculture, Irrigation and Livestock Directorate.
Each farm is worth 6 million AFN ($87,647), he told Salaam Times.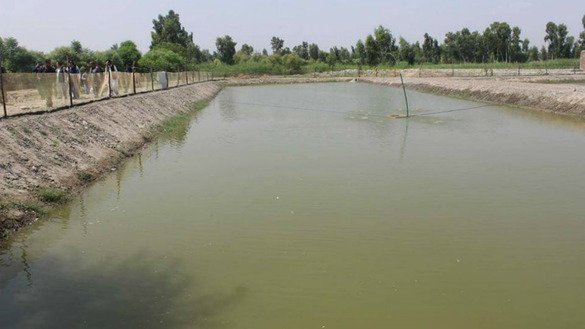 A farm worth 10 million AFN ($146,079) in Surkh Rod District is expected to produce 2 million fish in six months, added Rahimzai.
"Henceforth, the eastern and western provinces of Afghanistan will no longer need to import juvenile fish and fish eggs ... and will become self-sufficient in this area," Rahimzai added.
Self-sufficiency
The aim of building these farms and implementing future such projects is to increase domestic fish production and self-sufficiency, said Nangarhar Governor Mohammad Gulab Mangal.
"Building these fishery ponds will directly employ dozens of Nangarhar residents, while indirectly providing jobs to hundreds of others," he told Salaam Times.
"Nangarhar has abundant water," he added. "This province has fish farming capacity in both spring and summer. We urge private companies to invest in fish farming in this province."
Afghanistan has a long history of importing fish from Australia, Iran and other countries, MAIL spokesman Lotfullah Rashid told Salaam Times.
"Last year, however, we released 50,000 juvenile fish at the Salma Dam, Herat Province," he said. "In addition, we released 20,000 fish at the Qargha Dam, Kabul Province, so that they could lay eggs ... According to experts at MAIL, within the next two and a half years, those dams will produce hundreds of tonnes of fish [annually]."
Hopeful locals
"Fish farming in Nangarhar has witnessed an increase over the past two years," said Khalilurrahman, 45, a resident of Surkh Rod District and a fishmonger.
"Two years ago, I used to sell fish only on Fridays when people used to come here to have fun, and the sales volume was about 20 to 25kg of fish," he told Salaam Times. "Now, however, I sell up to 20kg every day. I have a good income from selling fish."
"Nangarhar is known as the province of eternal spring," Kabul University social sciences student Ahmad Shubair told Salaam Times. "Its fish, olive oil and honey are famous."
"For two years, I, along with some classmates, have been going to Nangarhar once a month -- especially in winter -- to eat fresh fish and have fun," he said. "We enjoy delicious Nangarhar fish. On the way home, we buy fish and honey for our families in Kabul."