HERAT -- Herat's fish farming industry has grown significantly over the past 12 months, eliminating the need for fish imports from Iran and creating hundreds of jobs for Afghans, local authorities say.
Workers built more than 28 new farms in several districts of the province, according to the Herat Provincial Agriculture and Livestock Directorate, increasing output by almost 70% to more than 100 tonnes of fish meat since the beginning of 2021.
The new fish farms are operating in the districts of Obe, Injil, Guzara, Zindajan and Karukh and in Herat city.
More than 10 types of fish are raised in Herat, and they are superior to imported fish, said Bashir Ahmad Ahmadi, deputy director of the Herat Provincial Agriculture and Livestock Directorate.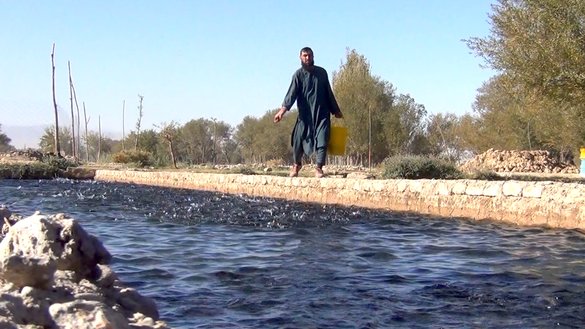 "While we imported fish in large quantities from Iran in previous years, we have imported no fish so far this year," he said, referring to Herat province.
Reducing unemployment
The fish farms offer valuable job opportunities for youth amid increased unemployment across Afghanistan following the collapse of the previous government.
"Ten new fish farms are under construction, and the farming activities on these farms will soon commence," Ahmadi said. "Fish farming has proved to be a profitable occupation, so many farmers are getting interested in fishery."
As many as 10 workers find stable employment on each fish farm, he said.
Herat has growth potential in terms of agriculture and animal husbandry, and if investments are made in these sectors, thousands of unemployed youths will find jobs, said Mohammad Ali Niazi, an economist in Herat city.
"Building fish farms in underserved villages will not only provide employment opportunities but will improve farmers' and poor households' livelihoods and well-being," he said.
"If we invest in this area, Herat fish products will be shipped to other provinces and possibly overseas," Niazi said.
Herat has sweet water that leads to delicious fish, he added.
Alternative to labour migration
Masoum Ahmadi, 38, and his three brothers established a large fish farm in Obe district when they returned to Afghanistan last year after working on a fish farm in Iran for 10 years.
They built the farm to encourage their fellow villagers to reconsider migrating to Iran for work, he said.
"Apart from rescuing me and my brothers from illegal migration to Iran, the establishment of the farm has provided 18 jobs -- and this means 18 families can survive looming starvation with an income from my farm," he said.
He plans to build more fish farms in the future.
"We raise several types of fish on this farm," Ahmadi said. "Residents of Herat city, which is more than 100km away, come here to buy fish."
Mansour Ahmadi, Masoum's brother, said he was tired of working in Iran and demoralised by mistreatment by Iranian authorities.
He is now happy to be raising fish in his own village.
"We have unnecessarily tolerated the misbehaviour of the Iranian employers and police for many years, but now we work freely in our country," Mansour Ahmadi said.
Afghan youth are forced to do extreme labour in Iran, and if they fail to adhere to their employers' demands, they lose their jobs, he said.
If there were jobs in Afghanistan, no Afghan would be willing to work in difficult conditions in Iran, he said.
'Very good income'
Mohammad Akbar established two fish farms in Guzara district last year and now employs more than 30 workers.
He started his farm with initial capital of about 200,000 AFN ($2,100) and that business is booming following a substantial increase in sales, he said.
He has earned about 400,000 AFN ($4,200) in recent months and still has more fish available for sale, he said.
"Initially I was thinking that fish might not grow in the villages, but we now have the best fish on our farm," he said.
"Raising fish is very simple and hassle free, and more important, it makes good money," Akbar said.
Akbar said he earned back his investments on building the two fish farms within the first few months.
The climate in Herat province is very conducive for fish farming, and if investments are allocated to this sector, it could export thousands of tonnes of fish annually, said local agronomist Sayed Abdullah Bawar.
"Because of the favourable climate of Herat, there is room for breeding a variety of fish in the province," he said.
"Most of Herat's districts are located alongside the Harirud River and have plenty of water," he said. "No matter how many fish farms are built in these areas, they can benefit from the river waters."
"Farmers can establish fish farms with affordable capital investment and earn a very good income," Bawar said.
If authorities can promote fish farming robustly in Herat, it could transform lives across villages in the province, he added.