KANDAHAR -- The US Agency for International Development (USAID)'s Afghanistan—Value Chains-Crops (AVC) project is helping farmers in Kandahar replace the cultivation of poppies with fish farms.
The first phase of the Drugs Alternative Programme has established 30 fish farms and provided fish breeding equipment and fish feed to farmers.
This effort is aimed at saving farmers from poverty and unemployment and helps them gain sustainable income.
Farmers are professionally trained in fish breeding as part of the programme, said Mohammad Hamid, director of the Animal Husbandry unit at Kandahar's Department of Agriculture, Irrigation and Livestock.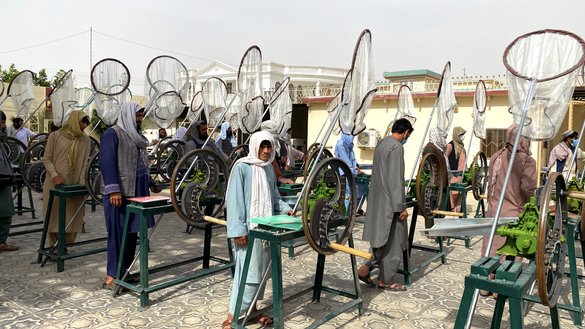 "In the past, around 1,700 fish farms were active in Kandahar, but most of them were closed as a result of droughts and as farmers turned to poppy cultivation," he said.
"With the AVC project's support, we want to reactivate these farms."
"Economically, the fish farm project is very helpful to the farmers ... The expansion of this project will lead to a decrease in poppy cultivation in Kandahar," he added.
Farmers have tired of cultivating poppies, and international aid has led to the growth of alternative crops, Hamid said.
Profitable business
The establishment of new fish farms and professional fish breeding in Kandahar will increase the production of fish in the province.
Farmers who cultivated poppies in the past and now own fish farms say they are happy to be done with illicit cultivation.
Qyamuddin Rahmani, 32, a farmer in Arghandab district, Kandahar province, said he is breeding about 2,000 fish at his farm, and will be ready to sell them in a few months.
"I had a small fish farm at home, but now I have a large farm, thanks to the support of the [AVC project]," he said.
"I received some equipment, including a machine to prepare fish food, as well as fishing nets, fish food and fish medicine."
"I was trained in fish farming for several days and learned how to prepare fish feed, identify and prevent diseases in fish and increase the weight of the fish. Now I can breed fish better than before," he added.
USAID's financial support has transformed his life, and instead of cultivating poppies on his land, he now breeds fish and earns halal (legitimate) income for his family, Rahmani said.
Wali Shah, 38, another farmer from Arghandab district, also said that breeding fish is saving him from poverty and that he no longer has to cultivate poppies on his land.
"I had a small fish farm for two years in my garden, but I expanded it with the assistance I received," he said.
The training he has received means that he will be able to keep more fish alive, Shah said.
"There are about 10 fish farms in our district, but people want support from aid agencies to increase them to 30 or 40 farms," he added.
"People are very interested in fish breeding and growing halal crops. They no longer want to cultivate poppies."
Fish farming is a profitable business, Shah said, adding that he is happy that he will no longer suffer from economic problems.
Better life
Residents of Kandahar who have benefited from international humanitarian assistance say the aid has saved them from severe poverty and hunger.
Niaz Mohammad, 37, a resident of Kandahar city who received equipment for a fish farm, said if he had not received the aid, he would have faced severe poverty and would have been forced to emigrate with his family.
"International aid has given a new life to impoverished Afghans like me," he said. "This fish farm ... has saved my family from poverty."
"I needed this assistance badly because economic problems had made my life very difficult," he said.
"I used to cultivate poppies in the past, but instead of gaining a profit, I would lose money. Even last year, I grew poppies on one hectare of land. Yields were very low from the drought, and my income did not even cover my expenditures."
Mohammad said his economic conditions have since improved with the fish farm and he will no longer grow poppies.
Wali Mohammad, 45, a resident of Arghandab district with a seven-member family, said until two years ago, he worked at the Kandahar office of the Department of Public Works and had a good life, but he lost his job two years ago and started facing poverty.
"At the height of difficulties and despair, I was included in the World Food Programme project and started receiving food and cash assistance every month for more than a year," he said.
"This assistance saved my life and my family members' lives because we had no other source of income."
"I was then included in a development project that paid me a monthly salary of 12,000 AFN ($137)," he said.
"The project was supported by the United Nations, and it provided work opportunities for hundreds of people like me. After its completion, I started a fish farm with the support of aid agencies."
Mohammad said he is happy that international assistance continues to reach Afghans in such difficult times and called on donor countries not to leave Afghans alone in such difficult circumstances.