NANGARHAR -- Officials in Nangarhar Province are trying to improve the lives of those working in brick factories as indentured labourers.
Surkh Rod District has hosted about 100 brick factories, employing mostly poor families who take loans from factory owners and then struggle for years -- sometimes generations -- to pay off their debt.
Salaam Times spoke with one of the families suffering under these extreme labour conditions, and to local officials working to provide alternative opportunities for employment.
A hard life
Abdur Raziq, 48, started working in a brick factory about two years ago, borrowing the equivalent of about $475 from the factory's owner.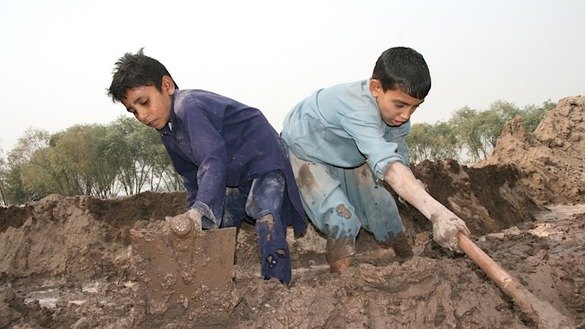 "We used to live in Pakistan," Raziq told Salaam Times. "When we came here, we started living in a rental residence in a small town. I could not find work, while my children were small. Hence, I had no other option but to come and work in a brick factory."
At the brick factory, Raziq and his family of six children have two rooms to live in.
"They give one room in exchange for 1,000 bricks -- meaning that if you make 1,000 bricks every day, they will give you one room," he said. "But if you have a large family and you can make 2,000 bricks per day, they will give you two rooms."
"I withdrew all of my sons and daughters from school because they have to work and earn with me to pay off the debt," he said. "However, we have not paid off our debt and it is still increasing."
One of his sons, Zakirullah, 10, had to quit school in fourth grade and started working with his father.
"I have two wishes," Zakirullah told Salaam Times with tears in his eyes. "First, I would do any other work [other than the] brick factory, and second, I would like to start my studies again."
Providing alternate sources of income
Local authorities say they are aware of the problems in the brick factories and are taking steps to help the families stuck in the cycle of debt.
About 1,000 children are working in the brick factories of Surkh Rod District and are therefore unable to go to school, according to a survey conducted by the Nangarhar Province Directorate of Labour and Social Affairs.
The directorate is working to improve these families' working conditions and provide education to the children, said Director of Labour and Social Affairs Abdul Hakim Sherzad.
"We have provided some vocational training to those who work in brick factories as well as literacy courses to their children," Ataullah Khogyani, spokesman for Nangarhar's governor, told Salaam Times.
"The government has provided job opportunities to thousands of families who have been previously working at brick factories, and now they have other jobs," he said, promising that the local administration will provide more assistance.