KABUL -- A team of Afghan women has created a computer game aimed at combating drugs and promoting the cultivation of saffron in Helmand Province.
Eight women, all computer science students at Herat University between the ages of 20 and 24, teamed up to make the game at the Code to Inspire computer training centre in Herat Province.
The hero of the game is an Afghan soldier who goes to Helmand Province, fights the enemies of Afghanistan, destroys opium poppy fields and cultivates saffron instead.
Enthusiasm for fight against opium
Khatera Mohammadi, a computer science student at Herat University, is one of the members of the team that created the computer game simulating the war on poppy cultivation.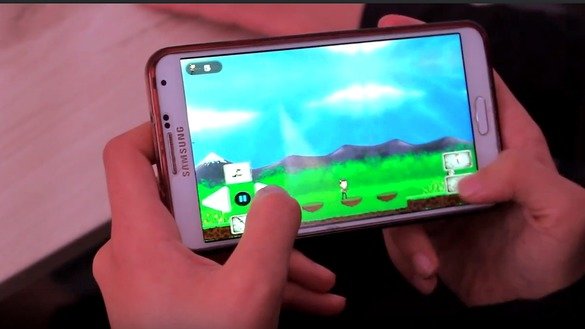 The game is based on the reality that Afghan soldiers are fighting poppy cultivation and lack of security in Helmand Province, Khatera told Salaam Times.
"Based on the game's story line, [Afghan soldiers] go to fight the enemy and ... and destroy drugs," she said. "What we added [to the story] was the cultivation of saffron, since we wanted to provide a positive outlook."
"In this game, we have presented the world with a positive image of Helmand," Khatera said.
Hosaina Haidari is another Herat University student at the programming centre who contributed to the creation of the computer game.
"Through this game, we want to encourage every youth and teenager, and every citizen in general who plays it, to become enthusiastic about the fight against opium poppy and to cultivate saffron instead, since saffron is both economically lucrative and good for you," she told Salaam Times.
The production of the game took almost ten months, Hosaina said, adding that the game was produced in multiple stages and phases like a movie.
"The game was welcomed by our professors, our friends and our families, since its goal was not solely to fill leisure time," she said. "Rather, it was created based on a clear, purposeful objective."
Game 'very effective' in raising awareness
The Ministry of Counter Narcotics welcomed the computer programming students' initiative to inform the public about the war on drugs.
"It is very effective," ministry spokesman Abbas Farasoo told Salaam Times. "A major and effective part of [countering narcotics] is to [raise] public awareness, be it through providing alternative livelihood programmes or in terms of causing demand to decline."
"We need public awareness campaigns to be conducted through media, theatre and any other initiatives that take place," he said.
"We welcome the students' initiative, and the Counter Narcotics Ministry is ready to co-operate with them and to utilise their creativity in this regard," he said.
Computer games that meet the needs of Afghan citizens are a necessity, considering the expansion and prevalence of smartphones and computers in the country, said Mohammad Naser, a Kabul-based psychologist.
Public awareness is low in Afghanistan, and games that impart a message will have an effective impact on players' minds, he said.
"This anti-drug computer game shows the problems that the soldiers endure in fighting the country's enemies," he told Salaam Times. "This will create respect for our soldiers in the hearts of the public."
"In this game poppy cultivation is seen as an unpopular phenomenon, while its alternative, which is saffron, is portrayed as a useful and valuable plant," Naser said. "This will instill an image of opium poppy as an ugly plant that should not be cultivated."
Inspired computer programming
Hosaina, who has studied for almost two years at the Code to Inspire computer programming centre and is due to graduate soon, said she will continue to produce more games with a higher purpose.
"We are determined to include such factors as effectiveness and messages in every game we create," she said. "Moreover, [we want] these games to show appropriate solutions in addition to highlighting challenges."
The Code to Inspire computer programming centre was founded in 2015 by Fereshteh Forough, an Afghan refugee born in Iran. She moved to Herat with her family one year after the 2001 fall of the Taliban and studied computer science at Herat University and the Technical University of Berlin in Germany.
Her goal is to empower Afghan women by improving their technical literacy.
"The students at the centre are female undergraduates and schoolgirls, numbering from 55 to 60 total," Hassib Rassa, project manager of the programming centre in Herat, told Salaam Times.
Students learn skills such as coding, website design, writing mobile apps, creating computer games and graphics, all free of charge, according to Rassa.
"Students at this centre have so far created several mobile apps for the Android systems, as well as 18 computer games," he said.