KABUL -- A suicide bombing in Kabul claimed by the "Islamic State of Iraq and Syria" (ISIS) has killed at least 13 police officers and wounded more than a dozen people, officials said Friday (January 5).
Thursday's blast targeted police as they clashed with protesters angered by a raid on shopkeepers accused of illegally peddling drugs and alcohol.
"At this time a suicide bomber detonated himself among the crowd, killing and injuring dozens," Kabul police spokesman Abdul Basir Mujahid told AFP.
All of those killed were police officers. Among the 18 wounded were 16 officers and two civilians, Interior Ministry deputy spokesman Nasrat Rahimi told reporters.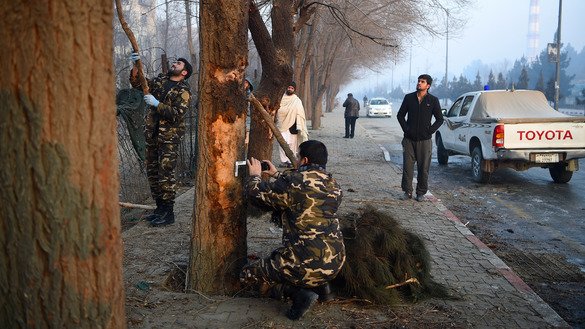 "The bomber came from among the protesters and targeted our police forces," Rahimi said, adding the attacker was wearing civilian clothes.
The blast stripped bark from trees and shattered windows of nearby apartments.
First ISIS attack of 2018
Thursday's attack was the first carried out by ISIS militants in Kabul this year. The terrorist group has claimed three attacks in Kabul over the past month that killed dozens of police and civilians.
ISIS claimed responsibility for an attack on an intelligence agency training centre in Kabul December 18 that triggered a gun battle with Afghan police, leaving at least two attackers dead and two police officers wounded.
A week later, on December 25, an ISIS suicide bomber killed at least six civilians near the offices of the National Directorate of Security (NDS) in Kabul.
On December 28, a suicide bomber blew himself up inside a Shia cultural centre in Kabul, killing 41 people and wounding more than 80 others.
Security in Kabul has been tightened since May 31 when a massive truck bomb ripped through the diplomatic quarter, killing 150 people and wounding about 400 others -- mostly civilians. No group has yet claimed responsibility for that massacre.
ISIS operates several cells in the city that enable it to carry out attacks, say analysts.
The NDS on January 3 announced it had busted a 13-member ISIS cell in Kabul that had been plotting "a series of big terrorist attacks" in the city.