KABUL -- Afghan security agencies are designing new security measures in Kabul following a deadly suicide bombing in January.
On January 27, a bomb hidden in an ambulance killed at least 103 Afghans and wounded 235 others in the capital in an attack claimed by the Taliban.
President Ashraf Ghani subsequently ordered the country's security forces to improve security in Kabul.
In the past, Afghan security forces have designated central Kabul as a "Green Zone", where key government and international organisations are situated, including embassies and the Presidential Palace.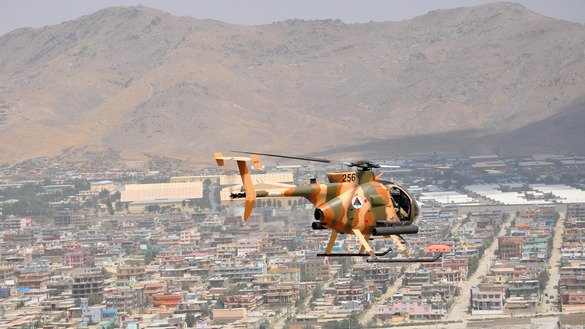 In a news conference in Kabul February 25, Interior Minister Wais Ahmad Barmak announced that authorities would relocate the security belt around the Green Zone to outside the city as part of a new plan.
Recent events led authorities to review security plans for Kabul city and to amend previous plans, he said.
"In the past we were focused on the Green Zone, which hosts diplomatic facilities and government agencies, but what about the people?" Barmak said. "Our main objective is to protect the public. Eventually, we decided to install the security belt outside the city."
"From installing security cameras to increasing individual efforts, we are taking all kinds of security measures," he said.
"Implementation of the practical parts of the security plan has begun," he said. "Every week, two or three meetings will take place among the Kabul Police command, Kabul Garrison Command and National Directorate of Security."
Barmak assured Kabul residents that recent traffic jams were temporary and stemmed from increased security, adding that the issue would be resolved after security forces redeploy at the city's gates.
Residents welcome enhanced security measures
Under the new plan, security agencies aim to block and control smaller, secondary roads leading to Kabul, which could be used by terrorists to reach the capital from other provinces.
Nabila Yusufi, a law graduate from a private university in Kabul, said she and her family were extremely concerned about recent attacks in Kabul and rumors of further security threats.
"However, we received a morale boost when the announcement came from the Ministry of Interior regarding further security measures," she told Salaam Times. "We hope that the new security plan will prove to be effective."
Mujib Khairi, a Kabul resident who declined to fully identify his employer (an NGO) for security reasons, welcomed the new plan and praised the co-ordination of the Afghan National Defence and Security Forces.
"The advantage of this plan is that more security forces are going to be transferred to the entrances of Kabul city," he told Salaam Times. "Hence, there will be more serious efforts at these entrances in order to prevent terrorists from entering the capital."
"In the past, security forces' checkpoints were mostly situated inside the city, which caused heavy traffic in Kabul," he said. "Moreover, when terrorists knew that they were about to be captured, they would blow themselves up among the public, taking the lives of many civilians."
Lawmakers support new security plan
Ghulam Hussein Naseri, a member of the Wolesi Jirga (lower house of parliament) from Maidan Wardak Province, said he welcomed the new security plan and the transfer of security forces to Kabul's entrances.
However, the measure is not a long-term solution, he warned.
"The basic solution is for the government to build information and security infrastructures in accordance with international standards, in order to prevent any [terrorist] plan from being implemented," he told Salaam Times.
"Vehicles will be controlled by transferring soldiers to the gates," he said. "However, how will they inspect pedestrians inside the city? In recent days, police inspections in some areas of Kabul have led to traffic jams, wasting motorists' time."
Such serious monitoring is necessary because most perpetrators of terrorist acts come to Kabul via secondary routes, said Obaidullah Barakzai, a representative of Uruzgan Province in the Wolesi Jirga.
"Undoubtedly, controlling the entrances of Kabul will contribute greatly to better local security," he told Salaam Times.
"In addition to controlling the entrances of Kabul, we need to have serious inspection of vehicles, including cars with tinted windows as well as those registered to foreigners," he said.