KABUL -- Two weeks after a massive Taliban bombing rocked Kabul and shattered countless innocent lives, the grief and agony felt by those left behind is still palpable.
On January 27, 103 people were killed when a bomb inside an ambulance exploded in a busy area of Kabul.
The Taliban claimed responsibility for the attack.
Those left behind continue to suffer at the hands of the Taliban as they mourn their loved ones and loss of livelihood.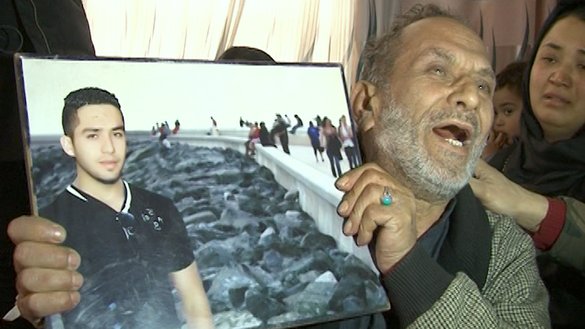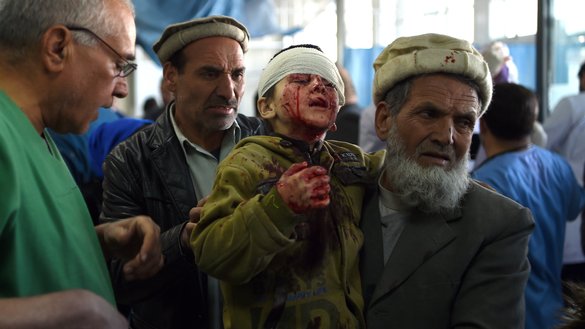 Murdering innocent Afghans
Mohammad Rabi, 27, a shopkeeper and the father of two young children, was one of those killed.
Rabi was the sole breadwinner for his family, who are now left with the pain of losing their son, brother, husband and father, and also the dozens of problems that come without a steady income.
"For committing what sin was my son killed? Until when will you continue to shed our blood? Until when will you continue to murder our children? May God bring his wrath and fury upon the Taliban," Rabi's father, Abdullah, told Salaam Times amidst an unstoppable, heart-wrenching crying spell.
Rabi's mother has cried so much after her son's death that she was barely able to speak.
"Oh God! To whom should I express my pain? How do I find my son again? They brought home the fragmented body of my son," she cried in anguish.
"Two little children, a five-year-old [boy] and a three-month-old [girl], are left from my son," she told Salaam Times. "His death has broken the backs of both his father and I. I hope the perpetrator of this act will be killed the same way in which my son was."
"My brother's face was all burnt and there were multiple [wounds] in his body," Rabi's sister cried.
"My brother was neither a policeman, nor was he in the army, nor did he work for the government," she told Salaam Times. "He was a mere shopkeeper, who worked all day long to earn a legitimate sustenance for us and for his children."
"Why did the Taliban murder the innocent Rabi and hundreds of other Afghans?" she said.
Destroying hopes, dreams
Another Kabul resident, Abdul Shakur, lost two of his sons in the Taliban attack.
"One of my sons, Fayyaz, was a recent graduate of economics, while my other son had just completed the 12th grade," he told Salaam Times. "They were planning to serve their homeland and their people upon completing their education. However, they had to take all of their dreams to the grave with them."
"Through such attacks and by killing youth, the Taliban wants to destroy those who are going to build the future of Afghanistan," Shakur said.
"Most of the victims of the Taliban's suicide attack, including those who were killed as well as the injured, were civilians," Heshmatullah, an eyewitness of the blast, told Salaam Times.
"I personally transported dozens of dead and injured," he said. "One lost his hand; another body was without a head. There were also those who were severely burned. It was as if the doomsday had happened."
Millions in financial losses
In addition to the 103 killed and 235 wounded, the damage to properties and goods is in the millions -- affecting the livelihood of hundreds of shopkeepers.
"Dozens of shops were damaged in this event, each of which may have suffered from over $10,000 (694,000 AFN) in financial losses," Zabih Naimi, a shopkeeper in Sadarat intersection, told Salaam Times.
"I worked hard all my life to build this shop. Now, however, my shop as well as all my possessions have been destroyed and I have lost millions of afghanis," Zamri, another shopkeeper, told Salaam Times.
"About two hundred shops have been destroyed in the attack on Sadarat intersection, and the private sector has incurred millions of afghanis in financial losses," Khan Jan Alokozay, vice chairman of Afghanistan's Chamber of Commerce and Industries, told Salaam Times.
Fatwa declares suicide attacks haram
Following a string of bloody attacks in Kabul, the National Ulema Council of Afghanistan held a press conference on January 30, declaring suicide bombing haram.
"Suicide attacks are absolutely forbidden. They are not permitted in any religion or by any law, and they have no religious justification," said Qayamuddin Kashaf, the council's chairman.
"Murdering of innocent human beings is not permitted in Islam, and the murdering which is currently being carried out by the terrorists is against Islamic Sharia law," Mawlawi Sher Ahmad Shamsulwatan, deputy chairman for the Kabul Ulema Council, told Salaam Times.
"Whenever anyone murders another human who has not committed a sin, God considers the killer as one who has murdered all mankind, and hellfire is the eternal place of murderers," he said.
President Ashraf Ghani vowed to take revenge for the bloodshed and said 11 suspects have been detained in connection to the spate of deadly attacks.
"People will not forget. Even if it takes a hundred years, Afghans will take their revenge," he said in a televised address to the nation after Friday prayers February 2.