KABUL -- A suicide bomber blew himself up in a Shia area of Kabul on Friday (March 9), killing at least nine people, officials said.
The third suicide attack in the city in a fortnight comes as the Taliban face growing pressure to take up the Afghan government's recent offer of peace talks to end a more than 16-year insurgency that has claimed thousands of lives.
Nobody immediately claimed responsibility for the blast, which happened near a high-profile gathering to mark the 23rd anniversary of the death of Abdul Ali Mazari -- a prominent former leader of the mainly Shia Hazara ethnic community whom the Taliban assassinated.
The event was attended by some of the country's top politicians, including Chief Executive Abdullah Abdullah and his deputy Mohammad Mohaqiq, a senior Hazara figure.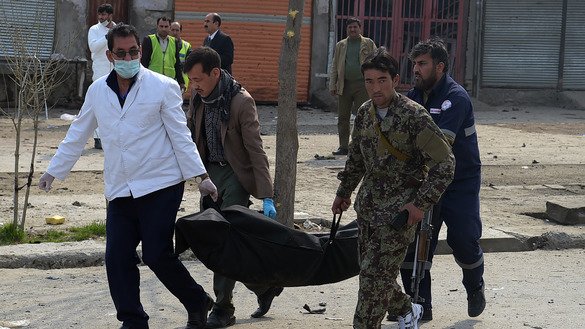 The "Islamic State of Iraq and Syria" (ISIS) typically targets Shia, whom it regards as apostates.
"The death toll has gone up to nine," Interior Ministry deputy spokesman Nasrat Rahimi told AFP, adding 18 others were wounded.
Among the dead were two policemen, he said. The rest were civilians. Officials said the attacker was on foot.
Casualty figures vary
Afghan officials gave a wide range of figures for the number of casualties: a security source told AFP 13 people were killed and more than 30 wounded.
But Kabul police chief Mohammad Daud Amin told TOLONews that five people were killed and 22 others wounded.
Amin said the bomber detonated his explosive device at a checkpoint "after being identified by police".
"The bomber failed to get inside to target the gathering," he said.
Kazim Ali, who was at the gathering, told AFP the force of the explosion shattered the windows of the mosque.
"We were inside the mosque when a loud explosion took place. Security forces didn't allow us to move afterwards," he said.
In a separate incident overnight, Taliban militants raided a number of checkpoints manned by Afghan security forces in Takhar Province, Khwaja Ghar District Governor Mohammad Omar told AFP.
Ten local police and seven soldiers were killed and more than a dozen wounded in the attacks claimed by the Taliban, he said. The casualty figures could not be immediately verified.