KABUL -- Suicide bombers and gunmen launched apparent co-ordinated attacks on two Kabul police stations Wednesday (May 9), with security forces still searching buildings for some of the assailants.
A series of loud explosions rocked the Afghan capital in the late morning and were quickly followed by volleys of gunfire as police engaged in fierce battles with militants.
The Taliban and "Islamic State of Iraq and Syria" (ISIS) claimed responsibility. But Afghanistan's intelligence agency blamed the Taliban's Haqqani Network and Pakistani militant group Lashkar-e-Taiba for both incidents.
At least five people were killed and 16 wounded, Health Ministry spokesman Waheed Majroh told reporters.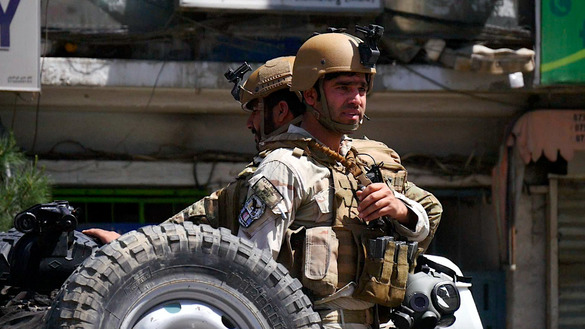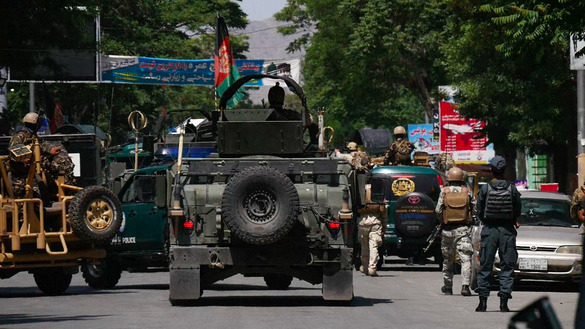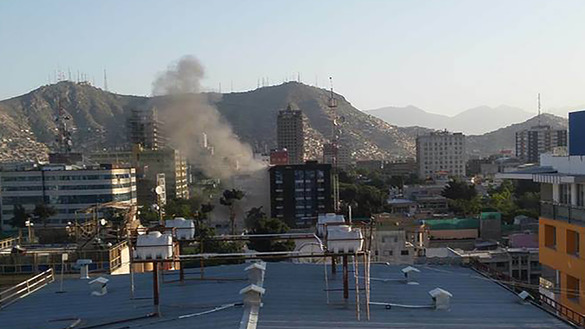 Two police officers were also killed, the Interior Ministry said, but it was not immediately clear if they were included in the Health Ministry's toll.
Back-to-back attacks
ISIS claimed responsibility for the first attack on a police station in a heavily Shia-populated neighbourhood in the city's west. That battle has ended, police spokesman Hashmatullah Stanakzai told AFP.
Interior Minister Wais Barmak told reporters three attackers were killed in that incident, after they used grenades to set fire to a room in the police compound.
Two policemen were killed and two others wounded, Barmak said, while Majroh said four people were killed and nine wounded.
Ariana TV footage showed a thick plume of black smoke rising into the sky, while a photo posted on Twitter purportedly of the west Kabul police station showed a building on fire.
The second attack, claimed by the Taliban, took place in front of a police station in the Shahr-e-Naw neighbourhood of downtown Kabul, where special forces were still searching for them.
"A suicide bomber detonated his vest at the entrance of the street, and a car dropped off four other attackers nearby," Barmak said. "One was killed by the police, and three are still hiding in a building."
Majroh said one person was killed and eight others wounded.
Stanakzai told AFP that surrounding buildings had been evacuated but it was not clear if civilians were trapped inside with the attackers.
A third explosion was reported later on Wednesday as Afghan security forces searched for the earlier perpetrators.
Pakistan condemned the attacks as "blatant terrorism targeting innocent civilians", according to a statement from the country's Foreign Ministry.
Taliban spring offensive will find no success
The Taliban on April 25 launched its annual spring offensive dubbed "Operation al-Khandaq", in an apparent rejection of a peace overture by the Afghan government.
Barmak said the Taliban had taken control of two districts in the past 24 hours, one in Baghlan Province and the other in Faryab Province.
The Taliban's declaration of war will not undermine the Afghan government's resolve for peace, officials say.
"Every year, the Taliban carry out their operations under a different title," Mohammad Farhad Sediqi, a representative from Kabul Province in the Wolesi Jirga (lower house of parliament), told Salaam Times.
"Nevertheless, all their operations end in eventual defeat with no tangible success, except for the murdering of civilians and destruction of public facilities," he said. "Once again, the victims of this war and the Taliban's [spring offensive] this year will be civilians and the poor, needy people of Afghanistan."
This is not the first time the Taliban has declared war, said Sayed Safiullah Hashemi, a representative from Samangan Province in the Meshrano Jirga (upper house of parliament).
"They also conducted operations under different names against Afghan security forces and civilians many years ago," he told Salaam Times. "However, they had no achievement and success except for the killing of innocent Afghans, and the destruction of roads, schools and hospitals."
ANDSF stands strong
"The announcement of the Taliban's spring offensive will remain only as a slogan," said Mohammad Radmanesh, a spokesman for the Defence Ministry.
"[Afghan] security forces do not allow the group's militants to achieve their objectives," he told Salaam Times. "The spring operation is just a tool to [attempt to] destroy public opinion. Through such propaganda, they want to cover up their failures and defeats."
Afghan National Defence and Security Forces (ANDSF) on March 21 launched Operation Nasrat throughout the country.
"Hundreds of Taliban militants have been killed, and many of their strongholds have been destroyed," Radmanesh said. "Our ANDSF will turn the Taliban's Operation al-Khandaq into yet another failure."
"Having modern military equipment, our ANDSF have both the capability and capacity to defeat the Taliban's spring offensive, and they will neutralise all plans related to Operation al-Khandaq," he said.
"The Taliban have announced the launch of their spring operation, hoping to undermine the Afghan government's resolve for peace," Afghan President Ashraf Ghani said April 28. "The government, however, has the intention, the determination and the authority to make peace with the Taliban, and its resolve cannot be undermined."
"The peace process can never be stopped, because peace is a necessity," he said. "Every Afghan citizen must act as an ambassador of peace."
[Sulaiman in Kabul contributed to this report.]