KABUL -- Gunmen attacked an intelligence training centre in Kabul Thursday (August 16), officials said, as families buried loved ones killed by a suicide bomber a day earlier in the capital.
The firefight erupted near a training centre overseen by the National Directorate of Security (NDS). The gunmen holed up in a construction site near residential buildings, an official at the scene said.
Live television footage showed humvees patrolling the empty streets while gunfire echoed and a helicopter circling above.
Commandos were also deployed to the scene to help contain the fighting, according to another security official.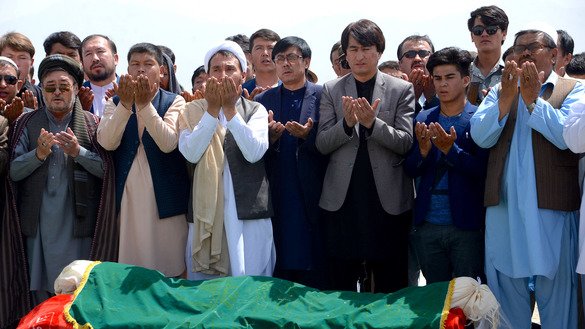 Interior Minister Wais Barmak confirmed that fighting had ended, TOLOnews reported.
He said three insurgents were involved -- all of whom were killed.
No group immediately claimed responsibility.
The attack came just hours after a suicide bomber detonated explosives inside an education centre in a predominantly Shia area of Kabul, where students were studying for college entrance exams, killing at least 37 people.
The bombing was claimed by the "Islamic State of Iraq and Syria" (ISIS) group Thursday, as families of the dead held a mass funeral where mourners wept and clutched the wooden coffins.
An industrial-sized digger helped soften the arid ground for the fresh graves as men removed rocks from the soil with pickaxes.
Humanitarian aid reaches Ghazni
Meanwhile, small pockets of Ghazni began opening up to humanitarian aid Thursday, while partial mobile service returned after telecommunications infrastructure and government buildings were destroyed.
Afghan forces finally pushed Taliban fighters from Ghazni, as the United Nations (UN) warned that reports suggested up to 150 civilians might have been killed in the battle.
Following the Taliban's defeat in the city, civilians faced a grim situation, with no power and water and food shortages.