BAGHDAD, Iraq -- Sharp divisions within the ranks of the "Islamic State of Iraq and Syria" (ISIS) have been in increasing evidence online, where members and sympathisers of the group have been airing their internal grievances.
These range from accusations of outright betrayal to allegations that specific individuals have been spying for foreign intelligence agencies, and have together created a climate of animosity and mistrust.
The intensity of the accusations reached a fever pitch after online publications, including the weekly magazine al-Nabaa, were hacked several times at the end of June by a group of Iraqi hackers who call themselves "Daeshgram".
Daeshgram launched its online operation against ISIS last November.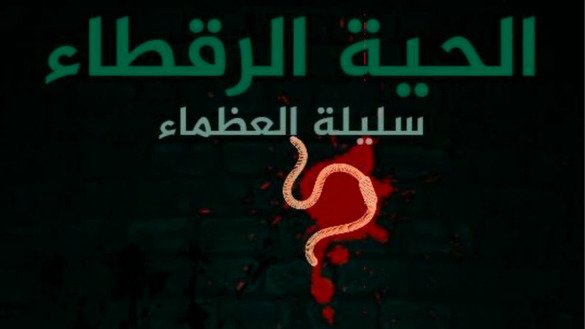 In its most recent attack, the hackers spoofed an account charged with sharing al-Nabaa magazine, sparking chaos within the group's ranks and among its online supporters.
Users who accessed the file shared by the spoof account were met with a photoshopped cover image of ISIS leader Abu Bakr al-Baghdadi surrounded by scantily clad women.
The headline above the photograph read, "The caliph celebrates the victory of the ISIS football team's rise to the round of 16", in reference to the World Cup.
Another image of al-Baghdadi was captioned, "The Dark Knight Rises".
Although Daeshgram claimed the attack, ISIS supporters published a long essay on Telegram accusing "Salilat al-Uthamaa", a Saudi woman well known among ISIS for her past support of the group, of responsibility for the hacking.
The diatribe, titled "Salilat al-Uthamaa, the venomous snake", accuses al-Uthamaa of being a spy and of spreading false news about ISIS in an attempt to destabilise the group and sow discord among its members.
Al-Uthamaa responded in a post titled, "Do not give in to injustice", urging ISIS supporters to reject such accusations and her accusers to repent and apologise.
Exposing internal divisions
This incident and others like it have exposed the sharp divisions among ISIS elements and sympathisers, said Hashim Hassan, dean of Baghdad University's College of Journalism.
"All the accusations of betrayal and leaking of classified information occurred even when the terrorists had control over large swathes of land in Iraq and Syria," he told Diyaruna.
This has played out online in a more extreme fashion, he added, since ISIS does not trust its own members, even those who have demonstrated loyalty in the past via their accounts and posts.
These supporters are regularly accused of dishonesty, and oftentimes of being double agents who are collaborating with the enemy, Hassan said.
As part of a comprehensive counter-terrorism strategy, it will be important to "work on deepening those divides, because the group still poses a threat even if they have lost weapons", he said.
National and international efforts to fight the ISIS propaganda machine are ongoing, he added, and have succeeded in closing down tens of thousands of accounts, pages and websites promoting the group.
"The latest hacking incident against ISIS websites was successful and effective," he said. "We think that if this continues, [Daeshgram] will become a stronger and more effective force to strike the group from within and create more animosity and divisions among its members."
Targeting ISIS accounts
The Iraqi intelligence community has managed to attract technologically savvy hackers who have been targeting pro-ISIS accounts, said security analyst Fadel Abu Raghif.
These hackers have infiltrated many accounts, obtaining data that undermined the group's plans and dismantling their secretive network, he told Diyaruna.
This has exacerbated divisions among ISIS elements and has hindered the group's recruitment efforts, he added.
Iraqi journalist Ibrahim al-Siraji, who heads the Association for the Defence of Journalists' Rights, said ISIS used to have a sophisticated online army.
The group and its supporters had a host of fake accounts on social media platforms such as Facebook, Twitter and Telegram, he told Diyaruna, noting that these promoted an extremist ideology and called for global terror attacks.
Many of these accounts have been shut down, he said, but many others remain.
Nevertheless, he said, "hacking ISIS websites and manipulating their content ... has been deeply damaging to the structure of the group, as its members no longer trust one another".