HERAT -- Using their drawings and writings, almost 2,000 schoolchildren from Herat, Kabul and Kandahar provinces called on the Taliban to end the war and embrace peace across Afghanistan.
The Armanshahr/OPEN ASIA Foundation organised an event in Herat city on December 24 to display the children's artwork and calls for peace.
"We made this call for all schools in Herat, Kandahar, and Kabul, as a result of which almost 2,000 students sent us their writings and drawings," said Ruhul Amin Amini, the deputy director of the Armanshahr/OPEN ASIA Foundation.
The children's artwork and writings reflected their concerns that the Taliban's violence and the war have killed many children and deprived others of an education.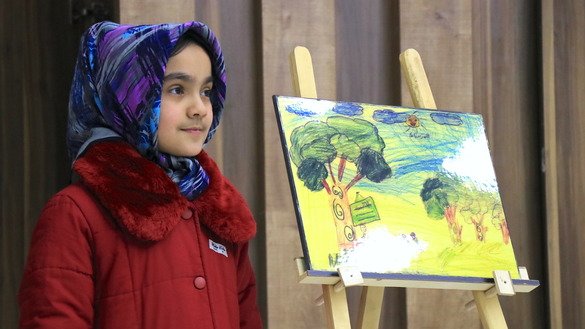 "This programme is a representative and real voice of the next generation of Afghanistan with respect to peace," he told Salaam Times.
"Children's views towards peace, which are visible in their paintings and writings, are much deeper than those of adults," Amini said. "The children were able to co-relate with peace such matters as gender inequalities, illiteracy, domestic violence, etc."
"Children's feelings towards peace are good and pure," he noted, adding that young children may not be able to express their emotions verbally but that they can through paintings and drawings.
"The subject of peace talks in Afghanistan has become a very sensitive issue, especially since efforts to achieve peace are increasing," Amini explained.
"In recent days, we have been hearing voices in support of peace, both from the defenders of Afghanistan as well as from those who carry out murder and destruction in the country," he said. "This is promising."
Peace brings prosperity, progress
The paintings made by the children expressed their desire for peace and their hatred of war, while their writings portrayed how the next generation of Afghans has chosen peace over war.
"My drawing was about children studying with their teacher under a tree in a village and how their studies are going well," said 10-year-old Mahdia Sultani, a fourth-grade student in Herat city.
"I wish for peace and reconciliation to prevail in our country," she told Salaam Times. "Along with peace comes prosperity, while war brings destruction."
"Afghanistan has been involved in wars for almost 40 years, a fact that has been extremely painful for our adolescents and adults alike," said Shaqayeq Arabnezhad, 14, a sixth-grade student in Herat city.
"I hope for the day when Afghanistan is one of the countries that enjoy permanent peace," she told Salaam Times.
"Many of the country's youth, including me, have not been able to pursue education and learning, mainly because of the war," she said. "Meanwhile, women were unable to attain higher positions because of conflicts and undesirable cultural norms."
"Peace is what every country needs, and it is great if peace can be established in our country as well," added Arabnezhad. "Our country can progress well in the absence of war since war truly hinders progress in the country."
"I always love and support peace, and I want to have peace in my country," Rusana Wahdat, 11, a fourth-grade pupil in Herat city, told Salaam Times. "With peace, everyone can study peacefully, there will be no explosions and schools will be safe in the absence of fear of the Taliban."
"We all dream of studying in an environment where the fear of war and of explosions doesn't exist," said Neda Pupal, 13, a seventh-grade pupil in Herat city.
She praised the Armanshahr/OPEN ASIA Foundation's efforts to include children's messages among Afghans' calls for peace.
"I think such programmes will provide all young people with positive aspirations," Pupal told Salaam Times. "As a result, in addition to dreaming of establishing peace in the country, they will believe that they contribute to the provision of peace in Afghanistan."
"We, the country's adolescents, try to do all in our power to work towards establishing peace in the country," she added.
Protecting children from war
Afghan civilians, particularly children, bear the daily brunt of the war and violence in Afghanistan.
"Children do not have any stake in wars, yet the burden of the war falls on their shoulders," said Abdul Qadir Rahimi, director of the Afghanistan Independent Human Rights Commission (AIHRC) office in Herat Province.
"When an adult is killed or disabled in war and leaves his family without a breadwinner, the responsibility of this family falls on the shoulders of a child who has not been prepared," he told Salaam Times.
"There are many children whose parents have been killed in the war, and they became orphans with no one left to support them," Rahimi said. "This means a 6- or 7-year-old child must support himself, as well as his younger siblings, making children the first and foremost victims of wars."
"One of the responsibilities of those fighting is to pay attention to the lives of civilians in order to minimise civilian casualties, especially children," he noted.
"In Afghanistan, however, not much attention is paid to women and children during wars," Rahimi added. "Armed opposition groups have no regard for the lives of children. Civilians, especially children and women, still get harmed in wars."
"Children stand to suffer the most in wars anywhere," Muhyuddin Nuri, the acting provincial governor of Herat Province, told Salaam Times.
"Wars deprive children of their civil rights and education and prevent them from having a calm and peaceful life," he explained.
"We hope that the Afghan government will be able to provide real peace in this country -- a peace that guarantees tranquility and prosperity for all residents of this country, especially children," he told Salaam Times. "The Afghan government is determined to do just that."
"Unfortunately, armed opposition groups have used civilians, especially women and children, as human shields," Nuri said. "Nevertheless, our efforts in each and every military operation are to preserve the lives of children."