KABUL -- The Afghan Foreign Ministry on Thursday (January 10) denounced recent comments made by Iranian Foreign Minister Javad Zarif about the Taliban's role in the future of Afghanistan.
"I think it would be impossible to have a future Afghanistan without any role for the Taliban," Zarif said in an interview with NDTV on January 9, adding that the Taliban "should not have a dominant role in Afghanistan".
Iran also started formal talks with the Taliban for the first time last month.
"Afghanistan's Ministry of Foreign Affairs asserts that any relations outside the framework of the interactions between the governments with the Taliban will undermine the relations between the two countries," Afghan Deputy Foreign Minister Idress Zaman tweeted in Dari Thursday.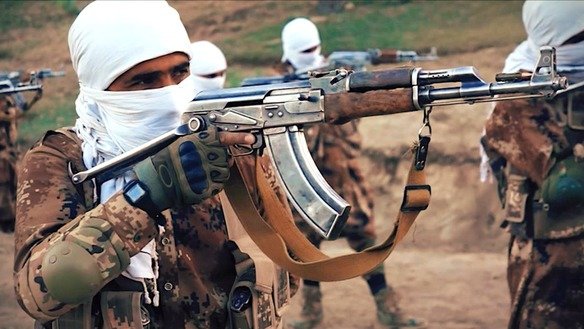 "Any prescriptions for changing the structure of the Islamic Republic of Afghanistan, including the proposal to include armed groups [such as the Taliban] in the government, are considered contrary to all rules of diplomacy and explicit interference in the affairs of the country," he said in a second tweet.
Hypocritical mouthpiece for the Taliban
Iran is being hypocritical in urging an Afghan dialogue with militants while its own government clings jealously to all forms of power, retorted Afghan officials.
"Iranian Foreign Ministry officials are now acting as Taliban spokesmen," said Shah Hussain Murtazawi, deputy spokesman for President Ashraf Ghani, in a Facebook post that was later removed.
"If a neighbouring country believes in dialogues to find a solution, why not use this method to solve its domestic political problems?" Murtazawi's Facebook post said, according to BBC Persian.
He urged Iranian officials to heed their political opposition rather than the Taliban.
"The Iranian government is afraid that the freedoms in Afghanistan will become an example for Iran, which is why the country is in favour of Mullah Omar's thoughts in Afghanistan," Murtazawi said, referring to the Taliban's founding leader, Mullah Mohammad Omar, who died in 2013.
Waheed Omer, Afghan ambassador to Italy, called on Iranian officials to ensure justice in their own country before asking Afghanistan to share power with the Taliban.
"Our Iranian friends: we may or may not bring in Taliban," Omer tweeted in English. "But thank you for your advice. To reciprocate the neighbourly goodwill, I call on you to share power with Mujaheddin Khalq and NCRI, release [Karroubi] and [Mousavi] and make peace with Saudi [Arabia]. Because we believe it is good for you."
The National Council of Resistance of Iran (NCRI) is an Iranian political organisation based in France and opposed to Tehran.
Mehdi Karroubi, a reformist Iranian politician who leads the National Trust Party, has been under house arrest in Iran since 2011 along with Mir-Hossein Mousavi, another reformist.
Last month, Iranian officials confirmed that they met with the Afghan Taliban, just days after reconciliation talks between a militant delegation and US special envoy Zalmay Khalilzad in the United Arab Emirates.
Ali Shamkhani, secretary of the Iranian Supreme National Security Council, announced the meeting December 26 while on a visit to Kabul, several Iranian news agencies reported.
"The Afghan government has been informed of the communications and talks carried out with the Taliban, and this process will continue," Shamkhani said according to Iran's Tasnim news agency.
It was the first time a senior Iranian official confirmed talks between Iran and the Taliban, tweeted Abas Aslani, a reporter for Tasnim, an outlet considered close to Iran's Islamic Revolutionary Guard Corps (IRGC).
Stepped-up meddling
Iran, which shares a 921km-long border with Afghanistan, has stepped up its interference in Afghan affairs in recent months.
On December 9, Afghan security forces discovered an arms cache that included Iranian-made weapons in an operation outside Ghazni, the latest evidence of Iran's support for the Taliban in Afghanistan.
On November 29, US officials disclosed evidence that Iran has been supplying munitions to militant groups in Afghanistan, including the Taliban.
More alarming is Tehran's efforts to recruit for the Taliban.
"Some young Afghans who have gone to work in Iran and whom the Iranian authorities arrest inside Iran or threaten to deport are instead handed over to Taliban groups based in Iran so that they can recruit those youth," Mohammad Arif Noori, spokesman for the Ghazni provincial governor, told Salaam Times in December.
"These young men then undergo military training provided by Iranian operatives in Zahedan city and in other regions that share the border with Afghanistan," he said. "Following the training, the young men are sent back to Afghanistan to fight."