WASHINGTON -- US officials last week provided evidence that Iran is increasingly supplying weapons to militant groups in Afghanistan and across the Middle East.
US Special Representative for Iran Brian Hook showed reporters a collection of guns, rockets, drones and other gear at a military hangar in Washington on November 29.
Some of these had been intercepted in the Strait of Hormuz en route to Shia fighters in the region while Saudi forces in Yemen seized the other items, according to the US Defence Department.
Hook also displayed anti-tank guided missiles that the United States says Iran had provided to the Taliban in Afghanistan. They were recovered in Kandahar Province by the Afghan National Army, he said.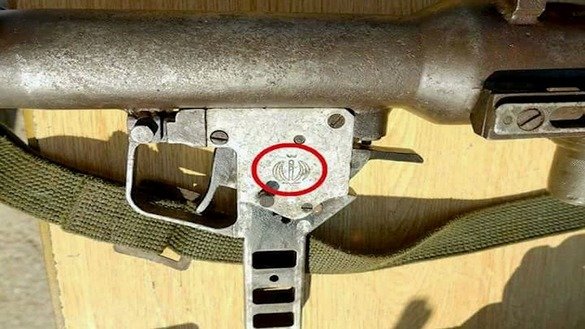 "Iran has been providing material support to the Taliban since at least 2007," Hook said.
The centrepiece of the display was what Hook said is a Sayyad-2 surface-to-air missile system that the Saudis had intercepted in Yemen this year.
The Farsi writing along the white rocket's side helped prove it was Iranian made, he said.
"The conspicuous Farsi markings is Iran's way of saying they don't mind being caught violating UN resolutions," Hook told reporters, adding the missile was destined to Iran-backed Houthis (Ansarallah) who are fighting the Saudi-led coalition in Yemen.
A spoiler in the Afghan peace process
Iran's overt and covert material and financial support to elements within the Taliban has strengthened the group's resolve to shirk constructive dialogue, officials and observers say.
"The Taliban have made very clear that the lives of the Afghan people are of no interest to them. They know they cannot win at the ballot box ... and that's why they use bombs," US Secretary of Defence James Mattis told reporters December 1. "If you can't win at the ballot box, you have to try to terrorise people into dominating them."
"For the first time in 17 years, the United Nations believes we have reason for hope for peace," he said. "Afghan troops are in the lead of the fighting and taking hard casualties, but NATO and the international community are stepping up their commitments, and the Taliban may actually now be open for the first time for sincere talks about peace."
Mattis reiterated the United States is committed to helping Afghanistan end the war.
"Our goal is to reconcile," he said, adding that it is time to end the war "and get the people of Afghanistan back on the right track".
Efforts for sustainable peace
Mattis praised the efforts of US Special Envoy for Afghanistan Reconciliation Ambassador Zalmay Khalilzad.
"He is a very strong ambassador," he said. "And we're going to do our level best to drive this to a political resolution in order to end it."
Khalilzad is on a multi-country trip to the region from December 2-20, the US State Department announced Sunday (December 2).
He will visit Pakistan, Afghanistan, Russia, Uzbekistan, Turkmenistan, Belgium, the United Arab Emirates and Qatar and plans to confer with Afghan government officials and other interested parties to support and facilitate an inclusive peace process in Afghanistan.
Khalilzad's first visit to the region since being appointed to lead the peace efforts with the Taliban took place October 7-13.
On his last trip to the region in November, Khalilzad met with representatives of civil society and of peace efforts, members of the media, and other governmental and non-governmental officials.
He stressed that all Afghans must have a say in creating a sustainable peace for Afghanistan, the State Department said.
Curbing Iran's malign influence
Iran has long meddled in Afghan affairs and has increased this malign influence as the United States steps up efforts to facilitate peace talks between the Afghan government and the Taliban.
In April, the United States pulled out of a pact with Iran aimed at constraining its push for nuclear weapons.
Since leaving the deal, US officials have found "freedom and leverage" to tackle Iran's regional influence, said Hook.
"The current international environment has created unacceptably low expectations for the regime in Tehran," he said.
If "the demands of ... the Iranian regime seem too many, it is because Iran's malign activities are too numerous."
"Iran's provision of military training, financing and weapons to the Taliban is yet another example of Tehran's blatant regional meddling and support for terrorism," US Treasury Secretary Steven Mnuchin said in October.
His remarks came as all seven members of the Terrorist Financing Targeting Centre (TFTC) sanctioned nine Taliban officials and their Iranian supporters on October 23.
The TFTC member states include Bahrain, Kuwait, Oman, Qatar, Saudi Arabia, the United Arab Emirates and the United States of America.
Two Iranian officials from the elite Quds Force, a special forces unit of the Iranian Islamic Revolutionary Guard Corps (IRGC), were also among those sanctioned by TFTC for providing support to Taliban militants.
The IRGC also has employed a variety of pressure tactics, including intimidation, financial incentives and empty promises, such as false assurances of Iranian residency, to persuade thousands of hapless Afghan refugees to fight -- and die -- for Tehran's interests in Syria.