KABUL -- Afghanistan's presidential election was deemed a success from a security and logistical standpoint despite low voter turnout and a series of small-scale Taliban attacks aimed at disrupting the vote.
Afghans voted Saturday (September 28) in a presidential race that will decide whether President Ashraf Ghani will win a second five-year term -- or if one of 12 other presidential hopefuls can take a majority of the votes.
About 9.6 million Afghans had registered to vote in the election, which took place at 4,905 polling centres.
A tally released late Sunday (September 29) by Afghanistan's Independent Election Commission (IEC) showed that with data collected from 3,736 polling centres, just over 2.19 million votes had been counted.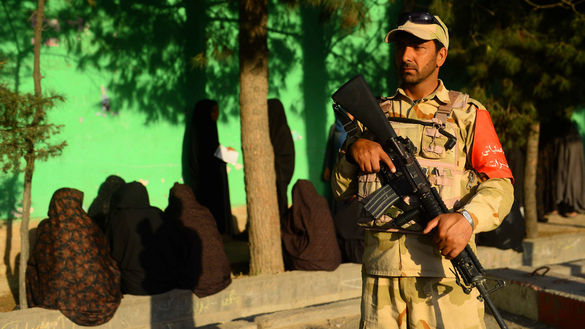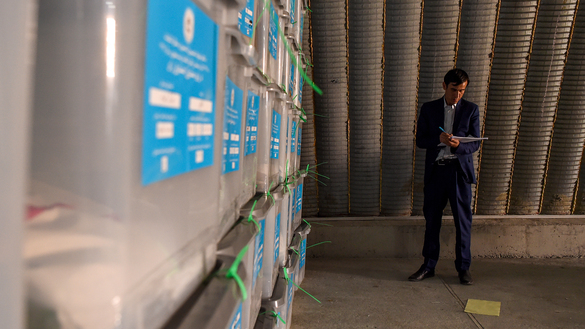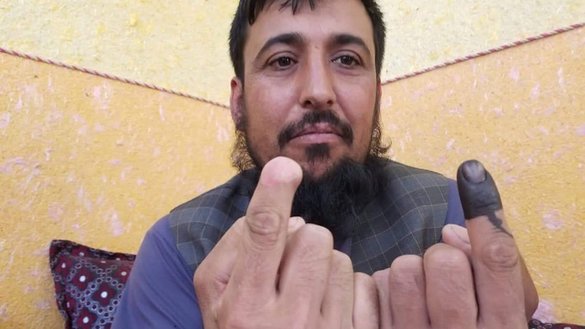 A victory for democracy
Even with a low turnout, the election could be considered a victory for the democratic process because it was "much cleaner" than previous polls, said independent political analyst Haroun Mir.
United Nations Secretary-General António Guterres commended "all Afghans who exercised their democratic voice and upheld their right to vote, braving security concerns", a press statement said.
He also congratulated Afghans "on their commitment to selecting their leaders through the ballot box".
"Government institutions and leaders must be transparent and accountable to the Afghan people," said the United States, which has repeatedly called on candidates to shun fraud.
"We expect Afghanistan's institutions to take all necessary steps to ensure the election, including the investigation of complaints and tabulation of results, is transparent and credible to Afghan voters and the international community," a US State Department spokesperson said.
The result will be the purest yet, with equipment such as biometric fingerprint readers and better training for poll workers ensuring a fair vote, said Afghan election officials, though some technical difficulties were reported.
Preliminary results are not expected until October 19. Candidates need more than 50% of the vote to be declared the outright winner, or else the top two will head for a second round in November.
After voting at a Kabul high school, Ghani said the most important issue was finding a leader with a mandate to bring peace to Afghanistan.
"Our road map [for peace] is ready; I want the people to give us permission and legitimacy so that we pursue peace," he said.
In a televised address late Saturday, Ghani called on the Taliban to "respect the choice of the people and end the war".
"The doors of peace are open for you," he said.
'A sigh of relief'
Authorities heralded Saturday's election as a success because the Taliban were unable to pull off a large-scale attack.
The government ramped up security ahead of the polls, with more than 100,000 security personnel assigned to provide security to voting centres, voters and the overall election.
The election saw only a series of small-scale Taliban attacks on polling stations and telecommunication towers in some parts of the country.
"The enemy carried out 68 attacks against election sites across the country... but security forces repelled most of the attacks," said Acting Defence Minister Asadullah Khalid.
Afghanistan Independent Human Rights Commission (AIHRC) chairwoman Shaharzad Akbar said she breathed "a sigh of relief" that the election had gone smoothly compared to previous years.
"The Afghan security forces really showed a real capability in managing the security situation across Afghanistan [and] in ensuring people have access to polling centres," she told AFP.
At the same time, voters who braved the security threats were steadfast in their determination to choose their next leader.
"I know there are security threats, but bombs and attacks have become part of our everyday lives," 55-year-old Mohiuddin, who only gave one name, told AFP.
"I am not afraid," he said. "We have to vote if we want to bring changes."
In 2014, the Taliban cut off the tip of 38-year-old Kabul businessman Safiullah Safi's right index finger for voting in the presidential election. That did not stop him from casting his ballot again on Saturday.
"When it comes to the future of my children and country, I will not sit back even if they cut off my whole hand," he said.
A photo of Safi posted on Twitter showing his truncated right forefinger and his left forefinger stained with indelible ink, indicating he voted, was warmly welcomed by social media users.
"Hats off to you Sir, for your bravery and effort s [sic] you took for brighter future not only for your family," said Twitter user Gopal Majumdar.
"A living example of patriotism! May God protect you as you have sacrificed for your country. Patriotism must be learnt from you!" tweeted Afghan social activist Lawar Meena in Dari.