PESHAWAR -- Afghan refugees living in Pakistan are mocking the Taliban for claiming to have brokered deals with Pakistani authorities on their behalf for the provision of health and education facilities.
Pakistani officials warmly welcomed a group of senior Taliban in Islamabad on Thursday (October 3).
Mullah Abdul Ghani Baradar, the Taliban co-founder who spent eight years in a Pakistani prison, was greeted with hugs and smiles by Pakistani Foreign Minister Shah Mahmood Qureshi and the chief of Inter-Services Intelligence (ISI), Lt. Gen. Faiz Hameed, footage released by the ministry showed.
"Today, the Islamic Emirate delegation had detailed meetings with the foreign minister and other high officials in Islamabad. Both countries discussed bilateral relations, political and peace issues," Taliban political office spokesman Suhail Shaheen tweeted in Pashto.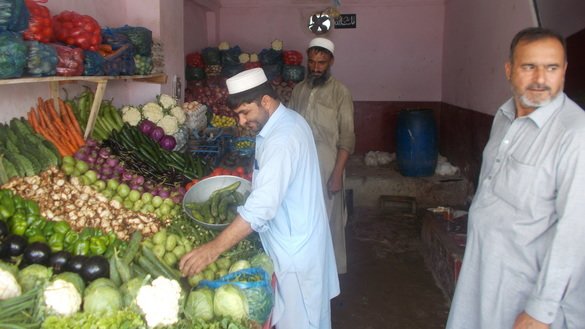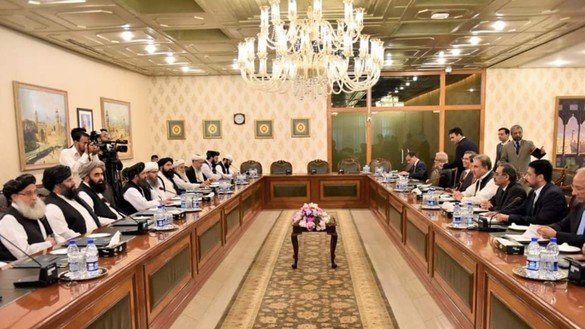 "Furthermore, the delegation of the Islamic Emirate has asked for health, education, issuance of visas and facilities to the Afghan traders. In response Shah Mehmood Qureshi promised complete co-operation," he said, referring to Afghans in Pakistan.
The tweet drew scathing criticism from Afghan refugees, who said that Taliban militants should speak the truth and avoid making empty and politically motivated statements.
"It is really surprising to see a tweet by Taliban spokesman Suhail Shaheen in which he said that he has asked Pakistan's Foreign Minister Shah Mahmood Qureshi for better health and education facilities for Afghan refugees living here," said Noor Wahid, a 10th-grade student at Mirwaiz High School near Board Bazaar, Peshawar.
Taliban militants are notorious for anti-education activities, both in Pakistan and Afghanistan, he said, adding that the notion that the Afghan Taliban delegation talked to Pakistani authorities about improving educational facilities for Afghan refugees is "ridiculous."
"We know the real faces of Taliban militants, who are killing and wounding innocent people in bomb and suicide attacks in Afghanistan," said Muhammad Javid, 17, an Afghan studying at Islamia College University in Peshawar. "They are damaging schools and health facilities, so how can we take such statements seriously?"
The people have no respect for the actors engaging in terrorism in Afghanistan, which has forced thousands to migrate to Pakistan and other countries and live in a state of helplessness, he said.
"How can the Taliban's request be accepted by Pakistan when they aren't part of the Afghan government? Only an elected government can claim this," Javid said.
Taliban militants have destroyed countless health facilities, depriving the people of health services, said Noor Wali, an Afghan who is enrolled in Khyber Medical College.
Such slogans cannot hoodwink Afghans, he said of Shaheen's tweet.
"The Taliban militants' attempt to win the support of their countrymen through such statements will not find any takers," he said. "A majority of the Afghans know how Taliban fighters have destroyed hospitals and schools."
Animosity towards progress
Peshawar-based security and political analyst Khadim Hussain pointed to the Taliban's campaign against polio vaccines as just one example of the militants' animosity toward progress.
"The Taliban have been campaigning against polio vaccines in Afghanistan, which has exposed children to disabilities," he said. "They have also banned education and people aren't able to send their kids to schools."
Such politically motivated statements are unlikely to create a soft spot for the Taliban in the hearts of the Afghan people, he said.
Moreover, the existing health, education and trade facilities provided to Afghan refugees by Pakistan are due to the efforts of the legitimate government in Kabul, he said. The Taliban has no role in it.
Health and education have never been priorities of Taliban militants because they only want to scare the people through acts of terrorism, said Ahmad Zaheeri, an Afghan doctor working in Peshawar.
Women suffer the most when it comes to the lack of healthcare facilities, he said.
"Our women are coming to Pakistan to seek treatment for minor ailments as a result of the Taliban's ban on women health workers," Zaheeri said.
The Taliban should not take undue credit for their actions, as the people know the militants have done nothing good for the people, said Raees Shah, an Afghan teacher in Peshawar.
"The Taliban should stop terrorism and pay respect to women and children," he said. "They should seek All Mighty God's forgiveness for what they have been doing to the people of Afghanistan, rather than giving false statements."
The Taliban's claims are lies, said Gula Jan, 44, an Afghan vegetable seller in Peshawar's Tehkal locality.
"Suhail Shaheen's statement is a joke with the people who know that the Taliban have been at the centre of terrorism in their country," he said.
"If the Taliban abandon violence back home, we will proceed toward our homeland, where we will work and our children will get an education," Jan said.
"We hope that Taliban militants will... denounce terrorism to pave the way for a peaceful Afghanistan," he said.