HERAT -- Afghans across the country celebrated Afghan National Defence and Security Forces (ANDSF) Day with events last week, paying their respects to the nation's soldiers and police.
ANDSF Day, held on February 28 each year, first took place in 2017 to recognise security forces' efforts to provide security and protect Afghanistan.
In Herat city, residents on February 28 took to the streets to declare their support for security personnel.
Locals presented flowers to the security forces to thank them for fighting to protect the freedom of Afghans and the independence of the country, said Omaid Naab, a civil society activist in Herat city.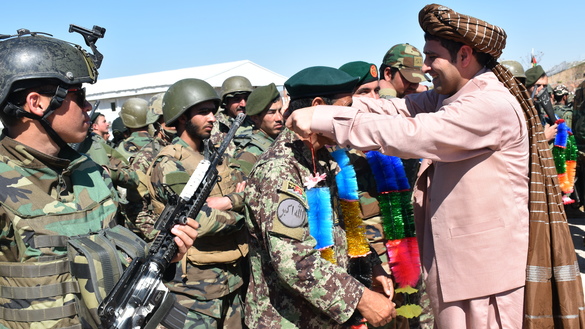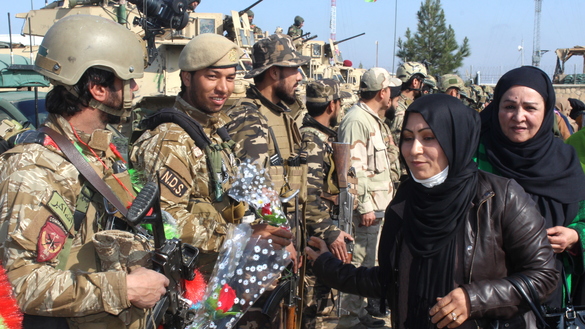 All Afghans, especially the new generation, support the security forces and are standing by them, he said.
"Security forces are busy defending the country day and night by fighting against enemies who try to destroy Afghanistan and kill Afghans," Naab added.
"We will never abandon our security forces. If needed, we will even take up arms and fight alongside them against the enemies," he said.
"The security forces have proven that they will sacrifice themselves to defend the country and we have come out to the streets to appreciate their sacrifices," said Behzad Timorian, a resident of Herat city.
"We will support security forces until the last drop of our blood and stay by their side," he added. "All the people should stand by the security forces ... not just for one day but forever."
Security forces and Afghan soldiers have sacrificed greatly to maintain peace, he said, adding that thanks to their efforts, the Taliban have agreed to peace talks and there is now hope for permanent peace in Afghanistan.
Protecting peace
Local officials, religious scholars and residents attended similar events marking the holiday in Badghis and Farah provinces February 29.
In the almost two decades since the fall of the Taliban, security forces have shown that they worked hard for the prosperity of Afghans and to bring peace to them -- these efforts have now shown results, Farah Governor Mohammad Shoaib Sabet said at an event commemorating ANDSF Day at an Afghan National Army (ANA) base in Farah city.
"The week-long reduction in violence proved that Afghans are tired of war and want permanent peace," he added, referring to a partial truce with the Taliban that began February 22.
"The peace that will come is largely thanks to the sacrifices made by the security forces," he said. "There would have been no hope for peace without our military."
"The security forces are making sacrifices daily to protect the integrity and sovereignty of this country. The Afghan nation will never forget their sacrifices," said Sabet.
Only security forces can bring and protect peace, he said.
"Security forces are standing in front of the enemy and are making sacrifices daily to defend our land. We do not want security forces to lose their lives anymore and want them to be safe," said Ahmad Zia Alizai, a resident of Herat city.
Afghans are tired of war and bloodshed and want a permanent peace in their country, he said.
"If there were no security forces, there wouldn't be Afghanistan either," said Ziauddin Akazai, a member of parliament from Badghis Province. "Security forces protect the values and gains of Afghans by fighting in the battlefields against terrorists and enemies."
The Taliban have agreed to join the peace process because of power of security forces, he said, adding that the militants often tried to capture cities and districts but failed, and as a result had to agree to a ceasefire and peace talks.
Afghan support
"The security forces are successful thanks to the support and co-operation they get from the public. If civilians do not back us, the security forces cannot do much," Herat Police Chief Gen. Nezamuddin Pacha said at the event in Herat city.
Popular support boosts the morale of soldiers to better defend their people and country, he said.
"We assure Afghans that we will defend their lives, property and their values. We will not allow anyone to attack our national values and interests," he added. "As shown in the last 20 years, security forces are ready to make any kind of sacrifice to defend Afghanistan and maintain security." <<used some ... in this story b/c otherwise 'support' was every 2nd word -- tiresome>>
"Wherever the security forces have gone, Afghans supported them. Local support boosts our morale ... by giving us the feeling that we are not alone," said Sgt. Abdul Rahim Rahmani, an ANA officer in Herat Province.
"I assure Afghans that we will try our best to maintain their security until our last drop of blood," he added.
Encouragement by Afghans is the main reason behind their success, said Sg. Zabiullah, an ANA officer in Badghis Province.
"We ... appreciate the support we get from residents in Badghis," he added. "The best achievement and morale boost for a soldier are public support."
Local backing encourages soldiers to further their fight against terrorists and better defend their country, he added.