KUNDUZ -- The Kunduz provincial government has created more than 500 jobs in solar year 1398 (March 2019-March 2020) so far for Afghans returning from neighbouring countries, especially Iran and Pakistan, and for families of those disabled or killed in conflict.
These individuals have received training conducted by the provincial government in carpentry, metalwork, motorbike repair, plumbing, mobile phone repair, computer repair, tailoring, carpet weaving and embroidery, according to Mohammad Zahir Azimi, director of the Kunduz Department of Labour and Social Affairs.
"They first received training and then they opened shops in different parts of Kunduz city where they work in the trades they have learned," said Azimi.
Some 230 of those who completed the training are women, he added.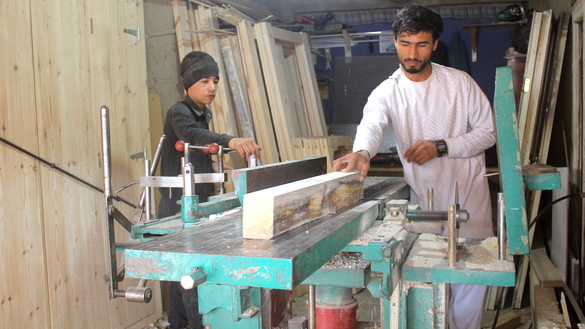 "Thanks to the implementation of these projects, families have seen positive changes in their economic situations," he said.
"Our technical and vocational training programmes for males and females age 18-40 have been running since the beginning of this solar year with support from JICA [Japan International Co-operation Agency], DACAAR [Danish Committee for Aid to Afghan Refugees] and Shelter [Shelter for Life International]," he said.
"Those who entered the job markets are able to earn a decent living," Azimi added.
"If we hadn't trained them and [hadn't] sent them to job markets, they would have either gotten addicted to drugs or engaged in theft and extortion because of unemployment," said Azimi, adding that such initiatives play an important role in creating jobs and reducing poverty.
Poverty in the past has helped foster the growth of extremism in the country, as terrorists have targeted vulnerable citizens -- such as impoverished youth -- as recruits for their violent causes.
Economic self-reliance
Participants of the programmes say that they now can support their families.
"I was jobless for one year, and I used to go to downtown Kunduz city every day to find labouring jobs," said Nasir Ahmad Ibrahimkhail.
Ibrahimkhail and his family returned to Kunduz Province from Iran two years ago.
"I could get work one day, but I couldn't the next day. I had a very hard life," he said.
"I was fortunate that I attended a six-month practical carpentry training course, and now I run a carpentry shop on Cinema Road in Kunduz city," said Ibrahimkhail. "I earn 500 to 1,000 AFN ($6.50-$13) per day, and I am happy with my life."
"I have been working as a tinsmith for six months," said Haseebullah Intezaar, a 25-year-old resident of Kunduz city.
"I lost my father in a suicide attack in Khanabad Bandar of Kunduz city, where he was running a shop, and since then I have been the [sole] breadwinner of my family," he said.
"Since I completed a six-month-long tinsmith training programme at the vocational centre, I have been busy making a variety of teapots, heaters, chimney pipes, trays and other needed items," Intezaar said.
He has now become hopeful as he is able to earn a living for his family of five, he said.
"I am now a specialist, and I have two apprentices [to train] as well," said Ezatulallah, 28, someone else who learned carpentry. "Our business is really good here."
"Carpentry is a prophetic trade, and if peace and security come to our country, our business will flourish and there will be no poverty and joblessness," he said.
Getting a work permit
The Kunduz Department of Labour and Social Affairs is also helping young, educated individuals find jobs by issuing work permits in various fields.
Rahmatullah Hayat, who graduated last year with a bachelor's in English language and literature from Kunduz University, said that he has been working with a private employer for a year.
"At the beginning of this year, I got my work permit from the Department of Labour and Social Affairs, and I was able to apply for a vacancy and get a job with Save the Children," said Hayat.
"I have been earning $450 (34,000 AFN) per month for 10 months, and I am happy that I benefit from the effort I put into my four years of study," he said.
"I was very interested in the sacred profession of teaching, and I now serve as Dari language teacher at Fatema-tu-Zahra Girls' High School in downtown Kunduz city," said Sharifa Farooqi, who earned her bachelor's in education from Kunduz University. "I earn a salary of 9,000 AFN ($118) per month."
"As the Afghan government provided education opportunities for its citizens, youth use their energy, intellect, capacity and knowledge for the prosperity and benefit of their people and country," said Farooqi.
In solar year 1398 so far, aided by the Department of Labour and Social Affairs, about 1,350 workers with different qualifications have found varied jobs in the province, said Azimi, director of the department.
The department helped them by finding jobs and issuing work permits.
"One of the services the Ministry of Labour and Social Affairs that delivers is issuing work permits to all citizens who intend to work in the civil service and private sector," noted Azimi.