KABUL -- Hospitals in Iran are refusing to offer care for Afghans who have contracted the coronavirus, citizens and officials say.
Iran has a population of Afghan refugees and migrant workers estimated to number about three million, according to the United Nations.
Abdullah, 35, who returned from Iran to Afghanistan on March 15, said he came back because of concerns that he would receive no care should he contract the virus. He had seen how his compatriots were not provided medical care.
"I know a few Afghans who contracted the coronavirus," he said. "They went to a number of hospitals where they were not tested or admitted, and they were told to go back to their country."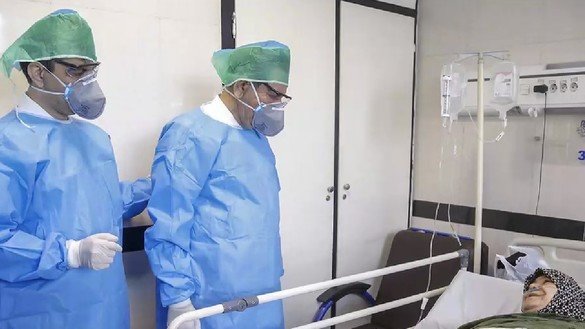 "[The hospitals'] behaviour wasn't good, and we thought if we contract the coronavirus and the hospitals don't admit us, it is better we go back to Afghanistan," he added.
Hospitals in Iran are refusing to provide care to Afghans, confirmed Abdul Hakim, 37, who also left that country after the coronavirus outbreak.
"One of our countrymen who worked in a factory in Tehran contracted the coronavirus from his boss," Hakim said.
"His Iranian boss was admitted to the hospital, but the Afghan worker wasn't accepted at the hospital. He had to stay at home, where he desperately took over-the-counter medicine for a month," he said. "He finally died."
In addition to refusing to treat Afghans, Iranian authorities have been rounding up thousands of refugees suspected or confirmed of having the coronavirus and deporting them back to Afghanistan.
Discrimination against Afghans
Iran is among the countries with the most coronavirus cases and deaths. It had 2,898 confirmed deaths from COVID-19 as of Tuesday (March 31), but the true number could be much higher.
The Iranian regime has provided no data specifically regarding the number of Afghan migrant workers or refugees known to have tested positive for the coronavirus.
At least six Afghan citizens have died from the coronavirus in Iran, while a large number of them have contracted the disease, according to the Afghan Ministry of Refugees and Repatriations.
The Afghan Embassy in Tehran March 29 gave a higher number, saying that at least 50 Afghans who had contracted the virus have died so far in Iran.
The data comes from information gathered from relatives of those who have died, the BBC reported, citing Ibrahim Hejazi, the attaché for refugee affairs at the embassy in Tehran.
The Afghan embassy could not confirm this number until it has proper verification, Hejazi said.
Afghan officials said that they have asked Iranian authorities to provide information on Afghans who have contracted the virus, to no avail.
"Even though we have asked the relevant agencies [in Iran] a few times for information, the Iranian authorities haven't provided the embassy with accurate or the approximate number of Afghans infected with the coronavirus in Iran," said Abdul Ghafoor Liwal, Afghanistan's ambassador in Tehran, in an interview with the BBC.
The Iranian Embassy in Kabul did not respond to inquiries by Salaam Times.
There have been complaints on social media that Iranian hospitals do not admit Afghans, Liwal said in the BBC report, adding that the Afghan embassy is closely looking at the issue and has shared the complaints with relevant Iranian agencies.
Prioritising Iranians
About 200,000 Afghans have returned from Iran through the Islam Qala border crossing and 51,000 through the Nimroz crossing since February 20, said Dr. Alema, the deputy minister of the Afghan Ministry of Refugees and Repatriations, who goes by one name.
"Most of the Afghans who have returned from Iran complain that they are, unfortunately, not given medical treatment at Iranian hospitals and that they face discrimination there," she said.
Iranian hospitals clearly not are providing Afghan patients the same treatment that they give to Iranian citizens, said Gul Ahmad Noorzad, a representative of Nimroz Province in the Wolesi Jirga.
"Even before the outbreak of the coronavirus, Afghans suffered discriminatory treatment in Iran," said Noorzad. "Now that they [Iranians] have contracted the coronavirus themselves, it is obvious that they aren't behaving well towards Afghans and they prioritise their own citizens."
"According to the ethics of medicine and international conventions, Iran is required not to discriminate against Afghans who have contracted the coronavirus and to provide [necessary medical] treatment to them," said Aziz Rafiee, a civil society activist in Kabul.
"Unfortunately, the government of Iran has always treated our refugees with discrimination, and it does not conduct itself properly with them in this situation as well," he added.
Rafiee called on the Afghan government to address this issue through legal channels. Afghan refugees must not be denied medical treatment in Iran, he reiterated.