KUNDUZ -- A 13-year-old boy whom the Taliban ordered to carry out a suicide bombing last month in Kunduz Province abandoned his mission and surrendered to security forces, say authorities.
"I became fed up with the Taliban's oppression," Sayed Mukhtar, 13, said, according to police. "I threw the suicide vest in the Chahar Dara River and surrendered to police."
The Taliban killed Sayed's parents five years ago in an attack on their house in Chahar Dara District of Kunduz Province, Hejratullah Akbari, spokesperson for the Kunduz Police, said June 25.
Sayed's father served in the commando forces, Akbari said.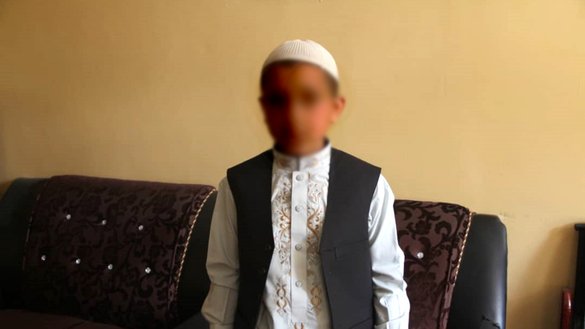 "This 13-year-old child had lived for five years... with Maulawi Mustafa, who supervises the Taliban's suicide attackers and IED [improvised explosive device] makers in the [Chahar Dara] district, where the child received terrorist training," he said.
The Taliban prepared Sayed for a suicide bombing and sent him in a suicide vest, but despite the terrorists' efforts to abuse his innocence, Sayed decided by himself to not follow through, Akbari said.
'I was frightened'
Sayed told reporters he underwent military and tactical training with about 10 to 15 others while in Taliban captivity.
"[The Taliban] sent my two brothers to Kabul to conduct suicide attacks, and I was deployed to Kunduz," Sayed told TOLOnews. "They said that I should blow myself up in an area with large numbers of people or attack any wedding ceremony."
"I came, but I was frightened," he said.
The Taliban deployed one brother to Kabul two years ago. They sent the other one in May, according to Sayed. They were 14 and 16 years old. Both were killed.
"For years I have known nothing about the whereabouts of my two sisters, who might have been killed or sold to someone," he said.
Sayed's sisters were 8 and 10 years old when they were abducted, he said.
"This is one of the examples of how the Taliban have resorted to such brutal acts over the past decade and a half," said Tariq Arian, a spokesman for the Ministry of Interior, according to TOLOnews.
Taliban spokesperson Zabiullah Mujahid rejected the claims in a tweet June 25 saying, "Thousands of would-be suicide bombers are waiting in line, so why would we use children?"
Sayed's experience has renewed concern among Afghanistan Independent Human Rights Commission (AIHRC) officials in Kunduz Province over the presence of children among Taliban ranks.
The Taliban use children as weapons in bombings and other suicide attacks and recruit them as militants too, said Bismillah Waziri, director of the AIHRC's Children's Rights Unit regional office in Kunduz.
"Many children have been forced to join the group, and if they don't accept [the Taliban's] demands, the Taliban threaten their families," he said.
Waziri gave the example of a suicide bombing last September in Sari Chowk Square of Kunduz city that killed seven Afghans and injured 11 others.
The perpetrator was a child, said officials.
Children main victims of conflict
Although many efforts have been made to protect children in Afghanistan, children have remained the main victims of armed conflicts.
"Last year, we conducted sweeps in Hazrat Sultan, Omarkhil, Katakhil and other parts of Kunduz city during which we arrested a number of Taliban fighters who were very young," Akbari said.
When the Afghan National Defence and Security Forces (ANDSF) recaptured Kunduz from the Taliban in 2015, the bodies of children killed in the fighting were discovered in the Sar Dawra area, he said.
"The government has laws, and when we capture children in sweeps, we refer them to the juvenile court," he said.
The Taliban mercilessly kill civilians, destroy public property and target civilians' homes, said Abdul Ali Karimi, a tribal elder in Kunduz.
"The Taliban never show sympathy for children," he said. "They recruit children for suicide and terrorist activities, while the government creates education and learning opportunities for them."