HERAT -- Taliban fighters released from prison in Herat following President Ashraf Ghani's decree and under the peace agreement between US negotiators and the Taliban are calling for peace and an end to violence.
As part of the US-Taliban peace agreement inked in February, more than 4,000 out of 5,000 Taliban prisoners have walked out of government prisons, while more than 700 out of 1,000 Afghan security personnel have been released from Taliban prisons.
Qari Mehrabuddin, a former Taliban fighter who was released from Herat prison on July 11, called for an end to the violence.
"My demand for the Taliban is that they must make peace and serve their country," he said. "The blood of innocent people ... should not be shed anymore. We do not want war and won't take up arms anymore."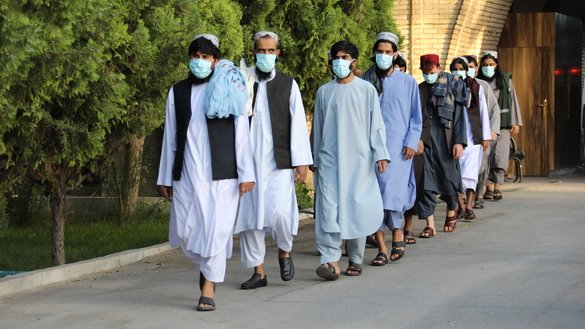 "We, along with the rest of the nation, are tired of war," he added.
"Now that I am free, I will restart my personal business and live with my family," Mehrabuddin said. "From now on, instead of fighting and living in fear, I will live a peaceful life."
War is not the solution, said Mullah Hafizullah, another former Taliban fighter released from the Herat prison, adding that if war had any benefits, the Taliban and the government would have seen returns by now.
"Our only demand is peace and an end to violence in Afghanistan," he said. "We are tired of war and saddened to see that the blood of innocent civilians, security forces and the Taliban is shed every day. This bloodshed must stop."
"We took up arms out of coercion and lack of awareness and ended up spending half of our lives in war and killing," Hafizullah said. "Now we have realised that the time of war has passed, and we do not have to disrupt our peaceful lives for war."
Afghan youth are being killed daily -- both on the side of the Taliban and that of security forces, said Mullah Abdul Rahman, a former Taliban commander released from the Herat prison.
"People are fed up with violence and killings," he said. "There is no need for war anymore."
"Afghans should be united and make peace," Rahman said, calling on the Taliban and the government to "save people from this disaster".
"Our hope is a lasting peace in Afghanistan," he said.
Violating the peace agreement
The United States has fulfilled its commitments under the peace agreement with the Taliban -- including the withdrawal of US troops -- while the Afghan government has released more than 4,000 Taliban prisoners and has stopped all offensive operations as a gesture of goodwill to the peace process.
Still, the Taliban have stepped up violence against Afghan security forces and civilians while refusing to sever ties with al-Qaeda.
The Taliban's continued violence and killing of civilians undermine the peace process and threaten to ruin this golden opportunity that Afghans have long awaited, said Sakina Hussaini, a member of the Herat provincial council.
"Since there is a peace agreement between Taliban and the US, a ceasefire must be announced as soon as possible," she said. "But it is apparent that the Taliban do not respect this agreement by continuing bloodshed in the country, and we condemn this."
The Taliban must abide by their commitments and complete the peace process immediately, she said.
The Taliban are not serious about the commitments they have made to the United States, and as a result Afghans are suffering, said Gulsoom Sediqi, a women's rights activist in Herat Province.
"When the Taliban continue their violence and do not fulfil their commitments, then there is no peace, risking the peace process that has taken shape after many years," she said. "The more the Taliban continue killing civilians and security forces, the more difficult it becomes to achieve peace."
"Our demand from the international community, especially the United States, is to pressure the Taliban to stop the violence and respect their commitments," Sediqi said.
In continuing to wage war and to kill Afghans, the Taliban prove that they receive their orders from outside forces and lack any authority or will to end the war and bring peace, she added.
Taliban mistreat prisoners
Eleven Afghan security personnel and one civilian were released from a Taliban prison in Ghor Province on July 10.
The security forces reported mistreatment and torture in the Taliban prison, including extortion in return for food, medicine and visits with their family members.
The Taliban treated prisoners very badly, said Mohammad Bilal, an Afghan National Army officer who served in the army for four years and spent three months in a Taliban prison in Ghor Province.
No one would treat even animals the way the Taliban treated their prisoners, he said, adding that the prison had no proper food or water.
"The Taliban captured me wounded and did not treat me [properly]," Bilal said. "Every time they gave me medicine, they charged me three times the original price."
"They allowed my family to visit me, but they took 15,000 AFN ($194) from my family for each visit," he said.
The Taliban are motivated by greed and receive support from Moscow, he said.
"The Taliban have a variety of advanced weapons, such as sniper rifles, which they have directly obtained from Russia," Bilal said. "The Taliban used to collect money from locals under the pretext of buying these weapons, but they took the weapons from Russia for free and pocketed civilians' money for themselves."
Dost Mohammad, a police officer recently released from a Taliban prison, recounted similar mistreatment and extortion.
"The Taliban did not keep us in one place and always moved us to different locations," he said.
"If a friend or family member came to see us, he [or she] had to pay more than 15,000 AFN to the Taliban first," he said. "The Taliban kept us in dark places and did not feed us. They took money from our family in return for the food and medicine they gave us."
The Taliban torture security personnel in their custody, while calling them infidels, he added.