KABUL -- Long-delayed peace talks between Afghan government and Taliban negotiators were expected to launch Saturday (September 12) in Qatar, officials said, marking a potentially momentous milestone in Afghanistan's 19-year-old war.
The Taliban, the Afghan government and Qatari officials all confirmed on Thursday (September 10) that the talks would begin September 12 following an opening ceremony in Doha.
The talks had originally been slated to start in March but were repeatedly pushed back amid disputes over a prisoner exchange that included the release of hundreds of Taliban fighters.
US Secretary of State Mike Pompeo called the talks a "historic" opportunity to end decades of war and bloodshed, adding that it "must not be squandered".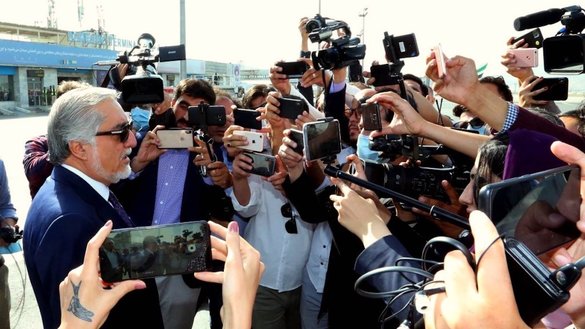 "The start of these talks marks a historic opportunity for Afghanistan to bring an end to four decades of war and bloodshed," Pompeo said in a statement September 10 as he headed to Doha.
"I'm mindful of how difficult these conversations will be among the Afghans, but it's theirs for the taking," he told reporters onboard his flight.
The talks "are a serious and important step towards establishing sustainable peace in Afghanistan", said the Qatari Foreign Ministry.
"Having dealt with some confidence building measures, we are looking forward to bilateral exchanges during the visit & engaging in substantive talks with the Taliban aimed at ending years of war & agony endured by our people," Abdullah Abdullah, chairman of the High Council for National Reconciliation, said on Twitter before departing Kabul for Doha.
"On the basis of religious tenants [tenets], human values & our shared interests, we all seek a just, durable & dignified peace," he said.
US Special Representative for Afghanistan Reconciliation Zalmay Khalilzad also welcomed the start of intra-Afghan peace talks, urging parties to the conflict to end the "mindless war".
"I welcome the announcements by Qatar, the Afghan Palace, and the Taliban to start Afghanistan Peace Negotiations on Sep 12. This is a historic opportunity to end a forty-year war that has no military solution and kills too many Afghans," he tweeted September 10.
"The road to get here has been long and will remain difficult. No important achievement is ever easy. It is now the responsibility of Afghan leaders to capitalise on this moment and end this brutal and mindless war," he said.
"There is no political settlement without compromise," Khalilzad said. "Recent Afghan history shows that seeking a monopoly of power and enforcing one's ideology by force leads to conflict and makes the country vulnerable to interference by others."
Hopeful for peace
The announcement of the start of peace talks was delivered just hours after a final hurdle -- the fate of six Taliban prisoners linked to the killings of French and Australian civilians and troops -- appeared to have been resolved.
The Taliban confirmed the six prisoners had arrived in Doha. They had been flown out of Kabul on a special plane, a Taliban source in Pakistan told AFP.
Peace talks were delayed for six months as the Taliban and Kabul squabbled over the details of a prisoner exchange. The Taliban released 1,000 Afghan troops, while Kabul freed 5,000 insurgents.
"We are going to Doha to tell the Taliban that you cannot succeed by force," Abdul Hafiz Mansour, a member of Kabul's delegation, told reporters at Kabul's airport.
"The time is ready for reconciliation now; we can resolve our problems by talking to each other."
Negotiations have raised hope among Afghans across the country that the grinding conflict might come to a halt.
"We are desperate for peace. The killing of Afghans should be stopped," said Kabul shopkeeper Abdullah, who lost a relative in a bombing that targeted Vice President Amrullah Saleh this week. Saleh survived with slight injuries.
"I'm not very optimistic about the future, but peace talks are a good first step to at least reduce the violence."
Gains made in the past two decades should not be lost, insisted schoolteacher Aminullah, who lives in Kunduz Province.
"As much as we want peace, we also want the achievements of the past years kept," he said.
"I don't want my school closed, but peace is the priority now."