BEIJING -- The Chinese regime's recent pledge to slash its national carbon footprint to zero by 2060 has been met with disbelief, as Beijing's fresh spending on dirty coal plants and the country's skyrocketing carbon emissions undermine its attempts to claim global leadership on climate change.
Fossil fuel has powered China's economic surge over the last 30 years, and the nation burns about half the coal used globally each year.
Between 2000 and 2018, its annual carbon emissions nearly tripled, and it now accounts for almost a third of the world's total greenhouse gases linked to global warming.
Despite pledges to wean the economy off coal, Chinese consumption of the environmentally hazardous fuel climbed back in June this year to near the peak levels seen in 2013.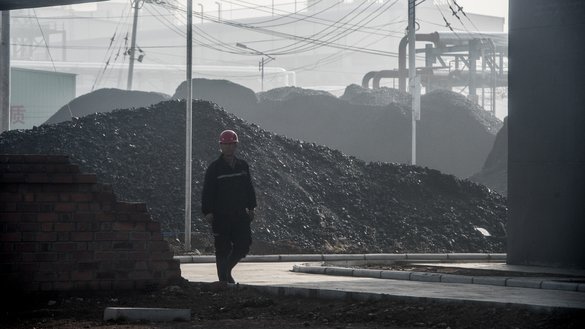 Beijing opened the taps from government lenders to build new coal plants in an effort to revive provincial economies reeling from the coronavirus pandemic.
In the first half of 2020 the Chinese regime approved 23GW worth of new coal power projects, more than the previous two years combined, according to Global Energy Monitor (GEM), a San Francisco-based environmental NGO.
"A new fleet of coal plants is in direct contradiction with China's pledge to peak emissions before 2030," said Lauri Myllyvirta, China analyst at the Centre for Research on Energy and Clean Air.
In defiance of reality, President Xi Jinping on September 22 unveiled his country's bold pitch for leadership on global warming at the United Nations, vowing it would reach peak emissions before 2030 and go carbon neutral 30 years later.
It is the first time Beijing has announced any plans to become carbon neutral, but so far it has given no details on how the country would rebalance away from fossil fuels.
There is a "tension at the heart of China's energy planning," Li Shuo, senior climate and energy officer at Greenpeace China, told AFP.
Global leader on climate?
The world's second largest economy is positioning itself as the global leader in renewables, but the new coal surge is evicting renewables from the Chinese market because the Chinese energy distribution system uses Soviet-style quotas, where power suppliers are allocated a monthly supply limit.
The grid quotas pushed local governments to increase the allocation for coal-based power over recent years, and it leaves less room on the Chinese grid for renewable energy use, even if economic actors step up investment in them.
"China's energy policy is like a two-headed beast, with each head trying to run in the opposite direction," said Li of Greenpeace. "Local governments prefer to buy more coal-generated power to protect mining jobs."
The Chinese coal addiction will not be easy to end, say economists.
The country already has 400GW more coal-fired capacity than what it needs to meet peak demand, according to GEM.
"China's coal fleet is running at about 50% capacity," Myllyvirta said.
"Many facilities are white elephants. Adding new ones would only make them less efficient."
New plants with lower emissions standards will replace the old dirty chimneys, say policymakers.
But the savings are modest: new plants emit just 11% less carbon dioxide per kilowatt-hour of power generated than do the old ones.
The direction of travel for now still points to a Chinese energy future dominated by coal.
Meanwhile, overseas investments, part of the Chinese Belt and Road Initiative, will festoon developing nations from Pakistan to Zimbabwe with new coal power stations.
Beijing spin
This is not the first time that Beijing has tried to influence public opinion abroad by engaging in active disinformation campaigns.
The Chinese regime is actively pushing the narrative of its "heroic deeds" in the fight against the COVID-19 pandemic, but this self portrayal contradicts the reality of Beijing's role in spreading the outbreak and profiting from the global crisis.
The National Museum of China in August opened up a new exhibit, "Unity of Strength", that showcases paintings, sculptures and calligraphy depicting what the regime says was its success in responding to the crisis.
This event and the regime's efforts to flood social media and the news environment with disinformation represent a far cry from the reality of Beijing's response to the worldwide health crisis.
Earlier in 2020, Chinese authorities, knowing a deadly outbreak was afoot, said nothing for almost a week, allowing the virus to take hold in Wuhan and spread across the world, while deliberately suppressing or destroying evidence of the outbreak.
Since the beginning of the crisis, Beijing has been actively attempting to deflect criticism of its role in the coronavirus pandemic by promoting conspiracy theories and has been caught flooding the news and social media with blatant disinformation about the virus.
Meanwhile, Chinese companies are taking advantage to turn a profit.
Between March and May, China exported more than 50 billion face masks -- a 10-fold increase from total production last year, according to analysts.
As part of this effort, Chinese authorities are forcing Muslim minorities in the Xinjiang region to work in factories to produce personal protection equipment, much of which has been proven to be shoddy and ineffective.