ISLAMABAD -- Ties between the people and governments of Pakistan and Afghanistan are gaining strength through efforts such as the Pakistan-Afghanistan Investment and Trade Forum 2020, which ended Tuesday (October 27).
At the forum, the two countries adopted more than 140 recommendations to promote Pakistani-Afghan trade and investment in a number of sectors including construction, textiles, mineral mining, agriculture, livestock, medical tourism, pharmaceuticals, plastics and banking.
Pakistani National Assembly Speaker Asad Qaisar initiated the efforts, followed by a six-day visit to Pakistan by Afghan Wolesi Jirga Speaker Mir Rahman Rahmani. He led a delegation of officials, dignitaries, businesspeople and trader on the trip, which started October 23.
Inaugurating the two-day forum October 26, Pakistani Prime Minister Imran Khan said peace in Afghanistan is essential for regional peace and prosperity.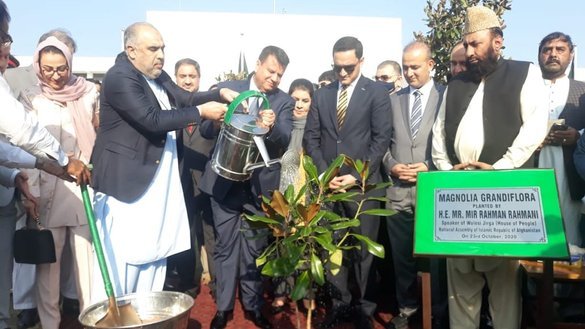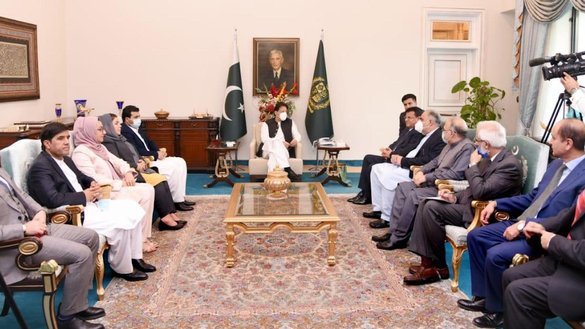 "The future of both countries is dependent upon their unity, mutual trade and enhanced economic interlinks," he said.
Khan stressed the importance of facilitating Afghan trade and investment, as both countries have vast potential for economic growth and development.
Pakistani-Afghan economic co-operation and improved trade and transit facilities will help connect Arabian Sea shipping lanes with Central Asia, pointed out Qaisar in his address to the inaugural session.
Parliament-to-parliament contact will also help ease the hurdles for traders and investors on both side of the border, he said.
"Both countries are facing the curse of extremism, terrorism and economic deprivation, and only collaborative efforts by both partners will lessen the intensity of socio-economic issues faced by both countries," Qaisar said.
Rahmani applauded Pakistan's efforts to help bring peace in Afghanistan.
"Afghanistan highly values its ties with Pakistan as both countries share religious and cultural values, and Afghanistan is proud of its close relations with Pakistan," he said.
"There is a dire need to capitalise on the potential of both countries, which have vast opportunities for trade and investment," Rahmani said.
Regional development and economic prosperity are dependent on connectivity, enhanced trade linkages and better investment opportunities, said Pakistani Senate Chairman Sadiq Sanjrani at the concluding session October 27.
"It is now time to turn our bilateral and economic linkages into a strategic partnership for the betterment and prosperity for our people and the region as well," he said.
Sanjrani emphasised the need for more trade between the two countries to match the immense potential for economic co-operation.
Removing barriers to trade
Diplomats and traders view the forum as a major development in Pakistani-Afghan ties.
"I am in regular contact with the Afghan side, and we are trying to continue this optimistic trend to take more practical measures in the days to come," said Pakistani Ambassador to Afghanistan Mansoor Ahmad Khan.
The Pakistani government also initiated efforts to renew the Afghanistan-Pakistan Transit Trade Co-ordination Authority (APTTCA), signed in 2010, and a revised agreement is likely to be signed soon, he said.
Syed Abrar Hussain, former Pakistani ambassador to Afghanistan, expressed optimism about the recent developments and official visits from both sides, such as the visit to Pakistan from Abdullah Abdullah, chairman of Afghanistan's High Council for National Reconciliation.
"You will see more such visits in the near future," he said. "These visits are meant to end the past trust deficit and build confidence measures, friendship and trade ties between the two countries."
Traders on both sides of the border hope the recent agreements will be implemented quickly.
"After the trade and investment forum was held in Islamabad, we had the diagnoses, the identification of the problems, now we need the treatment, the practical implementation of these recommendations," said Zahid Shinwari, director of the Pakistan-Afghanistan Joint Chamber of Commerce and Industry.
"In 2011-2012, we had mutual trade worth $2.7 billion, which unfortunately shrunk to about $1.3 billion in 2014-2015," he said. "However, I believe if both governments manage to implement these recommendations, we can at least take this mutual trade to $5 billion [per year] in a very short time."
"This is only possible when both governments remove the barriers we are facing to mutual trade," Shinwari said.